VHB MillerSellen has donated $25,000 to the University of Central Florida to establish an endowed scholarship in urban and regional planning.
Jim Sellen, ­­a principal with the Florida planning firm, announced the gift Thursday evening at a gala at the UCF Center for Emerging Media. The event celebrated last fall's launch of a master's degree program in urban and regional planning at UCF.
The new program is the first comprehensive planning program of its kind in the region.
"Central Florida is the ideal crucible for advancing the best practices for urban and regional planning, and the students in this UCF program will no doubt graduate with exceptional, first-hand experience in the field," said Sellen, who has worked in urban planning in Central Florida for more than 30 years. "Our firm is proud to provide support to the top prospective students for this degree year after year."
The first scholarship will be awarded this fall.
The gala drew dozens of planning professionals and several local leaders, including Orlando Mayor Buddy Dyer, Orange County Commissioner Lui Damiani and former county mayor Linda Chapin, all of whom spoke about the significance of the program to the region.
"As mayor for this great city of Orlando, I have developed a newfound respect for the planning profession and why planners are so greatly needed in a fast-growing and fast-changing city such as ours," Dyer said.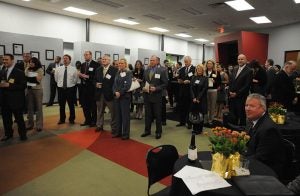 The event provided an opportunity for the program's students and faculty members to discuss displays on local planning projects. Central Florida is known for its innovative practices in handling rapid growth, planned communities such as Celebration and Baldwin Park, and new high-speed and commuter rail initiatives.
"Almost every national firm in planning has a presence in Orlando," said Mary Ann Feldheim, chair of UCF's Department of Public Administration and part of the team that developed the program.
Many of these firms voiced a need for professional education in urban and regional planning to educate future planners for the region, she said. A master's degree is needed for most planning jobs, according to the U.S. Bureau of Labor Statistics.
UCF's program is tailored for working professionals. Students can complete the program by taking two courses each semester for eight semesters, and all courses are offered in the evening.
The program takes a holistic approach to planning by considering the collective health of individuals, communities and the environment. In addition, students choose an area of concentration from three options: environmental planning, transportation planning and healthy community planning.
Fourteen students are enrolled in the program, and enrollment is expected to increase to 80 students by fall 2012.
"I'm so excited to be in this program," said student Gabriella Serrado, who also works in the City of Winter Park's economic development and community redevelopment department. "I'm really looking forward to planning great places to live and work."