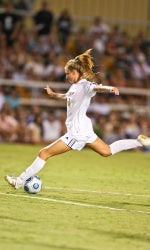 With a 1-0 win over UAB in the semifinals, No. 9 UCF will now meet Memphis in the Conference USA Championship game Sunday in Dallas. The match will be televised live by CBS College Sports at 2 p.m. ET.UCF, the top-seed in the tournament, has won 10-straight matches after Lauren Halbert scored the game-winner in the 65th minute to defeat the Blazers Friday.
The Knights are 16-3-1 overall on the year, but one of those losses came at the hands of Memphis when the Tigers edged the Black and Gold 1-0 Sept. 27 in Orlando. That match also was televised by CBS College Sports. It was UCF's lone C-USA loss in the regular season.
But a win Sunday for the Knights will mark their first C-USA tournament title since joining the league in 2005.