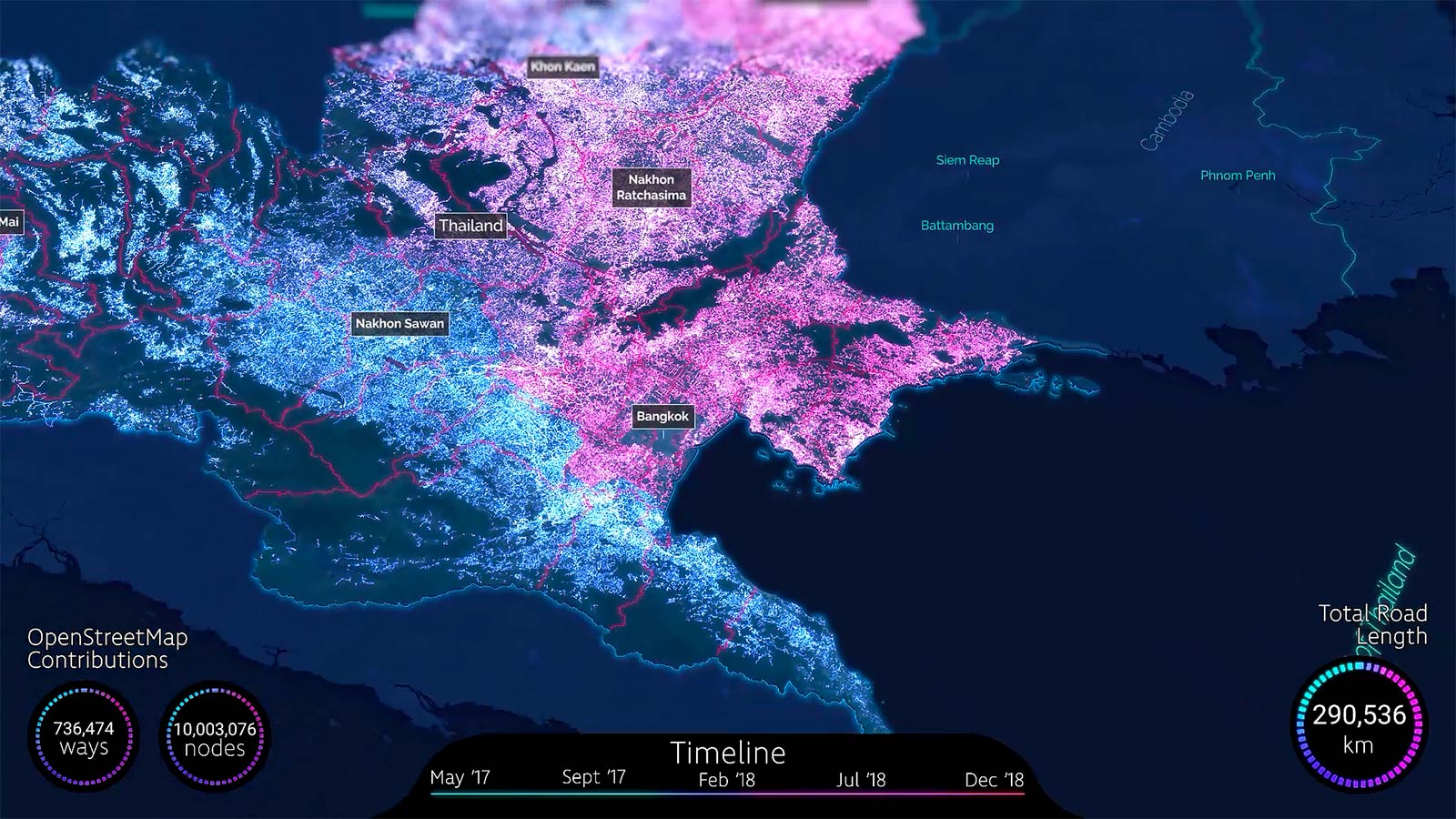 Drishtie Patel '08 '12MNM is part of a team mapping the world's missing roads to provide life-saving resources to people in times of crisis.
Spring 2020 | By Laura J. Cole
What would become the largest and most complex outbreak of the Ebola virus to date began in December 2013 with an 18-month-old boy. The outbreak would last for more than two and a half years, with more than 28,600 cases reported across West Africa and more than 11,325 deaths.
As a then-geographic information systems (GIS) analyst at the Red Cross, Drishtie Patel '08 '12MNM was responsible for providing relief workers on the ground with accurate geographic data, so they could locate and assist people even in the most rural parts of Guinea, Liberia and Sierra Leone.
She knew one problem would be the same as it had been for the many relief efforts she'd been a part of up to that point: Uncharted roads, bridges and physical structures would make finding those who were infected difficult, especially as they had a tendency to flee their villages and move to more remote locations out of shame.
"Outside of the cities, these countries are mostly forest," Patel says. "As people moved farther away, we couldn't track them. There was no easy way to contain the movement of people in one area, so the disease spread farther."
This left patients unnecessarily vulnerable and at risk. The other problem: While that missing information was being collected, the outbreak was gaining traction, costing valuable time.
"Thousands of towns and cities are invisible on the world map," Patel wrote in an article during the outbreak. "This makes it difficult for disaster responders to come to residents' aid when an earthquake, landslide or typhoon strikes."
Though catastrophic, the Ebola outbreak was only one out of the more than 60,000 disasters the Red Cross responds to each year. That's a lot of information just waiting to be collected that could mean life or death for hundreds of thousands of people.
Realizing it would be helpful to have data-rich maps prior to a disaster, Patel became part of a team that set out to pre-map areas in countries that often receive the least resources. Today, she's expediting that process as part of a Facebook team that uses artificial intelligence to improve the detail, quality and accuracy of maps in less time.

Many of us take maps for granted. Whether lost in a city or on a nature trail or heading to a new place for the first time, we turn to our phones. In the palm of our hands is any number of web mapping services, such as Google Maps, ready to help us find our way.
But if you've ever traveled to a remote location and found yourself sans internet or staring at a giant swatch of beige or green with only a single blue dot to guide you, you've probably realized how important maps are.
"Maps are incredibly powerful and highly visual," says Timothy Hawthorne, UCF associate professor of GIS. "They are able to share information quickly to show a challenge or opportunity and inform decisions across organizations, so people in need get resources in a more timely manner."
Getting resources to people in need relies on disaster-relief mapping, or humanitarian mapping. An attempt to ensure communities in need get help during political crises, epidemics and natural disasters, humanitarian mapping has been around for decades. But its latest iteration started in 2004, after the Boxing Day tsunami hit 13 countries in Southeast Asia and killed more than 230,000 people.
"It took weeks for actual maps of any value to be made [available] for people," says Dale Kunce, who previously led the international data and maps team at the American Red Cross. "There's this very famous story of a gentleman deploying with a map that was 50 years old, the best map he had for Banda Aceh, Indonesia [where the 9.1 magnitude earthquake that set off the tsunami hit]. Banda Aceh, Indonesia, does not look like that anymore, nor had it in the last 20 years before the tsunami happened and 30-foot waves rolled over everything."
Today, there is a global network of volunteers who come together online and on the ground after a disaster strikes to compile maps that help responders reach those in need. These volunteers use an open-source web platform called OpenStreetMap (OSM), which was founded in 2004.
"OSM is commonly referred to as the 'Wikipedia for maps,' " says Patel. "It's essentially a crowdsourced mapping project that brings together mappers from around the globe to collaboratively build and maintain a free editable map of the world."
While organizations such as the Humanitarian OpenStreetMap Team (HOT) specialize in responding to international humanitarian crises by connecting OSM volunteers to help impacted areas remotely, it still takes time to coordinate, map and clean the data before it can be used. Responders were getting better information but losing valuable time. Relief organizations such as the American Red Cross and Doctors Without Borders realized a need to do more.
Thus was born Missing Maps, a partnership between the American Red Cross, the British Red Cross, Doctors Without Borders and HOT to map the most vulnerable areas in the developing world before disasters occur. Here's how it works: Remote volunteers from anywhere on the planet trace roads and buildings using satellite imagery into OSM. Community volunteers on the ground confirm data and add local details, such as street names, road conditions and building types. And humanitarian organizations use the collected data to plan for crisis responses.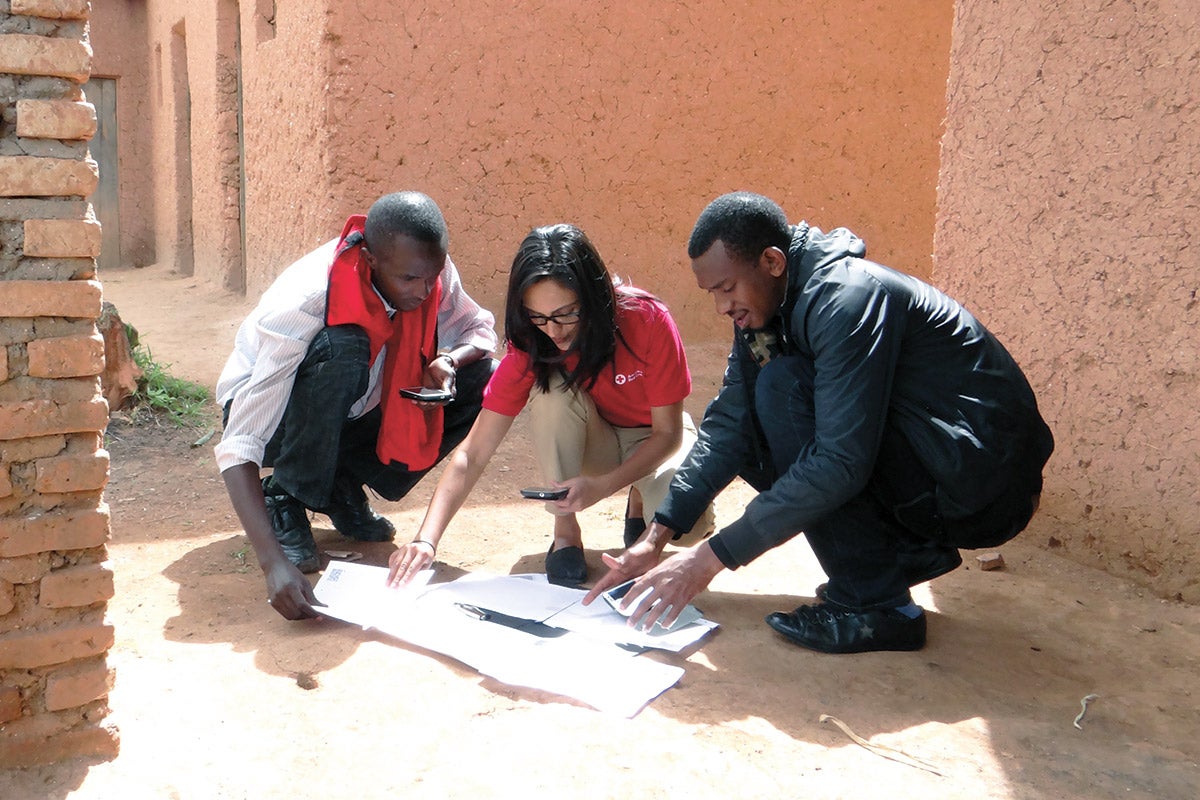 Missing Maps partners working with OSM completely changed how relief organizations respond.
"Missing Maps started with disaster response, but now it's pretty much used for the entire planning phase — everything from preplanning to post-planning," says Patel, who was one of the founding members of the Missing Maps project at the American Red Cross.
One example shows how the project helped prove the impact building materials have on health.
"The data showed a strong correlation to a separate health project, and the team involved realized all of the people who lived in temporary mud houses were having health issues, such as asthma," says Patel. "The problem was actually the infrastructure of the houses, and that correlation wouldn't have happened if it wasn't made available visually. As a result, another service was created to help rebuild permanent structures made of brick, which resulted in drastic health improvements."

Patel never planned on being a cartographer.
There are people who are self-proclaimed "mapaholics." They talk about things like Mappy Hours and Mapternoons — where humanitarian-driven volunteers contribute a significant amount of time to map entire countries with other community-focused individuals.
But for Patel, mapping is simply an offshoot of her real calling: to help people in need.
She grew up in Zimbabwe under President Robert Mugabe in a middle-class family, where she acknowledges she had a comfortable, somewhat privileged upbringing. But around her, chaos started to unfurl just as she was entering her teenage years. Upheavals began in the African nation in 1999 after the World Bank and IMF suspended aid. What followed were years of food shortages, economic hardship and political unrest.
"Zimbabwe was a pretty amazing country to grow up in until I hit my teens," says Patel. "It just became [constant chaos] — shortage of gas, standing in lines for basic things and no power most of the time."
"We've now processed the whole world — every single road — using AI. We've open-sourced that entire data set, and we keep updating it. This would have taken decades to do manually."

Drishtie Patel '08 '12MNM
In times of plenty, the governments of many countries are able to provide assistance to their people. In times of need, few can. In these times, people turn to nongovernmental organizations (NGOs), such as the Red Cross, to help them survive.
Patel knew then she wanted to work with the helpers, even volunteering with the Red Cross during high school.
"I think I've always just been drawn to a nonprofit mission," she says. "A lot of times it's the NGOs who end up coming in on the ground to provide support, and they make a real difference. That's when things get better, whether it's for refugee movements, a health outbreak or a political crisis."
When the situation in Zimbabwe became dangerous, Patel's family applied for the U.S. green card lottery and won a few years later. Patel, who was in high school at the time, didn't want to move to the United States. Like many teenagers, she didn't want to leave behind her extended family, friends and everything she knew. But that move would eventually lead her to UCF — where she majored in organizational communication and earned a master's in nonprofit management and a graduate certificate in emergency management and homeland security — and help Patel find her niche.
"The nice thing about the nonprofit program was the focus on service-learning and practical experience rather than only the theoretical stuff," she says. "Every single class, we worked with an NGO. By the time I was hired by the Red Cross, I had gotten a lot of the hands-on experience I needed to jump in and make an immediate impact. I was already familiar with certain processes and fundamental skills in NGOs, such as fundraising and writing grant proposals."
Her first job at the Red Cross was when mapping became a big part of how she would fulfill her goal of helping others. Her team was responsible for collecting whatever public information people on the ground needed, such as population estimates, road data, number of buildings and nearby villages.
"I really liked that," she says, "and I never thought mapping would be a big part of that. Honestly, it was just something I learned on the job. I saw a gap and was lucky enough to be in the right place at the right time with the right people to be able to push it through."
That luck led her not only to the Missing Maps project that she helped start at the Red Cross, but also to her current position at Facebook, where she's using machine learning technology to map the world even faster.

A single magenta line appears over a satellite image of Indonesia. Within a matter of seconds, it has spread into a vast matrix of intersecting lines across the country.
Facebook's Map with AI is at work, taking high-resolution satellite images and turning identified roads into magenta pixels. Building upon the work Patel and the Missing Maps team did at the Red Cross manually tracing map features into OSM, Map with AI expedites the process by training machines to identify and map roads in seconds — a feat that would take human volunteers years, if not decades.
In only 18 months, Map with AI enabled the team at Facebook to remotely map more than 300,000 miles of roads in Thailand, more than doubling the available road network. That same feat would have taken an additional three to five years using the traditional method, Patel says.
"We've now processed the whole world — every single road — using AI," she says.
"We've open-sourced that entire data set, and we keep updating it. This would have taken decades to do manually."
That's not to say the computers are taking over for people. The heart of OSM remains people volunteering from all over the world to create a community map. Mapathons and Mappy Hours aren't going away anytime soon. Rather, AI helps with some of the mundane parts of mapping, so mappers can focus on adding more local knowledge.
"The tool strikes a good balance between suggesting machine-generated features and manual mapping," said Martijn van Exel, a longtime leader in the open mapping community, in a release on Facebook's tech blog. "It gives mappers the final say in what ends up in the map but helps just enough to be both useful and draw attention to under-mapped places."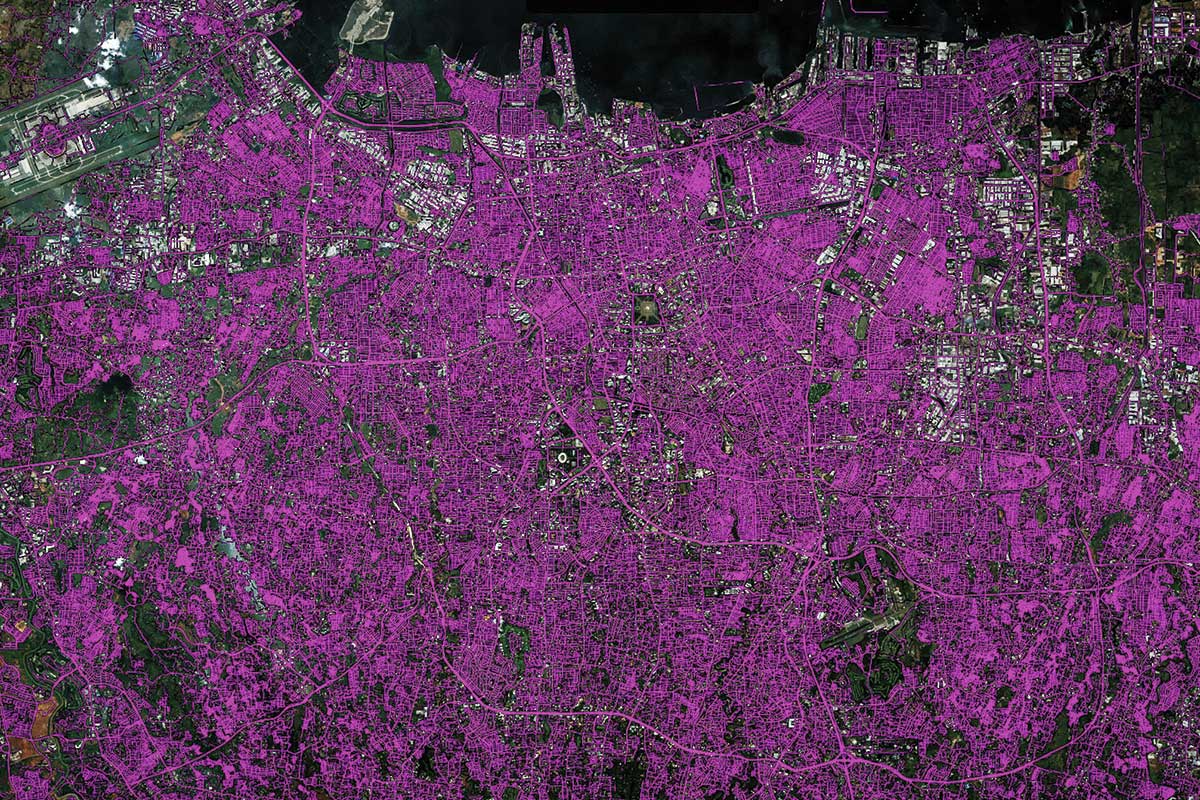 During three months last year, volunteers using Map with AI mapped missing roads in nearly 200 countries, including Afghanistan, Bangladesh, Indonesia, Mexico, Nigeria, Tanzania and Uganda.
The benefit of being with Facebook, Patel says, is all the ways the company is using data to help communities around the world. For example, through Facebook Data for Good, the tech giant has launched Disaster Maps and Population Density. During the recent Australian bushfires, which burned more than 42,000 square miles of land, these tools were used by the humanitarian aid organization Direct Relief to distribute more than 500,000 respiratory masks to people in Victoria and New South Wales.
"These are two products that Drishtie made a really strong contribution to," says Subbu Subramanian, director of engineering at Facebook, who is Patel's boss. "She helped work with the various relief organizations, as she clearly understands their needs, given her former role with the Red Cross. She also worked with the mapping and technologies team to offer solutions that have been used in dozens of disasters in the past few months alone."
And while Facebook has been under fire recently for collecting personal data, Subramanian says none of these projects use or collect personal information.
"For these cases, we don't need any personal information whatsoever," he says. "The information that comes to us is primarily from cell towers, which gives us pretty good aggregated, anonymized information as to what areas have been impacted."
All of that information is available to others to help aid in relief efforts. It's been so successful that requests have come from across different sectors, including NGOs, private companies and governments.
Though Facebook provides the opportunity to do good on a larger scale, Patel admits she had some hesitation initially switching from working for a nonprofit to a tech giant. It certainly wasn't what she envisioned back in Zimbabwe or even while completing her studies at UCF.
"I didn't want to work for a tech company after being in a nonprofit," Patel says. "Personally, I felt like a sellout and like I was leaving behind what I planned to do my whole life. But once I joined the Facebook team, I realized this felt like another humanitarian project. I get to work with a talented group of people that have the same goals and just want to do good.
"At the end of the day, maps benefit us in so many ways and truly make people's lives easier. They are used for everything such as day-to-day navigation, emergency management, and planning and urban development — to name a few. So whether an organization uses it to get you an Uber faster, give you driving navigation, or an evacuation plan, the usage — and benefit — is endless."