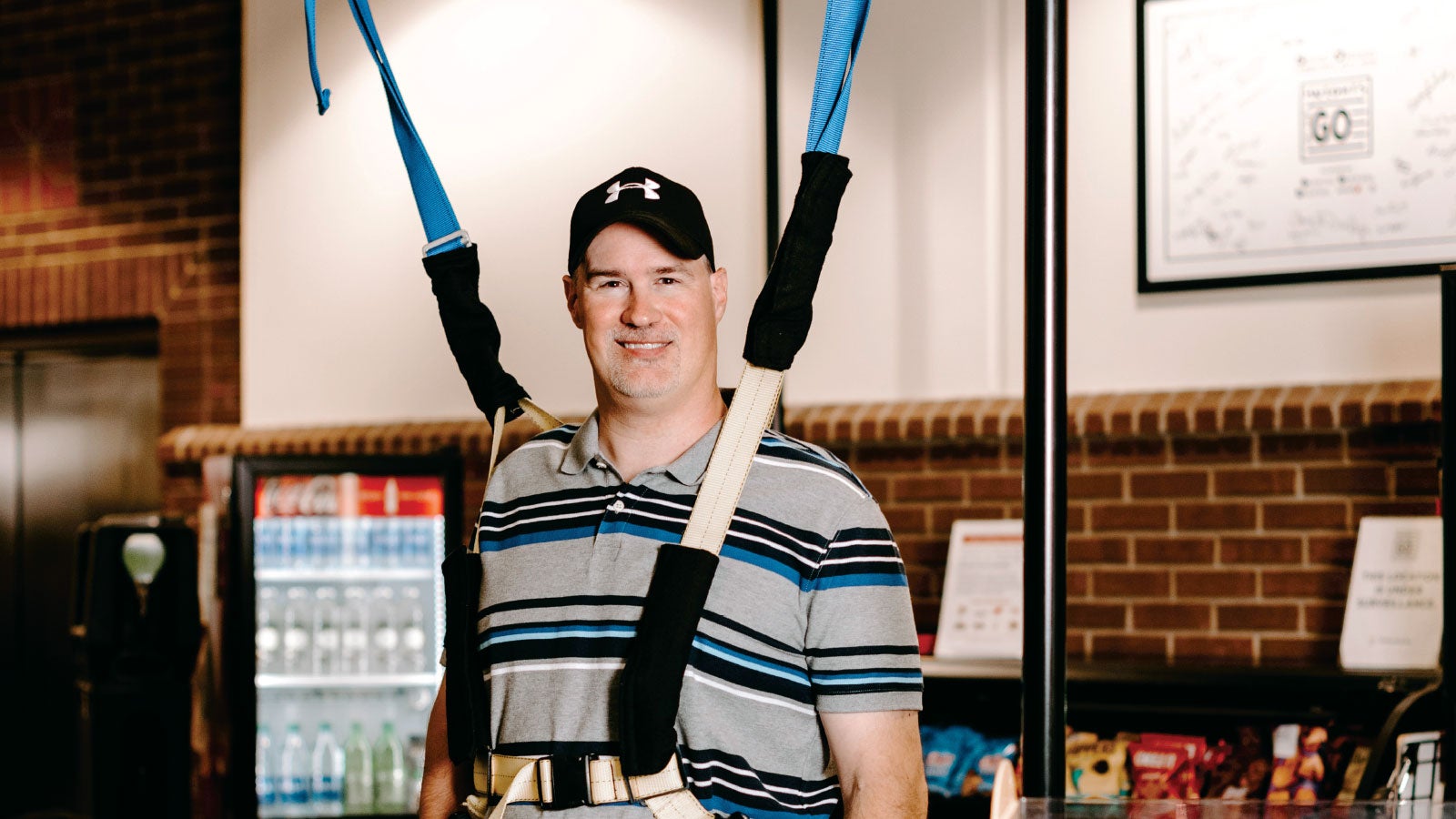 UCF's Aphasia House and Knights on the Go Café is helping people like Larry Lentz Jr. improve their mobility, language and social skills.
Spring 2020 | By Camille Dolan '98
Not all heroes wear capes. Sometimes, they wear harnesses.
When Larry Lentz Jr. wears his harness in the Knights on the Go Café, he glides from cash register to refrigerator, serving customers sandwiches, pastries and cold drinks, garnished with a big smile.
It's more than purposeful work for Lentz Jr. — it's physical therapy. The café harness, suspended from crisscrossed poles, offsets his bodyweight allowing him to wait on customers, but more importantly, helps strengthen his muscles, finetune his coordination, and increase his endurance.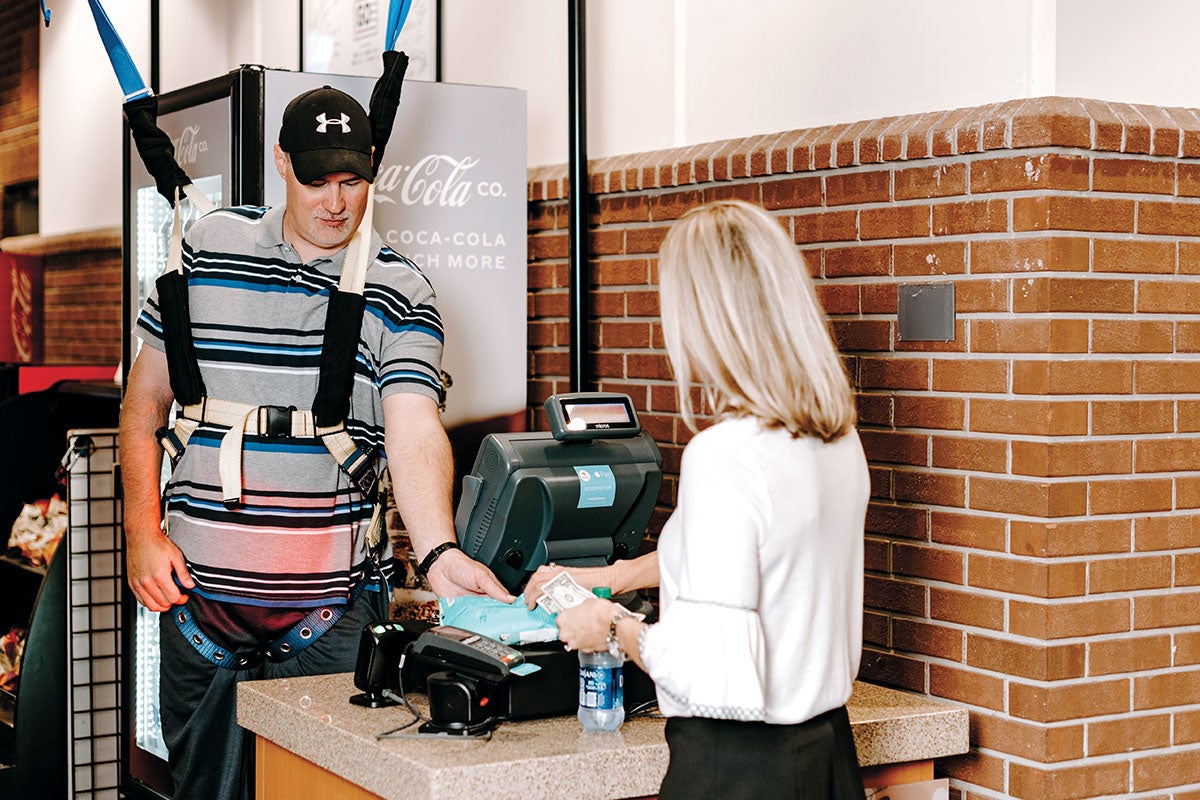 Lentz Jr. was in his late thirties when he received his commercial pilot's license and soon after had a stroke. He lost not only his ability to fly, but also his ability to walk and talk.
He has spent the past decade focused on regaining his speech and mobility with the help of programs offered by UCF, including the café and the UCF Communication Disorders Clinic.
Lentz Jr. and his parents, Ruth and Larry Lentz Sr., appreciate the learning environment of UCF therapy services. In these programs, graduate clinicians work under the supervision of licensed therapists.
"Larry really likes working with the students," Ruth Lentz says.
It's a win-win for everybody: students receive supervised clinical hours as part of their curriculum and gain experience treating patients who have conditions that they might not be exposed to in other clinical settings. And the patients benefit from therapy that is innovative and cutting-edge.
"Our graduate students are so thrilled to work with Larry," says Jennifer Tucker, clinical assistant professor in the physical therapy program. "They have seen him make enormous strides in his mobility, and he is such an inspiration to be around."
In addition to the strides Lentz Jr. has made in physical therapy, he also is improving his communication through therapy at the UCF Aphasia House.
Aphasia House offers intensive outpatient speech therapy for individuals with aphasia, a disorder that results from damage to parts of the brain and can cause impairment in all aspects of communication.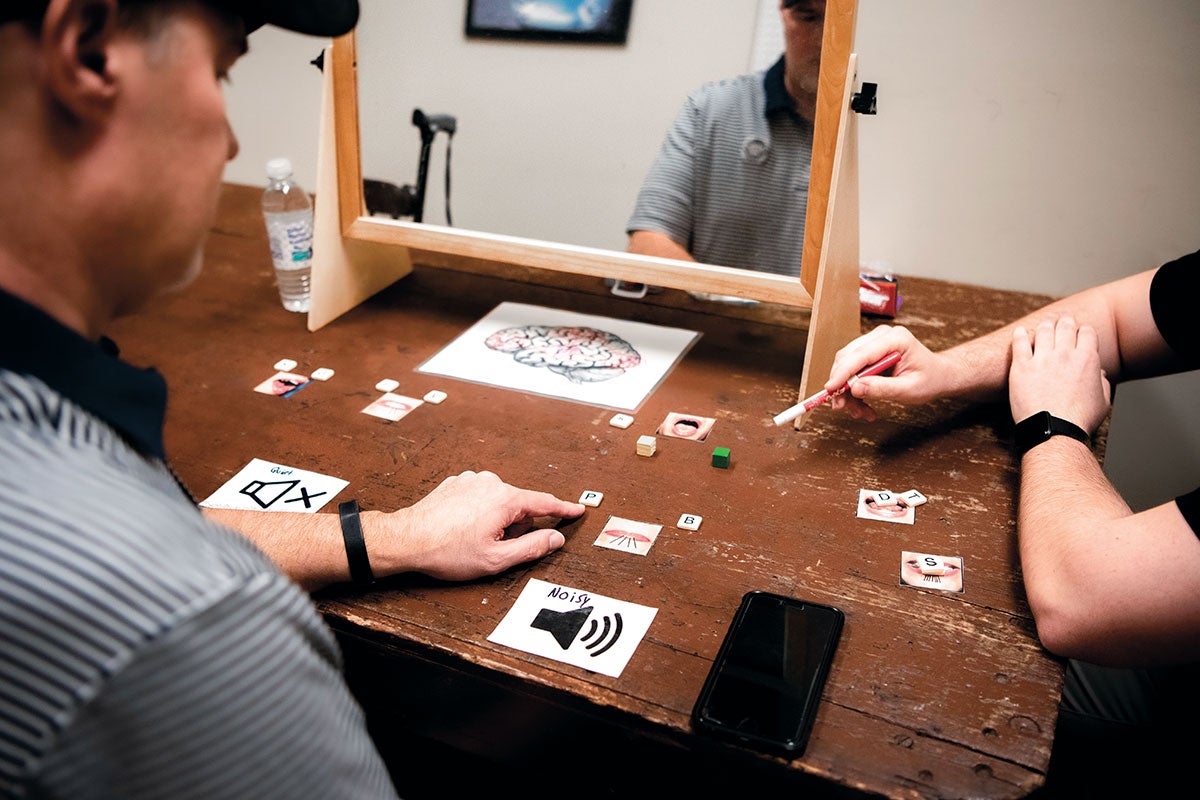 While receiving therapy at Aphasia House, representatives from Canine Companions for Independence visited the clinic. Janet Whiteside, founder and director of Aphasia House, encouraged Lentz Jr. to apply for a service dog.
The two-year process culminated in Lentz Jr. acquiring Bernie, who had learned 40 commands in preparation of meeting Lentz Jr.
"After Larry got Bernie," says Ruth Lentz, "Aphasia House clinicians worked with him to learn many of the commands Bernie had learned. They make a great team."
At every step of Lentz Jr.'s progress, his longtime friends Doug Etheredge and Stephen Wood have been alongside him.
"He has such a natural, jovial, contagious, joking personality that you just want to be a part of his life," Etheredge says.
Lentz Jr. has changed a lot since the day of his injury. What hasn't changed is his personality.
"He has a big heart, big personality, big everything," Wood says. "He is such a great person."
Lentz Jr. continues to advance in his speech and mobility, far beyond what experts expected during his early days of recovery.
"In the past 10 years, we have seen so many new technologies and therapies," says Lentz Sr. "We have hope that in the next 10 years, something else may come along that can help our son even more."
There is no quick fixes to help Lentz Jr., so he puts in the hard work to continue to improve.
"His favorite thing to say if he gets frustrated is 'One day,'" Lentz Sr. says. "We know he's saying, 'I can do this.' "
"UCF has really been a blessing to us. Aphasia House was just amazing, and the café has helped him in so many ways. I have so much respect for all the therapists and graduate clinicians at UCF."

Ruth Lentz