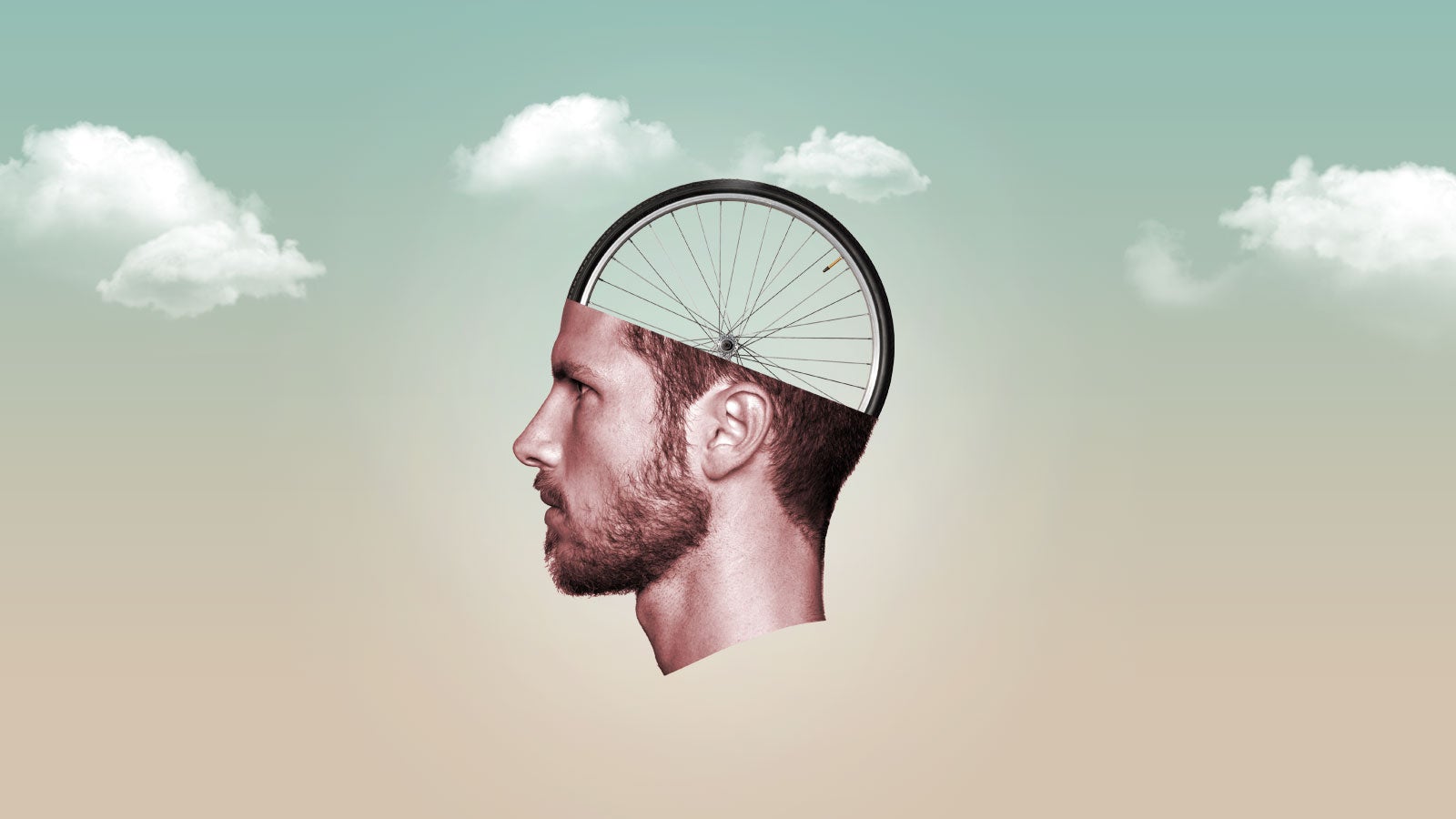 There is a special kind of freedom one can experience only by riding a bicycle state line to state line.
Spring 2020 | By Jeff Kunerth
A writer I admire equates reading to travel: No matter where you are, no matter what you are reading, it takes you to a different place.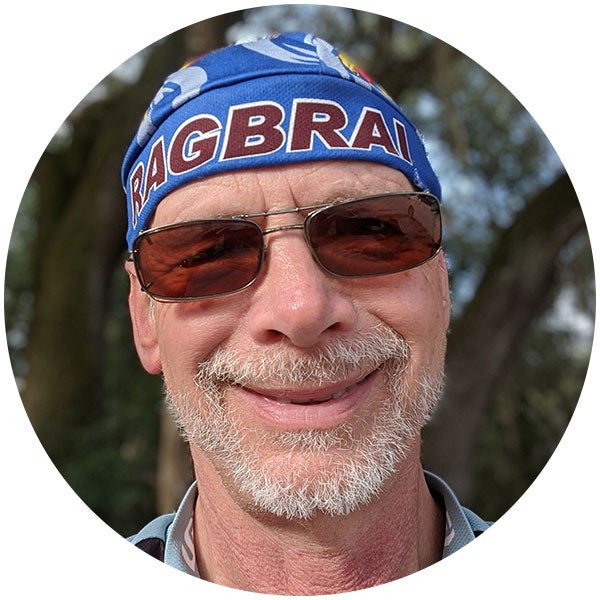 I equate riding a bicycle to freedom: No matter what you ride, no matter where you go, you are getting away.
My love of bike riding began as a child. Learning to ride extended the range of my world growing up in Ames, Iowa. I was beyond the reach, sight and influence of my parents. I rode from the familiar to the unknown. The bike took me places far beyond the range of my feet: all the way to downtown Ames and beyond where the houses ended and the cornfields began.
Bike riding as a boy was all about independence, never about fitness.
As an adult, cycling is my favorite form of exercise. It's my ride to a healthier lifestyle. But it is still about freedom. A car can get you where you want to go faster, but it can't go farther than a bike. It's possible to ride across a state — which I have — or the nation.
My home state is host to RAGBRAI, or the Register's Annual Great Bike Ride Across Iowa, a seven-day, cross-state bike ride organized by The Des Moines Register that annually attracts 10,000 cyclists.
You can drive a car across Iowa's 310 miles in about six hours. But what you miss are the small farm towns spaced about 10 miles apart, the distinct Iowa downtowns, the way cornfields wave in the wind, and the genuine hospitality of Iowans. Along the RAGBRAI route, Iowans offer you homemade rhubarb pie, free water, fresh fried pork chops. The money raised by RAGBRAI riders funds high school senior trips to Washington, D.C., volunteer fire departments, and small Methodist churches with their fine spaghetti dinners.
The distance between overnight host towns varies from 50 to 80 miles with a 100-mile option available during the ride. To many people (including my sons when they were young), riding a bike 80 miles seems more like a punishment than pleasure. But for me it is pure freedom: freedom from work, freedom from bills; freedom from habit and routine; freedom from television, computers and the internet; freedom from obligations, responsibilities, duties and chores.
Long-distance cycling distills life to what is important in the moment: the next mile, the next town, reaching the final destination. There is an acute awareness of which way the wind is blowing. You hear from parts of your body you did not know existed. When all you have to do that day is ride a bike, life can seem pretty simple.
RAGBRAI, now in its 50th year, begat other cross-state rides. I've cycled across Florida, Georgia, North Carolina and Virginia. Because of my bike, I know the roadside version of those states through the vistas of hills, fields, woods, farmhouses, small towns and cities.
As a transplanted Iowan, I was involved in the Orlando Sentinel's bike ride across Florida in the 1980s, which lives on — 40 years later — as the Florida Freewheelers club's Florida Bicycle Safari.
Through the years of biking across Florida, I've gained a closer relationship with a state that is unfriendly, if not hostile, toward cyclists. According to a 2019 report from AAA, Florida is the deadliest state for cyclists, and the Tampa-St. Petersburg area, Jacksonville, Orlando and Miami claimed the top four spots for deadliest metro areas in the nation. In exercising your freedom here, you may jeopardize your life.
The antidote to potentially getting run over by a car is to use the growing number of paved bike paths throughout the state. I've ridden them all while compiling a book, Florida's Paved Bike Trails, which includes 76 bike paths from Pensacola to Key West. More paved trails are on the way, including plans to link existing paths from Titusville to St. Petersburg in the 250-mile Florida Coast-to-Coast Trail.
---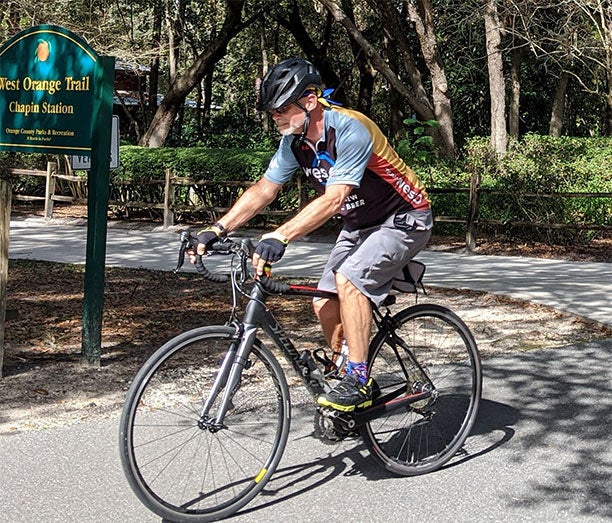 ---
One of those many bikes paths, the Seminole Wekiva Trail, passes near my home. I can ride my bike on it from Altamonte Springs to Lake Mary and cross a bridge over I-4 to the Cross Seminole Trail that takes me through Winter Springs and into Oviedo. From there, I can ride the Cady Way Trail, which runs through Winter Park to join the Orlando Urban Trail that ends — for now — in downtown Orlando.
A ride like that takes all day. You end up exhausted but exhilarated, tired but stronger.
Over the course of my life, I've ridden my bikes thousands of miles. These days, while I'm still working, I get out a couple of times a week — never less than 20 miles and seldom more than 50.
But there's one thing I've noticed: The older I get, the better, lighter, more expensive bike my body needs — it's easier on the legs and needs less effort to go longer or faster.
Freedom, as they say, isn't free.
---
Jeff Kunerth is a lecturer in journalism at UCF. He joined the faculty after 41 years as a reporter with the
Orlando Sentinel
, where he won numerous awards including being named a finalist for the Pulitzer Prize in 2013.