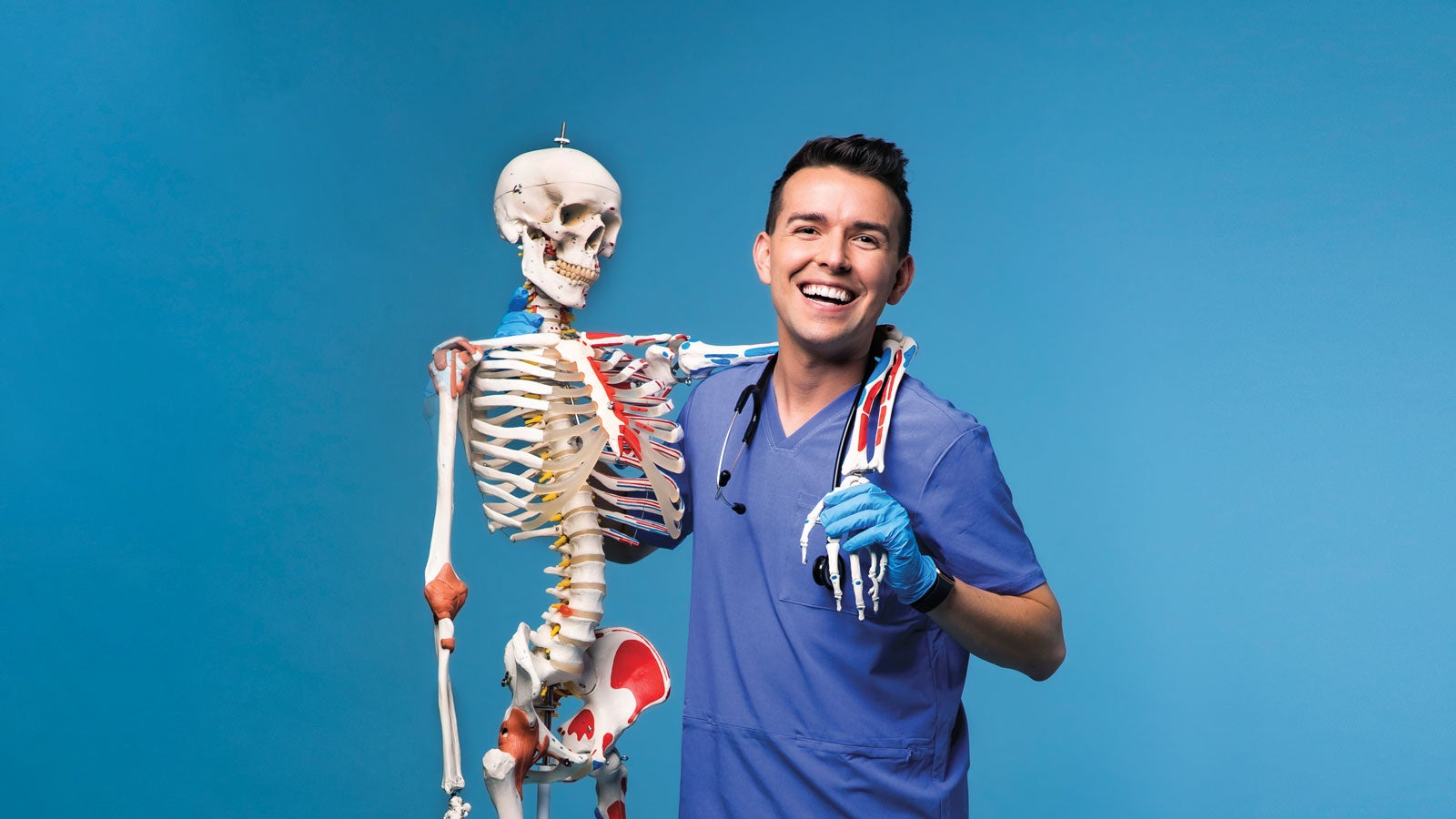 Laughter is the Best Medicine
Blake Lynch '14 is providing comic relief to nurses around the world.
Spring 2020 | By Angie Lewis '03
Blake Lynch '14 knows first-hand the pressures that nurses face.
They make important decisions that can have life or death consequences, and help people who often feel — and sometimes act — their worst. Where some might see an opportunity to complain, Lynch saw an opportunity to provide some comic relief.
"The male onesie [had just] come out, and I was like, 'Oh my gosh, I have to make a scrub onesie!' " Lynch says.
That idea became a YouTube video, called "Scrub Romper," in which he turns a pair of scrubs into a men's romper and dances by a pool. He posted it on his Facebook and YouTube pages and watched his online popularity soar.
"I got messages and comments from nurses and nursing students [from] all over the world," Lynch says.
Today, "Nurse Blake" has almost a million Facebook followers, more than a half million Instagram followers and more than 86,000 YouTube subscribers. Through his social platforms, he shares light-hearted, self-made videos that include everything from "What Nursing Students Say" to "Medical TV Shows Be Like…".
"The turnover rate is high in nursing … I wanted to develop this community of nurses that can relate to one another and laugh."

Blake Lynch '14
"The turnover rate is high in nursing. Burnout is high. So I wanted to develop this community of nurses that can relate to one another and laugh. It's OK to laugh about our jobs and laugh at ourselves," Lynch says.
And while other medical professionals have received backlash for using patients as the butt of their jokes on TikTok and other social apps, Lynch consciously focuses his material around the lives of nurses and some of the funny things about the profession in general.
"It's important that I put out content that uplifts nursing in a positive way and in one that doesn't negatively affect our profession in how people see and treat nurses," Lynch says.
Calling Nurse Blake
After participating in countless speaking engagements, Lynch decided to turn his stories and insights into his own personal show. Nurse Blake: The Call Light Tour — complete with theatrical sets, lighting and video screens — attracts sold-out crowds comprised mostly of nurses and nursing students across the country.
"With my tour, I'm able to be myself and have my platform with my peers," he says. "I surprise them because they don't know a lot about me personally, and I take them through my whole nursing school and nursing journey. It's like a rock concert! They are so loud. We're laughing the whole time, and then we're crying. Then we're laughing again. It's so much fun."
Sea-sing the Opportunity
As he's grown his online community, Lynch wanted to do something that was beyond Nurse Blake. Having attended many conferences over the years, he says they're often not the most fun or innovative. So he created his own: NurseCon at Sea, a cruise that includes nursing continuing education courses.
The first event, NurseCon at Sea 2020, sold out in two minutes. Setting sail out of Miami on April 27, the conference's mission is to provide fun and engaging experiences where nurses and nursing students can come together, interact and share ideas.
"We have no sponsors. Everything we do is for the nurses," Lynch says.
Please note at the time of publishing, the dates for NurseCon at Sea had not been affected due to COVID-19. The event is now rescheduled for April 15 – 19, 2021. 
Leading the Charge
Before conceiving of Nurse Blake, Lynch used the power of social media to petition the Food and Drug Administration to amend an outdated policy that prevented gay and bisexual men from donating blood, regardless of their health.
He discovered the policy after visiting a blood bank to help a classmate who got sick and needed a transfusion. Because he's gay, Lynch was turned away and told he was banned from donating — for life.
Refusing to accept discrimination based solely on his sexual orientation, Lynch established Banned4Life, which sought to change the FDA's policy. It took about two and a half years, but thanks to his determination and countless supporters, the movement succeeded in getting the FDA to revise its recommendations.
"As a nursing student from Orlando, I was able to take on the FDA," he says. "I realized the strength of my peers and the people who supported me because we can't do things alone."
The Face of Modern Nursing
As UCF celebrates its 40th anniversary of nursing excellence, the College of Nursing celebrates the evolution of the nursing industry and alumni like Lynch, who are influencing positive changes within it.
"With the power of the internet and social media, a lot more people are able to get a glimpse into what a nurse's life is like on the clock and off," Lynch says. "I think we're getting to that point where there are so many of us, we [as nurses] have to realize that we do have the power to create change."