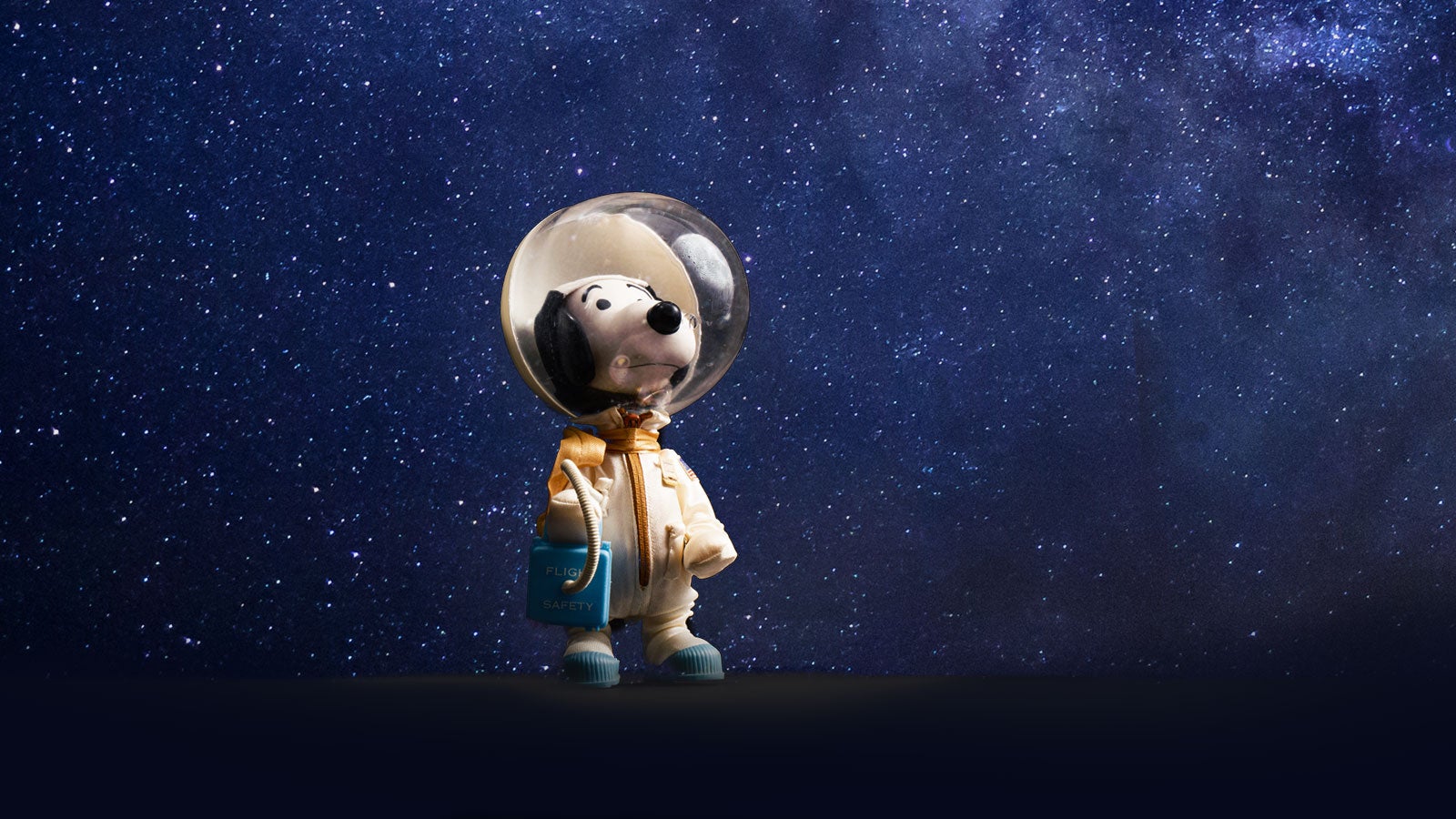 Since the 1960s, beloved Peanuts character Snoopy has been an icon for safety in the aerospace industry.
Spring 2020 | By Bree Watson '04
He's not a trained astronaut, yet Snoopy has been on dozens of trips to space. His mission: to inspire and honor those who make spaceflight as safe and successful as possible.
In the aftermath of the Apollo 1 tragedy that took the lives of three crew members, officials at NASA reached out to Peanuts creator Charles Schulz for permission to use Snoopy as the symbol for a new safety program. Schulz happily agreed and got to work sketching the cosmic canine — a collaboration that endures today.
The Silver Snoopy Award, presented by astronauts to professionals in the aerospace industry who support them, is a sterling silver lapel pin that was flown in space. Since its creation in 1968, the Silver Snoopy has been awarded to fewer than 1 percent of the aerospace workforce — about 15,000 people. And last year, Greg Plettinck '09 became one of them.
---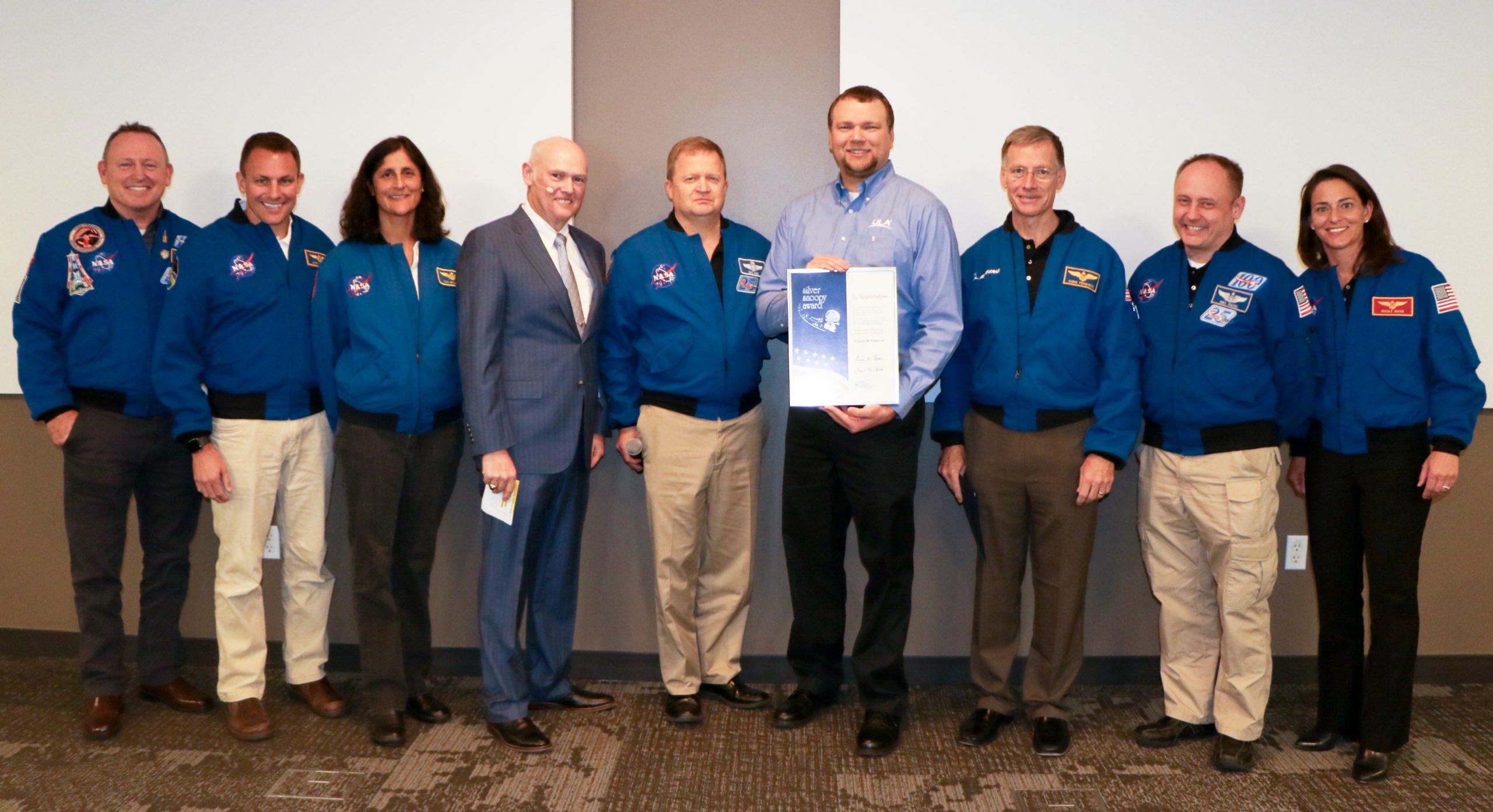 ---
"I was both humbled and excited to receive this recognition," says Plettinck, a systems engineer for United Launch Alliance (ULA). "Most professionals who receive this award are presented it by one astronaut. I was privileged to have seven astronauts that I work with directly present the award. It was even more personally meaningful because the pin flew with astronaut Eric Boe on STS-133, which was the last space shuttle mission I worked on."
Plettinck's current role includes training the ULA ascent team and conducting simulations in support of Boeing's CST-100 Starliner crew capsule and NASA's Artemis program, which is set to land the first woman and next man on the moon by 2024. Asked about Snoopy's long-lasting relationship with space exploration, Plettinck says, "Snoopy is very recognizable and relatable to generations worldwide. He represents the childlike wonder and curiosity that humans have to seek, explore and discover."

Here are a few more facts about Snoopy the astronaut:
A Love of Flight
Long before he left Earth's orbit, Snoopy had earned his wings as the imaginary fighter pilot Flying Ace. It was in a March 1969 comic strip that Snoopy landed his doghouse on the moon — four months before Neil Armstrong and Buzz Aldrin made history.
---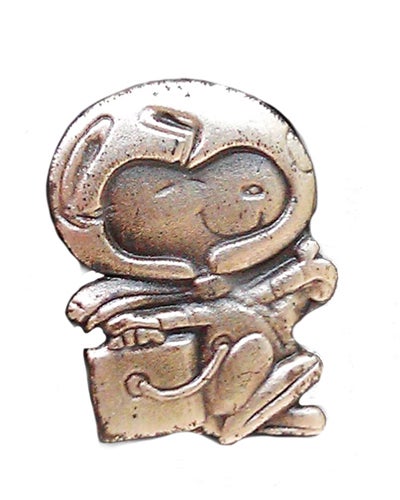 Coveted Award
The Silver Snoopy is just one of the motivational and recognition awards given through the NASA-managed Space Flight Awareness program, but it's considered the most prestigious since the recipients are chosen by astronauts. The award consists of a sterling silver pin, commendation letter and official certificate.
---
Manned Flight's Best Friend
In the later years of the shuttle era, flight manifests listed hundreds of Silver Snoopy pins among the cargo carried into space. On average, there were 145 pins on each shuttle mission.
---
From the Archives
Equipped with a space suit, helmet and oxygen tank, the 10-inch Snoopy figure featured above was released as a promotional item for the Apollo 10 launch and is one of many space memorabilia housed in UCF's Special Collections.