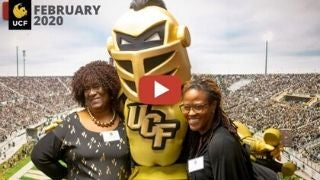 Hello from the University of Central Florida. Click the image above to view the important announcements for the month of February.
Orientation season is just around the corner. Incoming first-time-in-college students are required to attend an orientation session prior to enrolling, and they can register after submitting their non-refundable $200 enrollment deposit. We recommend that students register for and attend orientation early for maximum flexibility in course registration and to get a head start on their college transition. To view the orientation schedule — and to register — students should visit orientation.ucf.edu.
The Office of Student Financial Assistance will begin emailing financial aid award letters on March 1st to student's preferred email address. If students have not yet submitted the FAFSA, please encourage them to do so quickly to be considered for need-based financial aid. UCF's school code is 003954. Please encourage students anticipating an award letter to check their email – including their spam folders – beginning March 1st.
The admissions committee continues to review applications for the Summer and Fall terms, consistent with our rolling admissions policy. Students still under consideration may wish to submit updated academic credentials, such as senior grades and/or new SAT or ACT results, but as a reminder, supplemental documents like letters of recommendation and essays will not be accepted during the general admissions process.
We're pleased to announce that the Princeton Review has once again named UCF a Best Value College for 2020, based on factors such as academics, cost, financial aid, graduation rates, student debt, and alumni salaries. We're proud of our commitment to providing a high-quality education at an affordable price. For the latest news on rankings and other news stories, visit ucf.edu/news.
And finally, we hope each of you were overwhelmed with messages of gratitude and thanks during the recent National School Counseling Week. It goes without saying that the work you do every day is important and impactful. On behalf of our team and the many students and alumni that you've had a hand in getting here, thank you.
Go Knights and Charge On.