Saturday, March 19, 2022
You're invited to attend a very special event at UCF.
Scholars Day is an invitation-only program designed for our highest-achieving admitted students. This special day brings together the administration, faculty, staff and students of UCF for a glimpse of what it's like to be a freshman at one of the most innovative universities in the nation.
Even if you've visited our campus before, this in-depth program provides information that will assist you and your family during your transition from high school to college.
Yes, we offer campus tours. But this event is about more than finding your way around campus.
It's about connecting with faculty and hearing from experts on student success.
It's about engaging with top administrators.
And it's about finding answers. From determining which major to choose, to understanding your scholarship package, we're here to help you figure things out.
So join us for a day that's filled with fun and engagement, Saturday, March 19, 2022!
See you there!
Register for Scholars Day
Reasons to Attend Scholars Day
Meet the advisors. We've assembled advisors and faculty from across disciplines to facilitate information sessions and share the unique aspects of academic life at UCF; you'll get a sneak-peek into what lies ahead in your major of choice.
Meet new friends. New Knights just like you are looking for friends. Strike up a conversation or bond over common interests.
Knowledge is power. There's a lot to know about going to college. Our sessions are led by experts and designed to equip you with tools to be successful in your transition to UCF. You'll leave knowing more than when you arrived.
It really is fun! Scholars Day is one of our most talked-about events of the year. After the day's over, we're sure you'll say, "I'm glad I came."
Free Lunch! Who says there's no such thing? We've got your midday cravings covered with an invitation to sample food from a variety of our campus dining partners.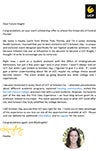 Hayley's Scholar Day Experience
Hayley Lynch is a student at UCF. Her experience at Scholars Day cemented her decision to attend. You can read about Hayley's experience below.