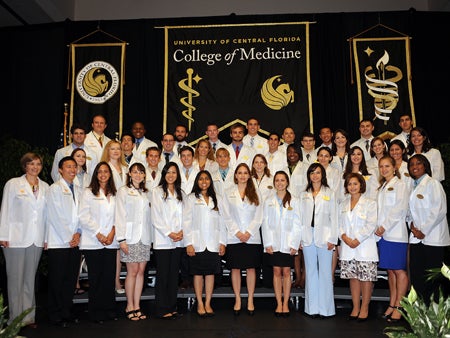 The UCF College of Medicine will begin implementing the World Health Organization's (WHO) Patient Safety Curriculum this fall, and the WHO believes we are the "the first medical school to do this in the USA."
Patient safety has become a national topic since a 1999 Institute of Medicine report estimated that medical errors kill as many as 98,000 people per year. Follow-up surveys of medical schools found that young doctors in training did not feel they received enough in-depth education in patient safety.
In response to this issue, the WHO developed a patient safety curriculum to be taught in medical schools. The WHO identifies 11 areas that are key to improving patient safety, including infection control, surgery, medication and practical ways to analyze how mistakes are made. The goal of the curriculum is to improve patient safety and communication and to create a medical care culture that encourages learning from mistakes rather than issuing blame.
The WHO has invited the UCF College of Medicine to become a pilot site for evaluation of the patient safety curriculum along with 10 medical schools in countries across the world, including India, Saudi Arabia, Israel, Argentina, Nepal and Canada. Dr. Bethany Ballinger, an Orlando emergency physician and clinical assistant professor in emergency medicine and clinical informatics at the College of Medicine, brought the curriculum to our medical school and now serves as the college's director of the patient safety longitudinal curricular theme.
Dr. Ballinger said that because medical school training has so many subjects to cover, students usually don't get exposed to patient safety issues until they are working in hospitals and clinics. "Our medical students come into contact with patients beginning in the first year, and it follows that exposure to the key concepts of patient safety should be integral to their education from the start," she said. To do that, Dr. Ballinger has introduced patient safety into College of Medicine courses.
"The emphasis is on understanding the journey the patient makes through the healthcare system and recognizing how the system can fail and what we can do to prevent this," she said. "Patient safety is emerging as a discipline in its own right and we are honored to be playing a part in paving the way for the future."
Source: Wendy Spirduso Sarubbi, UCF College of Medicine Information/Publication Services, 407-823-0233 or wsarubbi@mail.ucf.edu