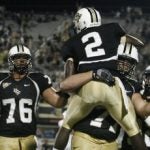 Their first victory in five years against East Carolina finally secured, UCF linebacker Derrick Hallman pranced to the sideline to join his joyous teammates and begin an early celebration of a win many dubbed as one of the most important in school history.
When UCF proved unstoppable all day offensively and the defense did just enough to contain East Carolina's high-flying, pass-happy offense, the Knights were able to emerge with a 49-35 victory that made Bright House Networks Stadium throb with raw emotion and gave them a stranglehold on Conference USA's East Division.
And in the eyes of UCF standouts Jah Reid, Brian Watters and Hallman, the resounding victory was especially important because it was the first one for the senior class against an East Carolina program that had beaten the Knights four straight times.
"I'd have to put this number one because this is the only team in the conference that we had never beaten," Hallman said. "We called them our biggest rival, but you can't really call someone a rival until we had beaten them. It's not a rivalry if they keep winning the games. But it just feels so good for us to finally get over this hump."
The win, UCF's 10th straight in league play, pushed the Knights' record to 6-2 overall and 4-0 in C-USA. That essentially puts the Knights two games ahead of East Carolina (5-3, 4-1) because of the head-to-head tie-breaker. UCF has four more conference games – starting Friday night in Houston on ESPN – and it can claim its third East Division title in six years if it just continues to win.
"Success and confidence go hand in hand, it was a good win for us and the kids enjoyed themselves," said UCF coach George O'Leary, whose team qualified for its fourth bowl game with its six wins and is off to UCF's finest start since 1998. "The goal is the conference championship. That's what we set early and that's the only goal that we talk about. If you do that, that sets up all of the bowls you want. If you ask the kids, they should tell you that (a conference title) is the only goal."
All of UCF's goals are still very much within reach because its offense put up 21 first downs, a whopping 424 yards and scored on six of the seven possessions that didn't end with the team taking a knee to kill the clock.
The Knights were so downright dominant offensively that they did not punt. It's the first time since Sept. 12, 1998 – a 48-0 defeat of Eastern Illinois – that UCF played without having to punt the ball.
"We had the mentality out there that we couldn't be stopped," said Reid, UCF's massive right tackle. "We wanted to run the ball and impose our will on them. … I'd have to rank this win No. 1. To go four years and not beat a team would have been crazy. There was a lot of pressure on this game and we had to get a win. We're just so happy that we did."
They got a win because junior tailback Ronnie Weaver ran for a career-best 180 yards and two touchdowns, while sophomore reserve Latavius Murray scampered for another 47 yards and three touchdowns. And true freshman quarterback Jeff Godfrey did the rest, getting UCF out to a commanding 14-0 lead with two early touchdown passes and he ultimately totaled 202 yards through the air and on the ground.
"We had so much confidence because we were moving the ball running and passing and it helped me get comfortable out there," said Godfrey, who turned and exhorted to the UCF student section in the game's final seconds. "On the sidelines, I told my O-line to keep blocking and we just pounded it. We had a good running game and passing game all day."
East Carolina, the C-USA champs each of the past two seasons, came into the game with a nine-game league winning streak itself and one of the nation's best offenses. And quarterback Dominique Davis, a Lakeland native, kept the Pirates' pulse beating all day with 310 passing yards and three touchdowns. Star wide out Dwayne Harris, who had given UCF fits in the past, caught nine passes for 146 yards and a touchdown.
Desperate to create more big plays down the field, Godfrey went to work with his three senior wide receivers on Saturday. He found A.J. Guyton for an 8-yard touchdown on third-and-seven on the first possession. He then put the Knights up 14-0 with a 40-yard strike to Kamar Aiken. And just before the half, Godfrey found Brian Watters for a 29-yard catch-and-run that put the Knights in position to go ahead 28-14 at the break.
"This is the biggest win of my career playing football. We were playing a team that had won (four) straight against us and it feels good to be in the position that we are now," Watters said. "(Offensive coordinator Charlie) Taaffe did a good job finding a lot of weak spots on their defense and our receivers did a great job making plays."
UCF's ground game was so dominant running behind guard Nick Pieschel, tight end Adam Nissley and Reid, that O'Leary never hesitated going for a fourth-and-goal from the 1 early in the second quarter. Weaver pounded it across to put UCF up 21-7, and he and Murray were basically unstoppable running right all day.
"We felt that we had a great rhythm offensively and it's a credit to the great preparation we put in this week," said Weaver, who broke his previous high for rushing (150 yards against Marshall) and topped the 100-yard plateau for the third time. "(Reid, Pieschel and Nissley) are great over there. They're like a big tag-team partnership over there."
UCF entered this season dreaming of a 12-0 season, but heartbreaking losses to NC State and Kansas State dashed those hopes. But considering the way the Knights responded to some early adversity, winning four consecutive games now, there's an air of confidence coursing throughout the team now.
"It definitely feels like we have something special going on," said Hallman, whose fourth-down tackle late in the game sealed the victory. "It feels almost surreal to beat East Carolina and get over that hump. We're in the driver's seat in the conference now and we have to keep it that way."
John Denton's Knights Insider appears on UCFAthletics.com several times a week. E-mail John at jdenton@athletics.ucf.edu.