Two UCF music alumni recently blew past the competition – literally – on their way to winning national trumpet auditions for high-profile bands.
Rob Schaer, '02, won the principal trumpet audition for the Hollywood Bowl Orchestra in Los Angeles, and Francis Franqui, '04, won a spot as a bugler in the U.S. Army Fife and Drum Corps, the official ceremonial unit and escort to the president.
"Jobs like these in the music industry are very difficult to come by and those that get them are extremely gifted," said John Almeida, associate professor of music at UCF.
After Schaer graduated from UCF with a Bachelor of Arts – Performance degree, he attended the University of Southern California, where he earned a masters and doctorate in musical arts in 2008. Now that he won the Hollywood Bowl audition, he will be go through a two-year tenure process to secure the orchestra post permanently.
"This is a wonderful opportunity for me," he said. "I've been quoted many times regarding the incredible instruction I received from UCF from professors."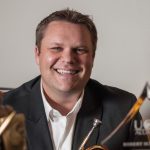 While at UCF, Schaer played in the wind ensemble, orchestra, jazz band and marching band. He also played in the pit for some of the Broadway performances at the university.
Now living in Glendale, Calif., Schaer has stayed busy performing and recording. He is a substitute musician with the Los Angeles Philharmonic and recently started working as a sub with the LA Opera. His current recording projects include Galavant and Agent Carter for ABC television as well as Family Guy and American Dad for Fox television. He also just started recording for Disney's Zootopia, an animated cartoon movie, and The Boss, starring Melissa McCarthy, both scheduled for release in the spring.
Schaer said the support he's received after graduation from his UCF professors has been remarkable.
"Both John Almeida and Lyman Brodie check on me weekly via phone, text or email. They really care about my career and are always looking for updates and to offer encouragement," he said. "In the L.A. freelance world where sharks are constantly circling, it's nice to have professors who are now friends who I can call and lean on at any moment."
Franqui, who graduated as a liberal studies major with an emphasis in music education, lives in Texas and performs with the 1st Cavalry Division Band from Fort Hood, but will move to Washington in January to join the fife and drum corps.
The group performs at all armed-forces arrival ceremonies for visiting dignitaries and heads of state at the White House, and has participated in every presidential inaugural parade since President Kennedy's in 1961.
He said his audition consisted of performing several trumpet songs and bugle calls.
"This is a culmination of a lot of dedication, passion and hard work. I committed to practicing at least six to eight hours a day for the last six months just for this audition," Franqui said. "Being selected to play among such a fine group of musicians presents another huge opportunity for musical growth and inspiration."
While at UCF he participated in the Marching Knights, the orchestra, wind ensemble, jazz ensemble, brass quintet and trumpet ensemble. He also has since recorded with the Hai Dozo Brass Quintet in Japan and the Black Jack Brass quintet in Texas.
"My strong musical foundation was laid by great experiences that I acquired as a music student at UCF," Franqui said. "I have lots of friends who went to other prestigious music programs to include music conservatories that didn't have as rich of an experience as I did at UCF. The fact that UCF is surrounded by the entertainment business alone is a huge asset to any student trying to land an entertainment career.
"I was able to study with great professors such as John Almeida, Lyman Brodie, Jeff Rupert, Ron Ellis and Lazlo Marosi, to name a few. In addition, I had professional musicians in town to go to for help and guidance. We were exposed to amazing artists that would come to UCF to share their knowledge and experiences. My time at UCF was priceless."
Franqui said he didn't know what to expect when joining the Army Band program, but after two years of service, he said it was one of the best decisions of his life.
"I love performing with great musicians, traveling and entertaining huge audiences," he said, "but most importantly, I get to serve my country doing what I am most passionate about."