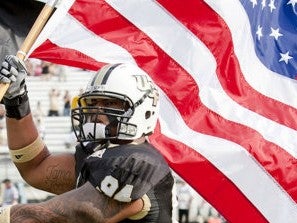 UCF's home game on Sept. 11 against NC State of the Atlantic Coast Conference is now slated for a 7:30 p.m. kickoff to accommodate the national telecast. UCF's home finale against C-USA East Division rival Southern Miss on Nov. 13 will begin at noon.
This brings UCF's national broadcast total thus far to five as ESPN has preselected three of UCF's games in 2010 for weeknight primetime broadcasts. The Knights' home game against UAB (Oct. 6) and road game at Marshall (Oct. 13) will be on Wednesdays, while UCF's road game at Houston (Nov. 5) will take place on a Friday night. The two Wednesday night games will air on ESPN, while the Houston game will be seen on ESPN2. All three games are scheduled for 8 p.m. ET kickoffs. Additional television broadcasts will be added at later dates, sometimes as late as 12-days prior to the game, per Conference USA's television contracts.
UCF has six home games in all this fall as the Knights will play host to South Dakota (Sept. 4), NC State (Sept. 11), UAB (Wed. Oct. 6), Rice (Oct. 23), East Carolina (Oct. 30) and Southern Miss (Nov. 13). The Rice game on Oct. 23 will serve as a part of the campus' annual Homecoming weekend festivities
Amongst the treats on UCF's 2010 home schedule are perhaps the Knights' two most crucial divisional games as frequent C-USA East Division front-runners East Carolina and Southern Miss come to Orlando this fall. With its home game against NC State, UCF joins East Carolina and Memphis as the only C-USA teams to play a home a game against a school from an automatic qualifying BCS conference in each of the last five years. The Rice Owls will also be making their Bright House Networks Stadium debut. UCF is 6-0 all-time against C-USA West Division teams on their new home field, including a 2007 C-USA Championship Game win over Tulsa and last fall's thrilling 37-32 victory over No. 13 Houston.