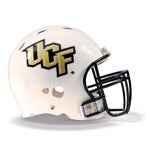 UCF will be playing 125 miles away from Bright House Networks Stadium in the St. Petersburg Bowl Presented By Beef 'O'Brady's on Dec. 19, but all appearances are that the Knights will hold a decided homefield advantage.
UCF, which will face Rutgers, has already sold through three allotments of tickets and expects to pack approximately 20,000 Black and Gold fans into Tropicana Field. As of noon on Thursday, UCF had already secured 14,430 ticket commitments and school administrators expect the sales to stay strong up until game time on Dec. 19.
UCF Athletics Director Keith Tribble worked hard to get UCF (8-4) into the St. Pete Bowl so that the maximum number of Knights fans could travel to see the team play in its third bowl game in five seasons.
Tribble knows that program's reputations are often formed by the size of their traveling party to bowl games, and in the minutes after UCF accepted the St. Pete Bowl bid, Tribble asked that fans support the team in droves. Mission nearly accomplished, he said.
"Sales continue to be strong and we expect to have 20,000 fans in attendance at the game," Tribble said. "Similar to the Liberty Bowl two years ago, UCF has displayed to have a strong travel party. We will continue selling tickets in the UCF sections while they remain. Early reports I've received are that our fans have just about sold-out St. Petersburg hotels and are now stretching into Tampa for accommodations."
The Knights are excited about the prospect of having a homefield advantage in the St. Pete Bowl. UCF was 6-1 at home this season.
"When we went to Liberty Bowl (in 2007), it felt like an away game and we still had a good crowd go with us. But this game is home and close and our fans have no excuse now," UCF wide receiver Rocky Ross said recently. "It will be warm the way everybody likes it. (Tropicana Field) only holds 28,000, so we're hoping to see a lot of Black and Gold to pack that place full."
UCF sold its initial 10,000-ticket allotment in less than a week's time. The Knights then sold additional allotments of 2,500 and 2,000. The school requested another 1,000 tickets on Thursday.
UCF gets to keep the first $100,000 in ticket sales and then it has to split any additional revenues 50-50 with Conference USA.