The University of Central Florida and a group of students who make free 3D-printed limbs for children announced Monday a new partnership that will expand the scope of their work and change the world.
The student led non-profit group—Limbitless Solutions—and UCF are partnering on a hub of innovation that will blend art, medical and engineering disciplines to create a worldwide resource for 3-D printed biomedical solutions.
"Limbitless Solutions is a prime example of a group of students with the ingenuity to turn an idea into a flourishing start-up enterprise," said Tom O'Neal, director of the UCF Center for Innovation and Entrepreneurship and associate vice president for UCF's Office of Research and Commercialization. "We are excited to collaborate with them to develop the Center for Applied Biomedical Additive Manufacturing (CABAM) and look forward to seeing how this project transforms biomedical science and the lives of individuals on a local, national and international level."
CABAM's mission is to establish a world-class interdisciplinary research facility and a marketplace to provide standardized, cost-effective, innovative, creative, and functional biomedical solutions. The center will leverage, support, and extend the great work and international recognition of the nonprofit Limbitless Solutions, and it aspires to be the place for researchers and passionate students to push the limits of innovation. This partnership will expand Limbitless' efforts around the world and help create more collaboration among world-renowned scientists, medical doctors and engineers in the field of additive manufacturing.
"We are so excited to help build a generation of visionaries who use science to make a difference in the world around them," said John Sparkman, an engineering graduate student at UCF and one of the directors at Limbitless Solutions. "This partnership will help us continue to change children's lives and to inspire and lead a new generation of students to do even more."
Limbitless Solutions was founded last July when UCF doctoral student Albert Manero and his team of volunteers created a 3D-printed arm for then-six-year-old Alex Pring. Pring, from Groveland, was born without most of his right arm. The team created the arm in an engineering lab at UCF in less than two months using off-the shelf servos and a Stratasys 3D printer for a cost of about $350. They gave Pring the arm and received international attention when they put the construction directions online for anyone to use at no cost.
Since then, the team has delivered three arms in the U.S. and has been flooded with requests from more than 40 countries. The volunteers, all students continue to build the arms in their spare time using UCF's engineering manufacturing lab and donations.
In March the team saw a surge in requests for help when Robert Downey Jr., a.k.a. Iron Man, featured Pring and Manero in a short video on his Facebook page. Downey, who was in character, gave Pring a new Limbitless-produced arm with an Iron Man design. The video was watched more than 50 million times. Microsoft also featured the students and their work in #TheCollectiveProject social media campaign.
Earlier this month a 12-year old from Vero Beach, Wyatt Falardeau, requested that his arm design feature his heroes — Blue Man Group. When the team at Blue Man Group learned that Falardeau, who has autism, is a huge Blue Man fan, they conspired with Limbitless to mastermind the delivery of Wyatt's arm in an unforgettable way.
A video of that emotional encounter was shown at UCF as part of Monday's announcement.
"We started out wanting to create a memorable experience for Wyatt, but in the end, I'm certain we are the ones who will never forget it." Wes Day, Blue Man Captain for Blue Man Group at Universal Orlando, said. "Limbitless Solutions is changing the world, and we're honored to support them any way we can."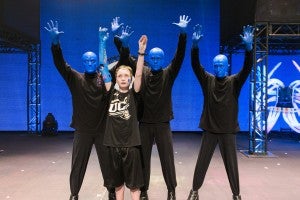 Others have also been inspired. UCF's College of Engineering and Computer Science, where the team spends most of its time, jumped at the chance to be part of CABAM, as did the College of Medicine. The colleges will provide space, faculty mentors and expertise to the center to push students' work forward.
CABAM also hopes to draw more faculty and students who want to pioneer biomedical solutions much like Limbitless Solutions has done. UCF's Venture Accelerator and the Office of Technology Transfer will facilitate the process of taking new discoveries made at the center to commercial development.
"CABAM was established from the ground up in under a year, which illustrates how uniquely UCF is positioned to pursue the endeavors of CABAM – research, philanthropy and entrepreneurism – on day one," said Michael Georgiopoulos, dean of the college of engineering and computer science. "We already have Maker Space laboratories where 3D printing innovations are happening. We have an established nucleus of faculty performing cutting edge biomedical engineering research. We have an army of talented engineering students who are passionate about helping others. And we have resources to help entrepreneurs take their innovations to market."
Deborah German, the dean of the UCF's College of Medicine and vice president for medical affairs is thrilled her college will be working with the center on a variety of projects.
"This partnership matches the excitement of the younger generation with 3D printing and innovative solutions to long-term medical problems," German said. " It's a perfect partnership for students with a passion for new kinds of patient care and new ways of solving problems."
Manero, who leads the team even as he completes a Fulbright research fellowship at the German Aerospace Center, said he's looking forward to the future.
"This is just the beginning," Manero said. "No family should have to pay for their child to have a bionic arm. Together we can make a difference. I invite companies, individuals, organizations and your community to join us as we move forward to help change the world."