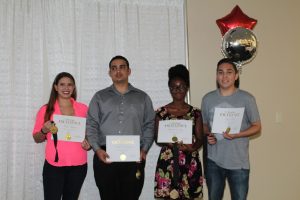 National TRiO Day brings awareness to the continuing needs of low-income and first generation students and the thousands of student lives TRiO programs have changed. This year marked the 50th anniversary of the legislation which established the federally funded TRiO programs. The UCF PRIME STEM Program/Student Support Services celebrated National TRiO Day by hosting 50 visitors, students, staff and faculty at a recent reception (sponsored in part by Fairwinds Credit Union) where the City of Orlando presented PRIME STEM Program with a Proclamation.
The reception provided an overview of the TRiO grant programs offered at UCF and the accomplishments of Student Support Services scholars enrolled in the program.
The event highlighted student accomplishments during the 2013-14 academic year. Outstanding Achievement Awards were given to 11 students who earned (4.0-3.6) grade point averages and Merit Awards were awarded to 22 students who earned grade point averages between (3.5-3.0). Outstanding Service Awards and Financial Literacy Awards were presented to 10 scholars. Also, the program recognized outstanding Peer Mentors and Peer Tutors at the event.
Mike Nichola, grant coordinator for Congressman Grayson's office, was present for the event. He gave special recognition to scholars who demonstrated outstanding academic achievement and leadership by presenting PRIME STEM scholars with Congressional Awards from Congressman Grayson's office. Thirteen scholars who were presented Congressional Awards were recognized on the UCF dean's List and President's Honor Roll this year.
PRIME STEM staff recognized SDES staff and UCF departments. Friends of TRiO Awards were presented to staff that support the goals and mission of TRiO programs at UCF.
The UCF Student Support Services program provides academic advising, mentoring, tutoring, financial literacy instruction and assistance in locating various university resources. Students receive assistance applying for financial aid and scholarships, as well as, graduate and professional schools. Students enrolled in Student Support Services persist, advance, and graduate at higher rates than similar students not enrolled in the program. The program which began in 2010, to date has served 198 students and has graduated 59.