Looking back on 55 years of teaching at UCF, Professor Emeritus Robert Bledsoe has one secret to success: prioritizing the needs of students.
That is the lasting legacy of one of UCF's original founders, who literally helped name the streets that ring UCF's main campus. UCF celebrates its 60th anniversary this year — and Bledsoe has been here for the majority of those years. Bledsoe opened the former Department of History and Political Science in 1968 at what was then Florida Technological University (FTU).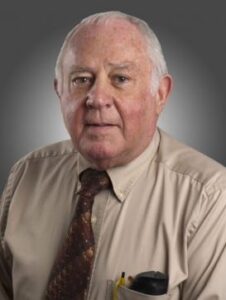 Fifty-five years later, the groundwork laid by Bledsoe has evolved into a world-recognized School of Politics, Security, and International Affairs. And over the decades Bledsoe has picked up seven college and university teaching and advising awards as he took on administrative roles including department chair.
Bledsoe prefers to measure his success, though, in the thousands of thriving careers he's helped nurture across the decades. Countless students have crossed his classroom to soak up his expertise in areas including international law, environmental law, space law, world political geography and global perspectives.
"My legacy is my students who have graduated," he says. "As long as they're better at the end than they were at the beginning, then I think that we've accomplished something."
While today's UCF looks nothing like its origins, the vision of Bledsoe and early founders remains unchanged: "Emphasizing the individual is how you optimize the learning experience."
Forging the Foundation for a University of the Future
Bledsoe's story began at UCF's inception. Back in the mid '60s, Bledsoe was a doctoral candidate at the University of Florida and decided to apply to a brand-new university in Orlando — Florida Technological University. He jumped on the opportunity to support a new institution.
When he arrived at FTU in 1968, it was primarily a small, commuter college. When Bledsoe gathered with a small group in a parking lot to form the first Student Government Association, the cops showed up thinking they were up to no good. Needless to say, UCF has significantly changed into a busy college town with plenty to do.
Bledsoe was tasked with creating a new political science major that would serve students interested in going to law school. At age 28 and still finishing his Ph.D., he found himself writing the original course catalog and ordering the first library books for the political science major. He also juggled teaching 20 courses and independent studies.
Bledsoe thrived on having the freedom to invent things and lay the groundwork for a new department at a new university: "When FTU opened its doors, we had no tradition. So we invented it. There weren't any rules, so we had a lot of freedom to fly by the seat of our pants."
Those early years were focused on serving his students' needs, regardless of how much he had on his plate. His "can do" attitude stayed with him throughout the years as he took on new roles at UCF.
Occasionally he would field other job offers but UCF was home for Bledsoe and he never moved anywhere else. He shared UCF's commitment to student success and, as the years passed, he enjoyed seeing the fruits of his hard work.
Looking Back on the Evolution of UCF — and Onto the Future
UCF and its neighboring communities are nearly unrecognizable compared to Bledsoe's first impressions of FTU. But the pioneer spirit and scrappy attitude of the university's early days has outlasted presidents, mascots and buildings.
"A lot of that initial legacy is still here," Bledsoe says.
Today, the School of Politics, Security and International Affairs has over 1,200 students while UCF is the largest U.S. university by enrollment — and it wouldn't be where it is today without Bledsoe. He is proud of what the school has become and the way it has expanded its reach to the international community.
At the end of the day, Bledsoe's hope for UCF is that it continues serving the needs of students while empowering them with a lifelong love of learning. And even though he retires this month, his legacy will live on for years to come.
"Showing students that you care motivates them to achieve great things," Bledsoe says.