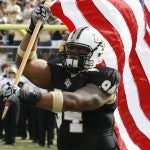 This weekend, as Americans celebrate our independence, the concept of our freedom and the gravity of the free life that we lead means many different things to the 300 million citizens of this great land.
For UCF defensive tackle Wes Tunuufi Sauvao, the Samoan son of two immigrants, one of whom presently serves in the U.S. Army, this holiday means a tremendous amount.
Wes' father, Eneriko Sauvao, is a Staff Sergeant in the U.S. Army who has served two tours of duty in Iraq and also Afghanistan, Egypt, Kuwait and other hostile areas. Eneriko is back in the states now and was even able to see Wes graduate in May when he earned his bachelor's degree in criminal justice.
He was in Iraq however during the 2009 football season. Eneriko and his unit sent a battle-used American flag to UCF along with a video from the troops wishing them good luck. The Knights had a weekly "Salute the Troops" segment during their home games last fall but it took on a special pregame meaning for the home finale against Tulane on Nov. 21 when Wes led the Knights onto the field behind that American flag.
"I was trying not to cry," he said. "In the tunnel, I was telling everybody that we're going out there to fight in a game but to not forget that thousands of people are overseas fighting for the opportunity that we have to go out there and play this game. They're fighting for that reason. That did something for the team that you could see through the game."
UCF crashed all over the Green Wave that day, downing Tulane 49-0. The Knights seized their opportunity and continued the late-season roll which ultimately landed the team with a coveted berth in the St. Petersburg Bowl. It is this opportunity to succeed which Tunuufi Sauvao said stands out to him the most about all of the many wonderful virtues that the United States presents for its citizens.
"America means opportunity," Tunuufi Sauvao said. "If you come to America, or if you are born here, you have so many opportunities to do something with yourself and have a better life. My grandparents brought my mother here. My father came over by himself when he was a little bit older for the opportunities that America offers. That's one thing they've taught me is to make the most of this opportunity that I have here.
"I accomplished one of my opportunities – I graduated. I'm working on my second opportunity – football. Now I'm in grad school which is another opportunity. I'm working on a master's degree in criminal justice and hope to be a federal agent."
This career aspiration is only logical after all as being involved in public service and mentoring is what Tunuufi Sauvao has known his whole life.
"My dad is in the Army so I have that influence and my mom works in a courthouse," he said. "That's another outreach opportunity for me to give back to society and community to be a mentor for people to reevaluate what is going on with themselves. Instead of committing crimes, they have opportunities to make themselves better."
After spending much of his youth in Hawaii and now five years in Florida, a pair of highly multi-cultural areas, Tunuufi Sauvao thinks that it has only further heightened his sense of pride in the United States.
"It does make you thankful for what you have," he said of the communities he has known well. "It helps you respect and understand other people's backgrounds – racial, ethnic. People get on boats from Japan, China, all over Asia to get to Hawaii to try and get away and be a part of America. There's a lot of similar stories here in Florida about people from the Caribbean who come here looking for a better life."
For Independence Day, Tunuufi Sauvao has seen the fireworks in downtown Orlando over Lake Eola before but this year plans to spend the holiday weekend in Miami, a city he has never been to and one filled with a multi-cultural theme that he embodies and embraces.
"For the Fourth of July, sometimes people just have the standard barbecue and fireworks," Tunuufi Sauvao said. "I appreciate everything that's happened with our country. That picture of me running out with the flag for the salute to soldiers made a lot of people thankful. I don't even know some of these people who wrote to me about the flag and how great it was."
If Tunuufi Sauvao keeps making the most of those American opportunities which we will celebrate this weekend on our Independence Day, in his case plenty of good things will lay ahead on the gridiron this fall and in a future professional career as well.