When Kimberly P. Emery Rathbun '17BSN walks across the stage at Addition Financial Arena on Friday to be officially hooded as "Dr. Emery," she will mark a milestone in her career and at the UCF College of Nursing.
Emery is the college's first graduate of the BSN to Ph.D. program, an innovative program where nursing students interested in research essentially skip a master's degree and go straight to a Ph.D. — saving valuable time and money. There's also another benefit.
At 27, Emery is nearly two decades younger than the average nursing Ph.D. graduate. Therefore, Emery, and future graduates of the program, will be able to spend more time in their career to positively impact patient care and the future of nursing as scientists and faculty members.
"This is an exciting moment," says College of Nursing Dean Mary Lou Sole, who is also chair of Emery's dissertation committee. "Kim has blazed the trail for other undergraduate students interested in research. Without a doubt, she is, and will continue, making an impact on the future of nursing and shine bright as a Knight nurse scientist."
"My experience in this program has been incredible," says Emery, who was also the college's first predoctoral fellowship recipient. She was honored with the Ruth L. Kirschstein Predoctoral National Research Service Award from the National Institutes of Health last year. "UCF's College of Nursing provides and creates opportunities to promote scholarly knowledge and growth and ensure student success. I feel well prepared moving forward in my career as a nurse scientist."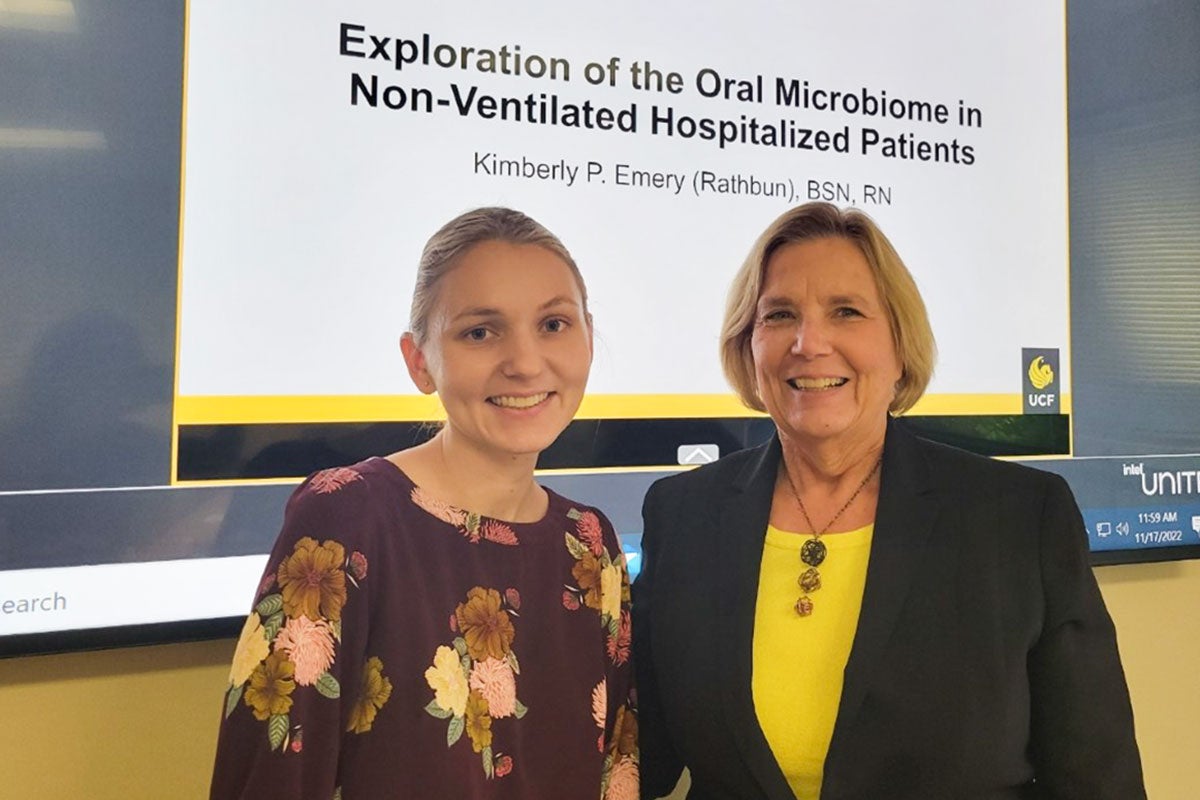 Major Impact of Microbiome
Emery's dissertation research seeks to address an urgent patient safety concern of non-ventilator hospital-acquired pneumonia, which impacts approximately 1 in 100 hospitalized patients annually, and is associated with high mortality rates and additional negative patient outcomes.
Many factors contribute to the development of non-ventilator hospital-acquired pneumonia, including oral health, oral care and the oral microbiome.
"The oral microbiome has many important health and clinical implications," she says.
For her research, Emery focused on the major impact of these microscopic bacteria and their changes over time during hospitalization and with different clinical variables in non-ventilated patients. This area of groundbreaking research fills in a current gap of scientific knowledge to a patient population that has not been studied widely.
Her study found that although oral bacteria remained consistent over time, oral bacterial diversity significantly changed across hospitalization and over time between patients admitted to the hospital from a nursing home compared to home.
"The oral bacteria and oral bacterial diversity also significantly differed at hospital admission between patients arriving from a nursing home and patients arriving from home," says Emery.
"These findings emphasize the importance of a tailored, consistent approach to oral care depending on a patient's individualized factors, such as a pre-hospital environment, beginning at the time of hospital admission," she says. "I plan to further my research in this field, as specific oral bacteria may be meaningful indicators of non-ventilator hospital-acquired pneumonia."
"Kim's research identified that both oral health and the oral microbiome change during hospitalization," says Sole. "The next step is to test practices that reduce these negative changes, including frequent and regular oral care."
Optimizing Opportunities
Her passion for research, and an interest in the oral microbiome, was sparked as an undergraduate student in the Honors Undergraduate Thesis program. Her thesis on oral care practices in non-mechanically ventilated intensive care unit patients was published in the Journal of Clinical Nursing and has been cited 17 times. Emery has 10 publications in peer-reviewed journals and three additional published abstracts in Critical Care Medicine.
As a graduate student, Emery has continued to seize opportunities to gain knowledge and further her research. She has contributed to numerous publications with nursing faculty, participated in both the prestigious National Institutes of Health Summer Genetics Institute and the Microbiome Data Analytics Boot Camp at Columbia University, and has conducted her research in the UCF Genomics and Bioinformatics Cluster Lab.
"I would encourage students considering the BSN to Ph.D. program to make the most of the opportunities available," says Emery. "Involvement in faculty research through either coursework, as a research assistant, or simply reaching out to faculty is one of the best ways to help you grow your research knowledge and experience."
The future is bright for the young nurse scientist.
"I look forward to continuing my primary research goal of improving non-ventilated patient outcomes through the integration of clinical nursing research with basic science and bioinformatics," she says.
After graduation, Emery plans to pursue a postdoctoral fellowship to expand her lab sequencing techniques and bioinformatics knowledge base, and further her innovative research exploring the relationship between the oral microbiome and clinical outcomes in non-ventilated older adults.
In addition to impacting the future of nursing as a scientist, Emery plans to make an impact as a nursing faculty member. Doing so will help address the national nursing faculty shortage, another critical problem facing healthcare and the nursing profession.
"We know that our communities need more nurses to provide compassionate, clinical care," says Sole. "Young scientists, like Kim, are part of the solution. We need more qualified educators to educate a growing number of nursing students, and the nursing profession needs more scientists to generate discoveries to improve patient care."