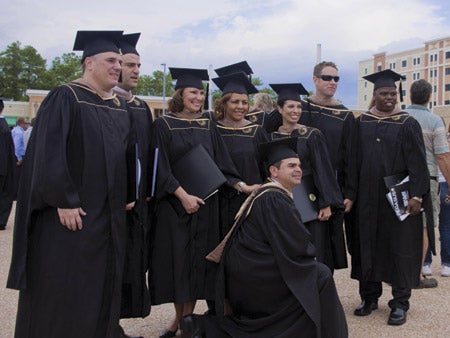 For the-sixth consecutive year, UCF's APR (Academic Progress Rate) has improved, continuing the Knights' strong academic showing since the NCAA began the compilation of these crucial statistics in 2004. Yesterday's NCAA release detailed academic progress through the 2009-10 academic year, and listed the multi-year APR rate by sport.
If an average score was compiled for UCF's 16 sports overall, the figure would have been 969, two points higher than a 967 set in 2008-09. However, all-sport averages are unofficial, and the NCAA only recognizes averages per sport.
UCF football's multi-year APR of 971 is tied for 18th nationally amongst FBS institutions, with Notre Dame and Wake Forest.
UCF is 10th in the nation for football APR amongst public FBS schools, exempting service academies Navy and Air Force.
UCF ranks eighth nationally amongst schools from non-automatic qualifying BCS conferences and Notre Dame.
UCF's 971 trails only Miami (979) and Florida (976) amongst Florida's 10 Division I football teams.
The Knights' lofty APR trails only Rice (983) amongst C-USA schools.
Reflecting UCF head football coach George O'Leary's emphasis on academics, UCF's multi-year 971 has come a very long way from the 907 mark held by the team during 2004-05.
Football wasn't the only UCF team to sit near the C-USA APR pinnacle.
Women's rowing's multi-year APR was a 993 in 2009-10, which was first amongst nine schools that row under the C-USA umbrella, including Oklahoma, Texas, Kansas, Kansas State, Alabama, Tennessee, Tulsa and SMU. The 993 equaled their program-high multi-year APR mark set in 2008-09.
Baseball tied for second in C-USA in 2009-10 with its multi-year APR of 980. The Knights tied with Rice, while trailing only Memphis (986). The baseball team's 980 was also a program-high since the first year of data was compiled in 2004-05.
The C-USA champion men's golf program also recorded the league's second-highest multi-year APR in 2009-10 (982), trailing only UTEP (992). The 982 also tied a program-high, first set during 2007-08.
The C-USA champion women's indoor track program had a multi-year APR of 973 in 2009-10, which was good for third in the league. Also with the third-highest multi-year APR rate in C-USA in 2009-10 was women's tennis (992) and women's volleyball (990). The women's tennis and women's volleyball marks were also a program-high multi-year APR.
Meanwhile, none of UCF's teams are below the 925 threshold for the fourth year in a row. UCF has never had a team penalized for low APR standings. The APR is a matter taken extremely seriously by the NCAA as teams that score below a multi-year 925 and have a student leave school academically ineligible can lose up to 10 percent of their scholarships.
The APR provides a real-time "snapshot" of a team's academic success each semester by looking at current academic progress of every student-athlete. The APR includes eligibility, retention, and graduation as factors in the rate calculation and provides a much clearer picture of the current academic culture in each sport.
The APR is the fulcrum upon which the entire academic-reform structure rests. Developed as a more real-time assessment of teams' academic performance than the six-year graduation-rate calculation provides, the APR awards two points each term to student-athletes who meet academic-eligibility standards and who remain with the institution.
A team's APR is the total points earned by the team at a given time divided by the total points possible.