As UCF approaches its inaugural season as the youngest member of a Power 5 conference, the athletics department is taking a look back to commemorate this special moment in history. The following feature is a part of UCF's 12 for XII series — 12 stories that define UCF and the meteoric rise of the Knights in their journey to the Big 12 Conference.
---
Pop quiz: Name the five youngest universities among the current Power 5 conferences.
All before the invention of bubble gum, you've got UCLA in 1919, Texas Tech in 1923, Miami in 1925 and Houston in 1927.
By far and away the youngest is UCF, founded in 1963. Initially named Florida Technological University, it was established to provide a pipeline of talent for the United States space program at nearby Cape Canaveral.
It's impossible to appreciate the journey of UCF Athletics without a timeline that exhibits the youth of the institution and the manner in which the athletics program has skyrocketed to success.
In 1963 UCF was founded.
In 1968 the first classes were held.
In 1969 the first varsity athletic event was held — a men's basketball game at Massey Institute in Jacksonville. And several other sports began competition in the 1970s.
Ten years later, in 1979, UCF played football for the first time at the Division III level with no scholarships in its first three years. Its first game was held in a muddy cow pasture.
In 1984-85, the majority of UCF's sports programs were playing at the Division I level.
Four decades of a rollercoaster ride — including the football team's first FBS game (the current highest Division I level) in 1996 — led to national notoriety
On July 1, 2023, UCF begins an exciting new chapter as one of four schools to join the Big 12 Conference.
"A lot of the national powers right now were playing (football) at the turn of the 20th century. … And to understand what you've got to make up in that time, it's generations of donors, it's generations of parents taking their kids to games, it's generations of players growing up watching the team play and say, 'I would give anything to play for that team," says Andy Staples, senior writer for The Athletic
"UCF, without the advantage of decades and generations of all this, has put itself in position to be very competitive in its new league," Staples says.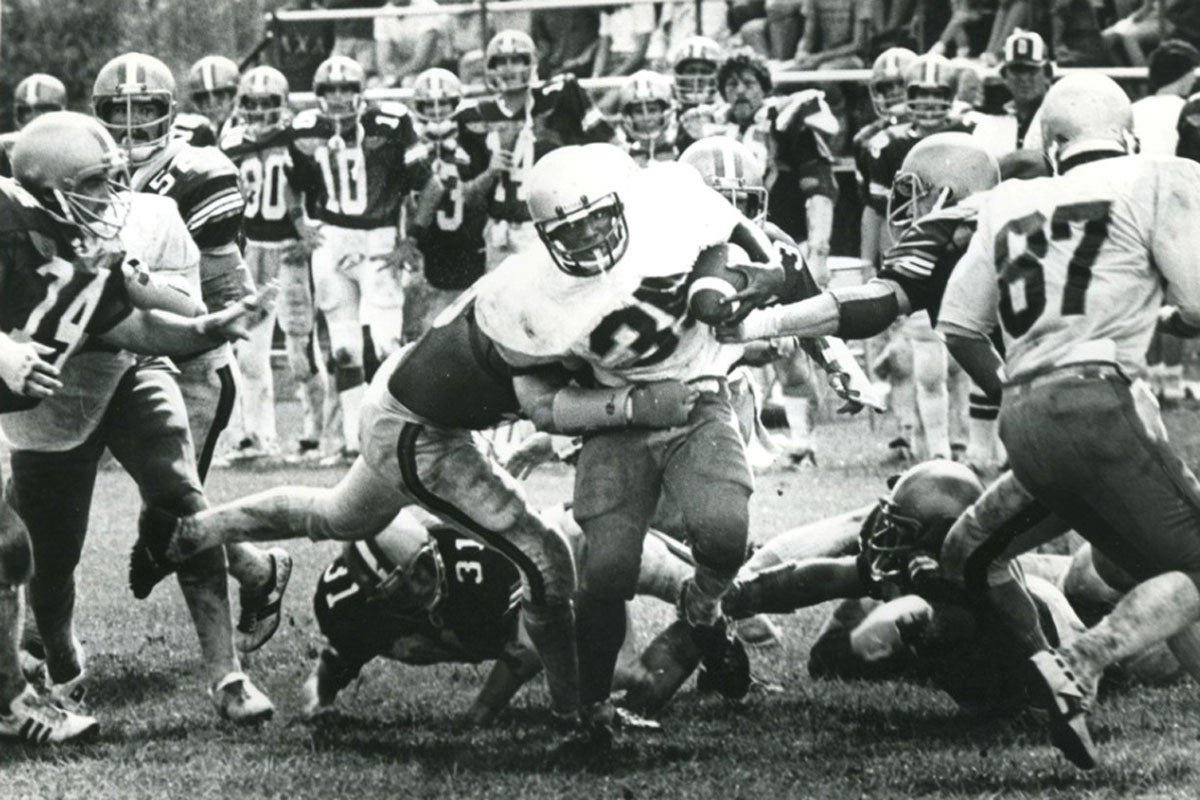 Sunshine State Conference (1975-84)
UCF's first conference affiliation was with the Sunshine State Conference, starting in 1975. The Knights were a charter member of the Division II league which included Biscayne College (now St. Thomas University), Eckerd, Florida Southern, Rollins and Saint Leo.
Following the 1983-84 season, UCF withdrew from the Sunshine State Conference and moved to the NCAA Division I level in the majority of its programs. The Knights competed as an independent until 1990.
Highlight of the Sunshine State Era: UCF won six Sunshine State championships in men's basketball, three in men's tennis, two in men's golf and one in baseball.
New South Women's Athletic Conference (1986-90, Women's Only)
UCF was a charter member of the New South Women's Athletic Conference, the forerunner of the Atlantic Sun. The women's cross country, basketball, golf, tennis and volleyball teams competed in the conference. During UCF's stint in the league, Florida A&M, FIU, Georgia Southern, Georgia State, Mercer and Stetson were members.
Highlight of the NSWAC Era: UCF women's soccer's Michelle Akers '89 helped lead the Knights to the 1987 NCAA Final Four and was honored with collegiate soccer's top honor, the Hermann Trophy, a year later. Akers went on to be recognized as the FIFA Women's Player of the Century after a longstanding and decorated career with the U.S. Women's National Team.
American South Conference (1990-91)
In 1990, the Knights joined the American South Conference, its first Division I league affiliation for all sports except football. UCF spent one campaign in the league which also featured Arkansas State, Lamar, Louisiana Tech, New Orleans, Texas-Pan American and Southwestern Louisiana.
Highlight of the American South era: The American South Conference provided a home for the first time for both the men's and women's programs at UCF.
Sun Belt Conference (1991-92)
Following the 1990-91 academic year, the American South merged with the Sun Belt (which retained its name), forming an 11-institution league. UCF competed in the league for just one year against the likes of Arkansas-Little Rock, Arkansas State, Jacksonville, Lamar, Louisiana Tech, New Orleans, South Alabama, Louisiana, Texas Rio Grande Valley and Western Kentucky.
Highlight of Sun Belt era: UCF was crowned with the women's golf title thanks in part to individual champion Liz Earley '92, who won the individual title in a sudden-death playoff. Jannet and Mike Shumaker were recognized with the Coach of the Year award.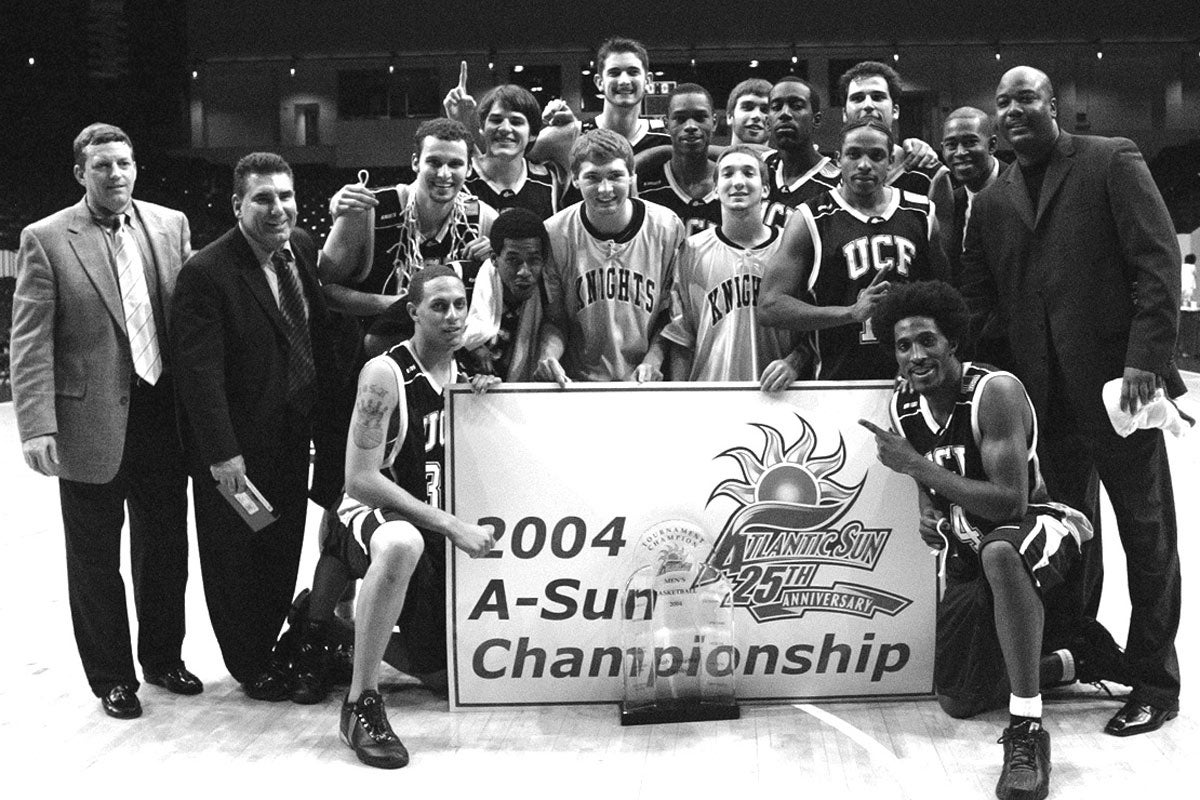 Atlantic Sun Conference (1992-05)
UCF joined the Atlantic Sun (then known as the Trans America Athletic Conference) in 1992. During UCF's tenure in the league, membership changes occurred frequently. Including UCF, 16 institutions were part of the conference since 1992 — including UCF's biggest rival at the time, Stetson, located just up the road in DeLand.
UCF was extremely successful in the ASUN — winning nine league titles in women's soccer, eight each in baseball and women's outdoor track and field, seven in volleyball, five in women's tennis, four in men's basketball, three each in men's soccer, men's golf, women's golf and men's tennis, two in women's basketball, one in softball (who fielded its first team in 2002).
Highlight of the ASUN era: The 2001 baseball team (pictured below) that climbed to its highest national ranking in program history (No. 7, Baseball America) and earned the top seed in the NCAA Columbia Regional. From 2000-02, the Knights dominated the league with a combined record of 67-17 against ASUN opponents.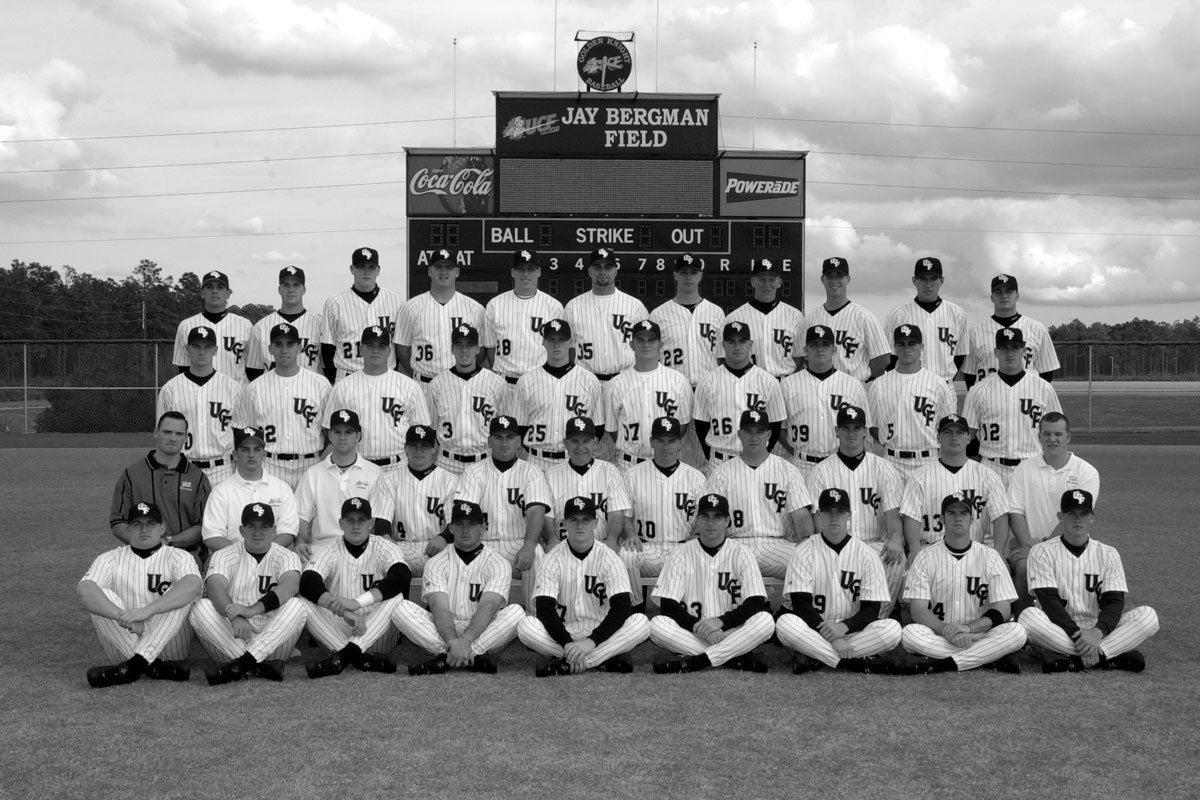 Milestone: Knights Head to FBS (1996)
Although the football team remained independent from conference affiliation until 2002, quite likely the biggest move in UCF Athletics history came in 1996 when the football team first began competing at the NCAA FBS level. Below are excerpts from the April 1993 press release announcing that jump (at that time UCF had only been playing football for 14 seasons). Many of the same sentiments still ring true for UCF's transition to the Big 12:
The University of Central Florida will upgrade its football program to the NCAA Division I-A level beginning with the 1996 season, President John C. Hitt announced today.
"Just as a great city needs a great university, a big-league city like Orlando should have a big-league college football program," Hitt said in making the announcement at the Florida Citrus Bowl, UCF's home field. …
"We expect to reap a number of benefits by making the move to major college football," Hitt said. "Historically, many elements of the community first become involved with a university through quality intercollegiate athletic programs and then expand that involvement into other areas of the university."
"In addition to increased revenues, the elevation of the football program is expected to result in greater national visibility for the university and Central Florida, increased alumni and donor activity, increased interest and camaraderie among the student body, and easier recruitment of student-athletes and students in general, the president said. Local merchants should also benefit financially through increased fan support at UCF athletic events and therefore the support of the business community, including the major attractions, should increase dramatically," he said.
"This change isn't something that will just happen; we will have to earn it," Hitt said. "One of key requirements in moving up to Division I-A is for us to reach an average attendance of 17,000 per game prior to 1996. For this to happen, we will need support from all of UCF's friends, from the student body and the campus community to alumni, community leaders and business leaders throughout Central Florida."
This was also the era of Daunte Culpepper, a Central Florida standout out of Ocala Vanguard High School, who put UCF on the map nationally (literally — in 1998, the Knights made their first national television appearance on ESPN against Purdue). Culpepper finished his career as the Knights' first NFL first-round draft pick.
"Daunte Culpepper helped UCF become a bigger thing than it had been because it was just getting into the FBS at the time, coming out of I-AA," Staples says. "It made people sit up and take notice and then Daunte goes to the NFL and has this long, productive pro career as well. Now you're thinking, 'OK this is a program that can produce that kind of player, that can nurture that kind of player, get them to the NFL and then they can be successful in the NFL.' "
Mid-American Conference (2002-04, Football Only)
After 24 seasons as a football independent, UCF joined the Mid-American Conference in 2002 as a football-only member. While it may not have made sense geographically to be playing teams like Kent State, Toledo and Western Michigan as conference opponents, options for joining a league were slim and it provided UCF stability and reliability in its scheduling.
Conference USA (2005-12)
UCF became an all-sports member of Conference USA in 2005 and advanced to the inaugural football championship that same year. It was a period of transition for CUSA, with Marshall, Rice, SMU, Tulsa and UTEP also joining the league in 2005.
The UCF men's basketball team made immediate strides on the court in a competitive league, finishing second during the 2006-07 regular season and saw Kirk Speraw named conference coach of the year. UCF's Jermaine Taylor was also a bright spot for the Knights from 2005-09. He was chosen as the conference's Player of the Year his senior season and selected in the second round of the 2009 NBA Draft.
UCF won five CUSA titles in women's soccer, four in women's outdoor track and field, three in men's golf, two each in football, women's basketball and women's indoor track and field, and one in softball.
Highlight of the CUSA era: The excellence of UCF's women's teams. Women's soccer advanced to NCAA Sweet 16 in 2011 for first time in nearly three decades and was ranked among the top 10 nationally the following year in its final year as a member. The track and field team's dynasty of six indoor and outdoor championships in three years resulted in the first NCAA individual champion in school history and a top-five finish at the 2013 NCAA Indoor Championship. Women's basketball returned to the NCAA Tournament twice thanks to two tournament titles and softball earned a bid to the NCAA regional with its second conference championship in program history in 2008.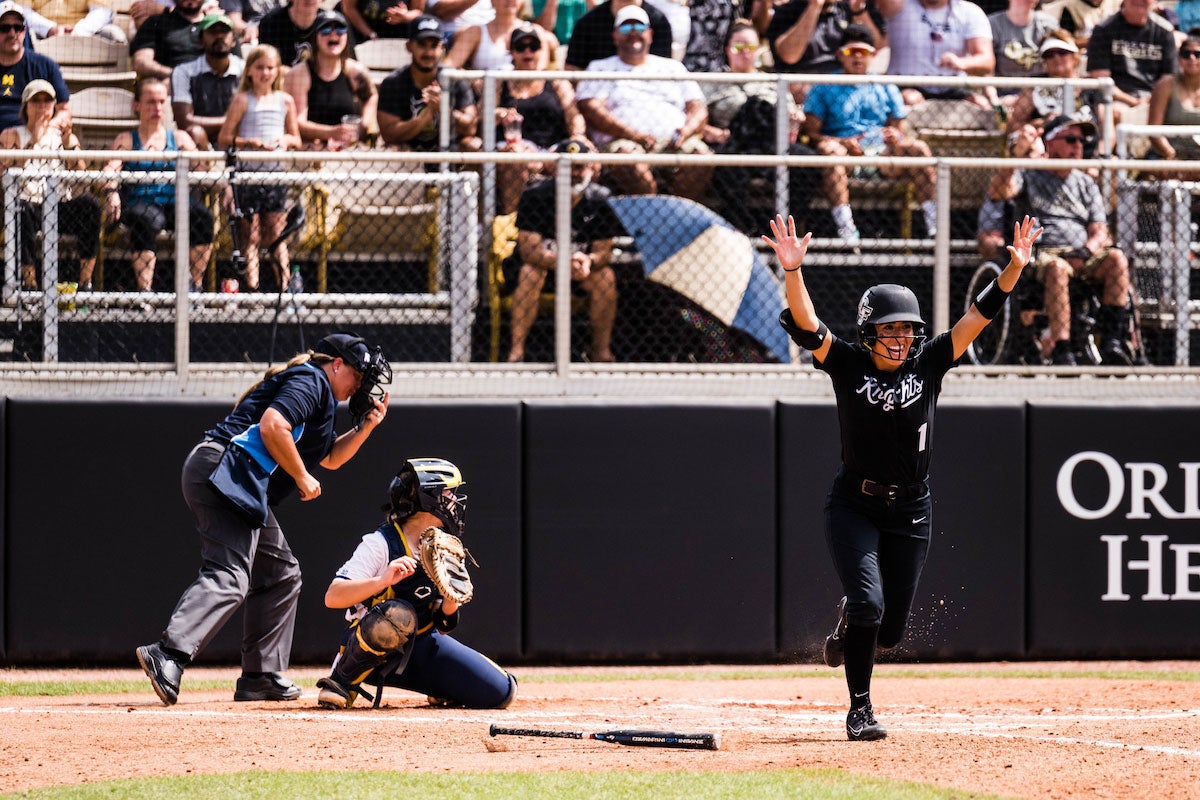 American Athletic Conference (2013-23)
In 2013 UCF joined Houston, Memphis and SMU in leaving Conference USA for the American Athletic Conference — featuring members of the BIG EAST who played football. It also kickstarted the War on I-4 rivalry with nearby conference foe South Florida. UCF went a perfect 7-for-7 in the annual all-sports standings before exiting The American in 2023.
UCF concluded its 10-year tenure in the AAC with more league titles during that decade than any other conference member. UCF teams won 52 AAC titles from 2013-14 through 2022-23 — 21 regular-season crowns and 31 more via conference postseason tournaments, league title games or other conference champion designations.
"Without question that level of success (in the AAC) played a major role in our opportunity to join the Big 12 Conference." — Terry Mohajir, vice president and director of Athletics
"We take great pride in the tremendous accomplishments of our teams during their 10 years in the American Athletic Conference," says UCF Vice President and Director of Athletics Terry Mohajir. "Without question that level of success played a major role in our opportunity to join the Big 12 Conference."
"Every time some more stuff happened (with conference realignment), UCF happened to be playing very good football and people noticed," Staples says. "That's why when the Big 12 lost Texas and Oklahoma, UCF is coming off its most successful period in its history. And it was an easy choice. It was obvious where the Big 12 should go."
Highlight of the AAC era: The football team's historical 25-0 run over a span of 745 days from 2017-19. The accomplishment is listed in the NCAA record book among the longest win streaks ever recorded and marks the fourth-longest win streak this millennium (Miami, 34 – 2000-03; Florida State, 29 – 2012-14; Alabama, 26 – 2015-16).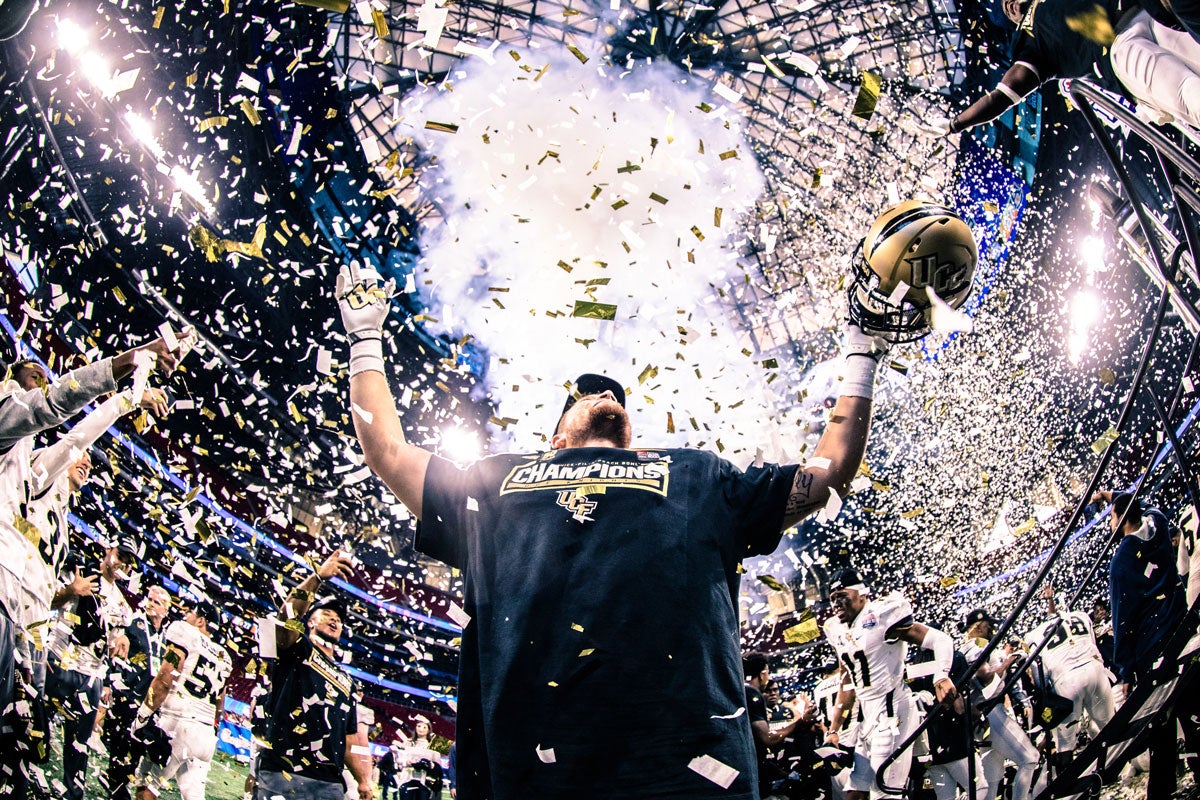 Big 12 Conference (2023-present)
The Big 12 announced in September 2021 that UCF would join BYU, Houston and Cincinnati as future members. The Big 12 does not sponsor men's soccer, so the Knights will compete in the Sun Belt Conference (which features fellow Power 5 programs West Virginia, Kentucky and South Carolina) in that sport.
Below are excerpts from the Sept. 10, 2021, announcement when the UCF Board of Trustees voted unanimously to accept an invitation for UCF to join the Big 12. Mohajir was quoted:
"This is a landmark day for anyone ever associated with UCF or UCF Athletics. As we anticipate a future move to the Big 12 Conference, we first owe a vote of thanks to all those at UCF who have gone before us. There's a long list of student-athletes, coaches, athletic directors, university presidents and support staff, fans and donors and, of course, our student body, plus so many others whose hard work and successes have helped pave the way for today's announcement. The bases were already loaded, and I feel very blessed and honored to get to step up to the plate on behalf of UCF.
"I speak for all of us at UCF in expressing our excitement for the opportunities that lie ahead. I'm confident our Knight teams will rise to the challenges to come.
"Here at UCF we are in the business of providing the best possible opportunities for our student-athletes to thrive while they are here and to have post-collegiate career success. We are convinced that competing as a member of the Big 12 Conference absolutely will help us accomplish those goals.
"In addition, Orlando is one of the most vibrant cities in the world — and the NIL (name, image, likeness) opportunities for our student-athletes here are endless compared to many college towns."
"UCF has always kind of looked at the next step. If these programs are thinking that UCF is going to come in and just try to fit in, that's not going to be how it goes." — Andy Staples, The Athletic senior writer
"UCF has always kind of looked at the next step. If these programs are thinking that UCF is going to come in and just try to fit in, that's not going to be how it goes," Staples says. "UCF is going to come in and try to take over. I think Cincinnati, Houston, BYU probably feel the same way, but you've seen it with UCF. When UCF went into the American, it was a step up in competition — but it didn't take long before UCF was one of the best programs in the league. It's got everything it needs to be successful. It has all the ingredients."
"Just because Oklahoma and Texas are gone (in 2024 to the sec), no one is going to be able to walk through this league," says Nicole Auerbach, The Athletic. "We've seen Kansas State and Baylor and different teams make Big 12 title games recently, but I would not be surprised if UCF is competing to win this league pretty soon after getting there."