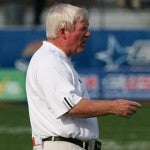 The first thought about how the Scarlet Knights and UCF are connected likely has you thinking about conference expansion and that if the New Jersey based school bolted to the Big Ten what that might mean for UCF and the BIG EAST. But this is not about the unknown world of who is moving from what league to what league.
This about football and how UCF's 2010 season might have really started about ten minutes after the 2009 Beef O'Brady's Bowl in St. Petersburg. You remember that don't you? Rutgers 45, UCF 24.
Any UCF fan who watched the game saw things that head coach George O'Leary and his staff noticed early. It was not that UCF could not stack up at skill positions or any position away from the ball. Yes, Rutgers made big plays and costly UCF turnovers played a role in the lopsided loss, but Rutgers won the battle in the trenches and that's what UCF remembers the most.
"They physically handled us on both sides of the ball when it came to line play," said O'Leary. "We had to get tougher and dominate the line of ball games."
And with that, the 2010 season began right there at Tropicana Field in St. Petersburg. It wasn't just UCF coaches, but players also knew what happened in the game with Rutgers. Offseason workouts had never been as important as they would be.
"It was so frustrating because we had played so well in the second half of the season, but Rutgers offensive line kept us in check all game," said All-American Bruce Miller. "It made me realize we had to get bigger, stronger and tougher and that is something we all took to heart this past offseason."
While Miller and his fellow offensive and defensive linemen hit the weight room and worked with coaches to become the units they want to be, recruiting had no bigger need than to find not just big lineman, but big, quick and quality lineman.
So when UCF hit the recruiting trail, they emphasized lineman and good ones. The end result of that process appears to be a success in landing the likes of the McCray twins, Jordan and Justin, and Torrian Wilson, from high school power Miami Northwestern, to name just a few of a group recruiting experts call very good.
At UCF it has never been about recruiting talented running backs, receivers, defensive backs and linebackers, it has been about finding impact lineman that can take over games. Forget the fascination of the spread offense in college football, there is nothing like an offensive line that knows it can simply run over a defense and dominate a game (ask last year's Houston Cougars defense). And there is nothing like watching a defensive front that smothers its opposition to the point the defense knows there is no way their opponent can beat them.
"We know we have to help out Rob (Calabrese), Jeffrey (Godfrey) or anyone who is at the quarterback position by doing our part to control the line," said All-Conference USA offensive lineman Jah Reid. "If we block and take over games, there is nothing our offense cannot do."
Reid remembers the Rutgers game and so do his teammates and so does O'Leary. "I think we got a lot better in the offseason," said O'Leary. "We saw that improvement in the spring and I expect to see it this season on the field. I believe we will be much tougher."
If O'Leary is right and his big uglies in the line make the strides they hope for, then perhaps we can thank Rutgers for a big 2010 season.
Source: Marc Daniels' From the Press Box runs several times per month on UCFAthletics.com. Listen to Marc during UCF football, men's basketball and baseball radio broadcasts on the UCF-ISP Sports Network. Each weekday, Marc hosts "The Beat of Sports" on ESPN 1080 in Orlando from 9-11 a.m.