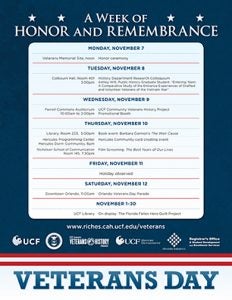 As a way to honor all veterans during Veterans Day in the month of November, the UCF Veterans Academic Resource Center (VARC) created a special video and placed it on "You Tube": youtu.be/nMynL3q8uMM. In addition, the center has several events and announcements during UCF's Week of Honor and Remembrance including the UCF Community Veterans History Project and Veteran Services Extravaganza.
The Week of Honor and Remembrance will recognize and honor veterans as well as educate the UCF community. Veteran Services and many UCF colleges and offices partnered to present various event and tributes during the week of November7-12:
Nov. 7: Veterans Memorial Site, noon – "Honor Ceremony"
Nov. 8: Colbourn Hall, Room 401, 3 p.m. – History Department Research Colloquium Ashley Wilt, Public History Graduate Student: "Entering 'Nam: A Comparative Study of the Entrance Experiences of Drafted and Volunteer Veterans of the Vietnam War"
Nov. 9: Ferrell Commons Auditorium, 10 a.m.-2 p.m.
Nov. 10: Library, Room 223, 5 p.m. – Book event: Barbara Gannon's The Won Cause
Nov. 10: Hercules Programming Center, 6 p.m. – Hercules Community card creating event
Nov. 10: Nicholson School of Communication, Room 145, 7:30 p.m. – Film Screening: The Best Years of Our Lives
Nov. 11: Holiday observed
Nov. 12: Downtown Orlando, 11 a.m. – Orlando Veterans Day Parade.
Nov. 1-30: All month long, the UCF Library will have on display, "The Florida Fallen Hero Quilt Project."
UCF Community Veterans History Project:
The UCF Community Veterans History Project is collecting, preserving, and making accessible to the public the experiences of Central Florida's veterans so that future generations will better understand the realities of conflict. It is a collaborative endeavor supported by multiple departments and offices at UCF. The histories, which students began recording during the fall 2010 semester, are archived and made digitally available through the UCF library. For more information, visit: www.riches.cah.ucf.edu/veterans.
Veteran Services Extravaganza
The Veteran Services Extravaganza, an information event for veteran students, will be held on November 9 at 10 a.m. – 2 p.m. in the Ferrell Common Auditorium. The event will feature speakers from OEF/OIF/New Dawn and Florida Department of Veteran Affairs and have representatives from:
UCF Veteran Services, UCF Student Veterans Association
Air Force & Army ROTC units
Campus offices that provide services to student veterans
All branches of the service
Readjustment counseling services & OIF/OEF
Staff from the Orlando Mobile Vet Center
VA Health & OIF/OEF staff from VA Clinic
Orange County Veteran Services
VFW, DAV, VETJOBS, AMVETS
Order of the Purple Heart
American Legion.
UCF Veterans Academic Resource Center: VARC is veterans' one-stop solution to their needs as a student veteran. The center provides offices, study space and lounge space, as well as access to a number of university offices, in one central location. For more information, visit: varc.sdes.ucf.edu.