Every year on Dec. 7, we observe National Pearl Harbor Remembrance Day — a time to honor the 2,403 service members and civilians who were killed in the attack on Pearl Harbor in 1941. The attack, referred to by President Franklin D. Roosevelt as "a date that will live in infamy," was the catalyst for the United States declaring war on Japan and entering World War II.
This year marks 80 years since the attack on Pearl Harbor, making it more important than ever to document the stories and experiences of Pearl Harbor survivors and World War II veterans. The UCF Community Veterans History Project (VHP), housed in the Department of History, is harnessing the power of digital preservation to do just that.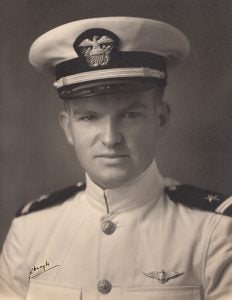 Since 2015, students taking military history courses have worked to preserve the history of one such veteran, the late Capt. Richard S. Roberts, through oral history interviews. Roberts served in the U.S. Navy for 24 years, earning a reputation as a legendary pilot and leader in peace and war. Previously stationed at Pearl Harbor, he was on duty in Cavite, Philippines, during the attack and flew patrol missions in its immediate aftermath.
"That was all-day flying," Roberts said in one of his oral history interviews. "We took off before daylight and landed after dark."
Brandon Kirk, a senior history student, completed a total of six oral history interviews with Roberts.
"After my second interview, he told me — a 22-year-old college student — that the interview was like talking with his old Navy buddies," Kirk says. "While this perhaps shows the power of preparation, what it really revealed was how distinctly important it is for us to speak with veterans and how a willingness to communicate with others can create a wealth of information and add scope to our lives."
Roberts died peacefully on Aug. 13, 2021 at the age of 107. But thanks to the hard work of history students and the VHP, his legacy will live on through digital preservation, which launched in October of this year. Using the information gained from these oral history interviews, a digital exhibit was created to further preserve Roberts' memories of service. Diana Dizon, a history student and research assistant for the VHP, was instrumental in creating this digital StoryMap documenting his life.
"It has been a pleasure bringing his story to life," Dizon says. "I hope that everyone will have the chance to know Roberts through our interactive story map, which tells of his accomplishments and grand career with the United States Navy."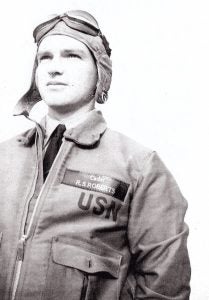 During his time in the military, Roberts earned nine campaign ribbons and the bronze star with "V" for valor in combat. Following World War II, he became an accomplished helicopter pilot and helped develop engineering and safety doctrine, much of which is still in use today.
Over the course of his oral history interviews, Roberts recalled his time aboard the USS San Jacinto in the South Pacific during World War II. He reflected on the ever-changing responsibilities that came with serving aboard a ship, and even shared a story of the fleet experiencing a typhoon off the coast of Taiwan that nearly resulted in the ship capsizing.
"Captain Roberts was a true icon; I do not take the time I had with him lightly," says Kirk. "Interviewing him was the first time history books really came to life for me. It is veteran testimonies such as [Captain Roberts'] that define the purpose of what it means to speak with veterans," Kirk says. "They are underrepresented, yet they represent the best of us."
Click here to view the digital exhibit about Capt. Richard S. Roberts' life.