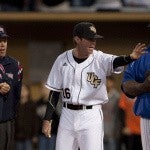 Junior righty Ray Hanson delivered 7.0 innings of four-hit ball to guide UCF to a sweep of Columbia, taking down the Lions, 4-2, Sunday. The Knights will now take a 16-4 record into the upcoming week where they will travel to Miami Tuesday and No. 24 Rice next weekend.
"I'm very proud of our guys and the way we battled today," said head coach Terry Rooney. "Offensively it was tough conditions for both teams with the wind blowing in, but we made some adjustments as the game went on. At the end of the day we got some clutch hits, and Ray Hanson did a very good job. The biggest adjustment that he has made the past few weeks is his fastball command. When he can command both sides of the plate then the rest of his stuff becomes more effective."
Hanson went at least 7.0 innings in his third-straight start and has only given up one earned run or less in his previous five outings. Moving his record to 2-0 on the year with a 1.87 ERA, Hanson completed his outing against the Lions (7-6) by allowing only four hits, one earned run and two walks with one strikeout.
Sealing the victory in relief, Joe Rogers promptly notched his third save in a 2.0-inning outing, highlighted by a perfect ninth inning.
After a seven-pitch first inning for Hanson, UCF scored the game's first run in the home half without a hit as Travis Shreve walked, stole his 17th base of the year, advanced to third on a sac bunt from Darnell Sweeney and scored on a throwing error.
Although the Knights failed to score with two runners aboard and one out in the third, they tried again in the fourth and this time made it 2-0 on a RBI fielder's choice with Jonathan Griffin at the dish. One inning later, the lead was doubled to 4-0 on three-straight singles from Sweeney, Chris Taladay and Ronnie Richardson.
A four-run advantage looked like it would be plenty for Hanson, who sat down seven in a row entering the seventh inning. However an error to leadoff that stanza opened the door to a two-run frame and all of a sudden it was 4-2.
With Hanson finally out of the game in the eighth and Rogers venturing out of the pen, the Lions put the tying run at first as it made things interesting. The southpaw then faced Eric Williams as an extra-base hit would tie it up, but Rogers induced the first baseman to ground into a 4-6-3 inning-ending double play and that was as close as Columbia would get.
An important road trip now lies ahead as the Knights head to Miami Tuesday at 6 p.m. before starting the Conference USA schedule at Rice Friday-Sunday.
Game Notes
Columbia – 7-6 overall
UCF – 16-4 overall
UCF finished with nine hits, all singles, and Ryan Breen led all Knights with two hits
The Knights have swept three weekend series this year: Siena, Wagner and Columbia
Eight of UCF's nine starters had at least one hit
Game time was just 2:15
All three games of the series drew at least 1,000 fans