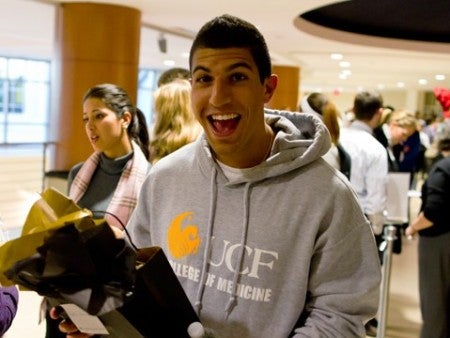 UCF College of Medicine students received a high-tech gift for their Christmas stockings Wednesday as local philanthropist Alan Ginsburg gave new iPads to each of the school's 100 M.D. students. The hand-held electronic devices will allow students to take notes, review on-line scientific journals and 3-D medical imaging, and even take paperless exams. And students' use of the iPad will be part of a two-year research study on the use of technology in medical education.
Students cheered as Dr. Deborah German, vice president for medical affairs and dean of the College of Medicine, announced the gift. During the past few days, rumors were circulating about the possibility of an iPad holiday gift for the medical students. "But we didn't want to get our hopes up and then be disappointed if the gift ended up being chocolate," said M-1 student Alvin deTorres. Alvin said he was delighted with the portable technology because it will provide immediate access to the college's Harriett F. Ginsburg Health Sciences Library, which is 98 percent digital.
Nadine Dexter, library director, told students that the iPads were a "gift of love" from Ginsburg, who thought they would be a fitting tribute to his wife's love of reading and learning. "With the iPads, you have information in an 'anytime, anywhere' environment," she said. The Ginsburg family's earlier donation of $4 million created the UCF College of Medicine's library. "We are delighted to be part of the UCF College of Medicine and the way it is training doctors for the 21st century continues to exceed our highest expectations," Ginsburg said. "We hope this gift provides one more way for the students to develop the skills they need to take care of us all."
iPads offer several learning advantages for medical students: They can download PowerPoints from class lectures and type notes directly on the presentation. The device's imaging provides what Dexter described as "exquisite" 3-D images of systems such as the brain and vertebrae, and the large screen allows students to have electronic journals, books and databases at their fingertips.
M-1 student Marcos Colon said he had just told his father last week that he intended to steal Dad's iPad over winter break to help with his medical school studies. "Now I don't have to steal his," he said. "I have one of my own."