The 27th annual Miss UCF crown was awarded to Jacqueline Boehme on Saturday night. SGA provided the winners with $3,800 in scholarships. The four runners-up were Erin O'Flaherty, Sarah Davis, Alexa Schmidt and Kate Judge.
Boehme, a senior molecular and microbiology major, will receive $1,600 in scholarships and will compete for the title of Miss Florida in July. She will be a representative for UCF and make appearances around the state throughout the year.
In August last year, 90 women auditioned for the Miss UCF 2011 pageant. It was then narrowed down to 23 contestants, 18 of whom competed on Saturday. The show was streamed live on the SGA website for the first time in the pageant's history.
"It was important to get the show online because of how many family members were out of state and could not attend," said Chris Pombonyo, director of the CAB Spectacular Knights Committee. "There's such a large turn out and we wanted people to be able to watch it from their homes as well."
More than 1,000 guests filled the ballroom to watch the contestants perform. The competition included an on-stage interview in which each woman was asked a randomly chosen question, and a lifestyle and fitness portion in which the contestant showed off her physique in a swim suit.
The talent showcase was the largest part of their final scores. Contestants performed speeches, songs, instrumentals and dance numbers for the judging panel. The women then donned evening gowns for the final judging portion and were expected to exhibit the poise, charisma and charm expected of Miss UCF 2011.
"I've learned so much about myself and I am so thankful of the experience," said competitor Jonecia Mahan.
The audience got a chance to vote for their favorite contestant and donate to the Children's Miracle Network Hospitals, a sponsor of the event. Guests raised $2,400 for the cause. Barnes & Noble and the Blue Man Group of Universal's CityWalk were also sponsors of the event.
At the end of the night the votes were tallied and the non-finalist awards, such as Best Interview, Best Talent, and Miss Congeniality were presented to the contestants who did especially well in a specific segment of the competition. Miss UCF 2010 Sara York then passed the title and the crown to Boehme.
"Take the moment and start right away," Pombonyo said, as advice for Boehme. "Don't wait. She has big shoes to fill for this year."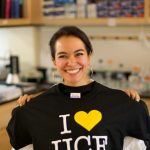 Boehme will join Jared Masucci, the winner of Mr. UCF 2011, in their activities for the year, in addition to preparing for the Miss Florida competition. Should Boehme win the state title she will go on to compete for Miss America.
Source: Central Florida Future, Boehme wins 2011 Miss UCF crown, by Emon Reiser, contributing writer. Published: Sunday, February 6, 2011, updated: Sunday, February 6, 2011 17:02