Christopher L. Thompson, president and CEO of Brand USA, and Dr. Zhongguang Li, vice president of the China Tourism Academy, were recently honored at the 2nd USA-China Tourism Research Summit and Industry Dialogue for their contributions in developing and promoting tourism growth and exchanges between the United States and China. Both tourism and hospitality leaders were presented the inaugural "USA-China Tourism Breakthrough Award" by the summit Dec. 8 at UCF's Rosen College of Hospitality Management.
Thompson leads the nation's public-private partnership dedicated to increasing international visitation to the United States through marketing and promotional efforts. He has more than 30 years' experience in the travel and tourism industry, including previously serving as president and CEO of VISIT FLORIDA. In his role at Brand USA, Thompson is responsible for executing marketing strategies to increase U.S. travel exports, create jobs, strengthen the economy, and help enhance the image of the United States on a global scale. These efforts have helped increase Chinese visitation to the United States to nearly 3 million visitors last year.
The National Travel and Tourism Office at the U.S. Department of Commerce reports that China is now the single-largest source of international tourism spending, totaling $33 billion in travel exports in 2016.
Li previously was awarded the United Nations' World Tourism Organization's Ulysses Award for overseeing a satisfaction-survey project for Chinese and American tourists. He was also responsible for the construction of the service system for outbound tourists and the improvement of service quality. In order to achieve this goal, the organization launched the global "Welcome China" project, to enhance Sino-U.S. relations.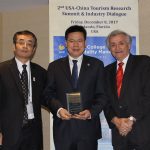 Li leads China's tourism-theory research and data-statistics gathering, particularly the study of Sino-U.S. tourism. He actively participates in Sino-U.S. government, industry and academic exchanges, and promotes Sino-U.S. Think Tank Conference, tourism research and industrial cooperation. Li actively promotes the Sino-U.S. Tourism Research Summit and the Sino-U.S. Tourism Industry Exchange. Because of his work, tourism officials predict five million Chinese tourists will visit the U.S. next year, many of them traveling to Florida.
"We are deeply honored to present these inaugural 'Breakthrough' awards to Dr. Li and Mr. Thompson," said Youcheng Wang, associate dean at Rosen College and conference chair for the summit. "Their work in the hospitality and tourism industries elevates the experience of the international tourist and helps boost the economies of both the United States and China. Dr. Li and Mr. Thompson are pioneers in their fields."
The 2nd.USA-China Tourism Research Summit, held Dec. 8, is one of three hospitality and tourism industry conferences this month at Rosen College. The college also hosted the 4th World Research Summit for Tourism and Hospitality, Dec. 8-11, and the 4th International Conference on Events (ICE), Dec. 12-14.