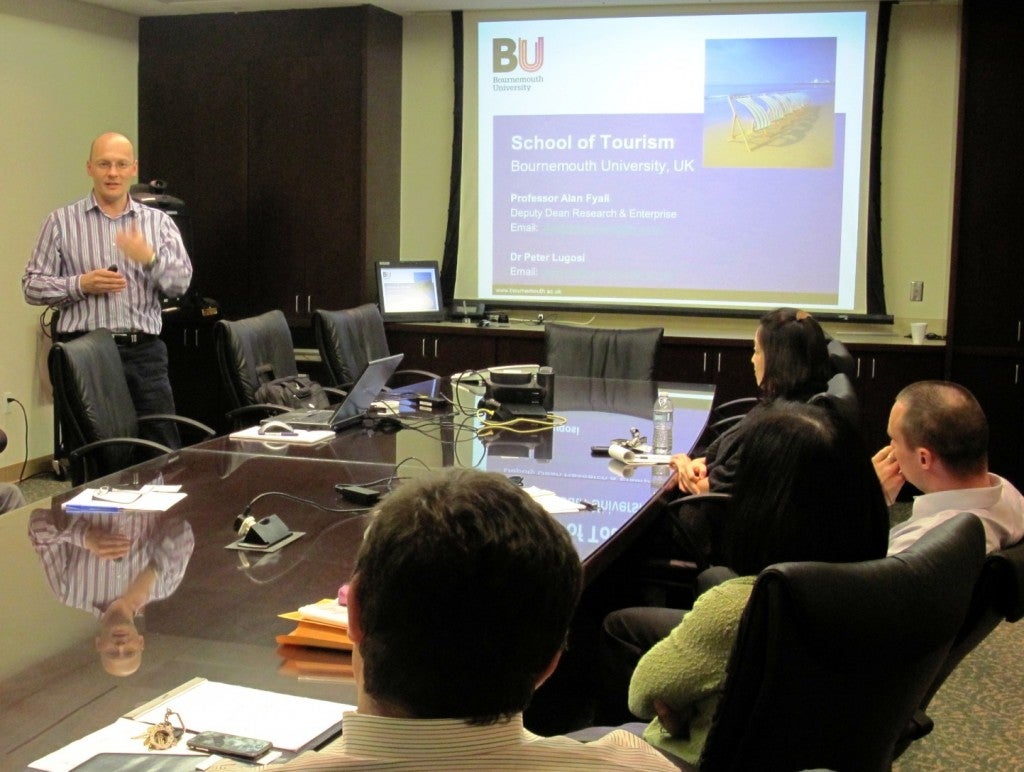 Drs. Alan Fyall and Peter Lugosi from the School of Tourism at Bournemouth University, U.K., spent five days at the Rosen College of Hospitality Management in February and March 2011.
Dr. Fyall, Professor in Tourism and Deputy Dean of Research & Enterprise and Dr. Lugosi, Senior Lecturer, focused on collaboration between the two institutions. They discussed future research in the areas of tourism, hospitality, leisure and events, and the development of academic cooperative programs such as student exchange, study abroad and faculty exchange.
While here, they met with the Deans, Department Chairs and various faculty and staff members. The two provided guest lectures to graduate and undergraduate students and research seminars for faculty.
They made several research presentations to Rosen College faculty and students on topics including: Customer Participation and Co-creation; Hospitality: Insights from the Social Sciences; Generation Y: Market Opportunity or Marketing Challenge? Strategies to Engage Generation Y in the UK Attractions' Sector; and Destination Management: Challenges and Opportunities – A European Perspective.
Dr. Fyall described the experience as "a very enjoyable, engaging and beneficial week for all involved." Dr. Lugosi shared, "I've had a brilliant visit and am learning quite a bit." The visit has promoted mutual understanding and laid a solid foundation for future cooperation between the two institutions.