The groundbreaking of the UCF Downtown campus on Thursday had a little extra pop of flavor thanks to local businessmen and brothers, Brandon '10 and Adam Chandler.
The owners of Pop Parlour, a gourmet frozen pop and coffee shop, crafted the Partnership Pop of a strawberry, mango and chocolate mashup to commemorate the special occasion. The three flavors symbolize the school colors of Valencia and UCF, which will share the new campus in Orlando's downtown Parramore community that is expected to serve 7,700 students from both institutions when it opens in 2019.
The Chandler brothers were eager to be involved in the historic day and were excited about the blend of flavors.
"We wanted to make sure above anything it tasted the best it could. Black isn't an easy color to do, but the chocolate is pretty close and it's delicious. This year, the strawberries and mangoes have been the best fruits I've ever gotten. It really came together nicely," said Brandon, who graduated from UCF with an accounting degree. "Doing things like this is a really good way to be in the community, and it's a city and a school I love."
Pop Parlour will continue selling its stock of the Partnership Pop in both its downtown and UCF locations for at least the next several weeks. Although strawberry season is ending soon, Brandon said that they will incorporate the pop in their menu as much as possible.
It's the latest inspiration in a string of unforeseen circumstances that have helped grow their brand.
"[The business has] taken a life that I'm really proud of, but I didn't see coming four years ago," Brandon said.
When Brandon graduated from UCF in 2010, he had several self-proclaimed terrible business ideas, from purchasing a bankrupt amusement park to buying a soccer team in England.
His mom, Babette, talked him out of it each time. When he mentioned pops, he got her approval and that was good enough for him to leave his full-time steady income job to pursue the venture.
Given their family history, it's not a surprise.
The name of the Chandler brothers' business, Pop Parlour, is an ode to their grandfather, Joseph, whom they called PopPop.
Joseph returned to the United States after World War II and interviewed for a job at Rieck's Dairy in Pittsburgh (later to become Sealtest). Apparently, he impressed the interviewer so much that the man invited Joseph to come to his house for dinner to meet his daughter. That is how he met the brothers' grandmother.
Joseph made ice cream at the dairy until it closed in the 1970s.
"There was never a day with PopPop that we didn't go get ice cream," Adam said. "It was always kind of there."
They opened their store in 2013, months before their grandfather passed away. He was proud to see his grandsons' dream realized, even if he was a little apprehensive about their potential for a profitable future.
"He told Brandon not to quit his day job. He thought we were a little nuts because back in his day Popsicles were like 5 cents, and we told him we were going to charge $3.50. So he thought we were crazy, but he said, 'If you can get it, good for you!'" Adam said.
Now, they deliver their pops to companies all over the country. Their popular boozy pops are always in demand even though they were never in the original business plan. Cigar City Brewing came in their store on their second day of business and asked if it could be done.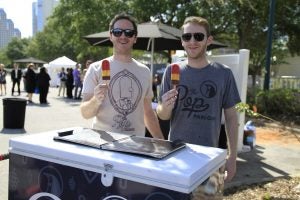 Coffee was never in the plans either, but when the UCF storefront offered more space than they typically used, they decided to try it out. Now, they're planning to expand their coffee services in their downtown location near Lake Eola by this summer.
Brandon has been grateful that the Orlando community makes an effort to shop local. As the two brothers handed out pop after pop at the groundbreaking, Brandon said hopes they can one day serve the Parramore community, too.
"It's an area we're excited to get involved in if we can. We live right here," he said. "I think it's important to support these local businesses. It means a lot to us. My brother and I are in the stores working every day, and I don't think we'd want to do anything else."