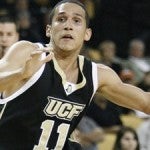 On Tuesday, the UCF men's basketball team was presented with the Conference USA Sport Academic Award, which is awarded to the squad in each league-sponsored sport with the highest GPA for their respective sport. The Knights recorded a 2.865 GPA in 2009-10, the best mark among the 12 basketball teams in the conference.
Overall, UCF had the highest all-sports cumulative GPA of any public university in C-USA during the year. With a 3.058 GPA, UCF was one of four C-USA schools to boast an all-sports GPA in excess of 3.0 and the only public institution in the group. In addition to men's basketball leading C-USA in GPA, UCF's baseball and football teams each finished second in the conference.
The sport academic award is the first for the men's basketball program.
During the year, the Knights placed a league-best seven men's basketball student-athletes on the C-USA Commissioner's Academic Honor Roll. Rice and Tulsa, who both had four on the list, were the closest to the Knights among men's basketball squads. Student-athletes named to the honor roll have a cumulative GPA of 3.0 or better.
One of the UCF honorees was guard Isaac Sosa (Guaynabo, Puerto Rico), who was also one of five league players voted onto the C-USA Men's Basketball All-Academic Team in March. He was the first Knight to earn a spot on the all-academic squad since it was created in 2007.