On May 1, over 225 guests attended the first annual Cabaret & Cabernet event which raised thousands of dollars for Rosen College.
The event was created by Rosen College of Hospitality Management students under the guidance of Professor Suzan Bunn and featured performing talents from students in UCF's Conservatory Theatre and food preparation and presentation by students under the guidance of Chef Vivian Ray. The campus was transformed by a series of live cabaret performances from France, Australia and the United States, alongside delicious international food-and-wine.
Seniors in the Event Management II course were charged with the task of pulling together Rosen College's only fundraiser this year within one semester. Teams were delegated to plan, promote, seek sponsorships, develop décor, menus, handle staffing, selling tickets and more. The hard work paid off as the students gained once-in-a lifetime experience, while increasing exposure and support for Rosen College.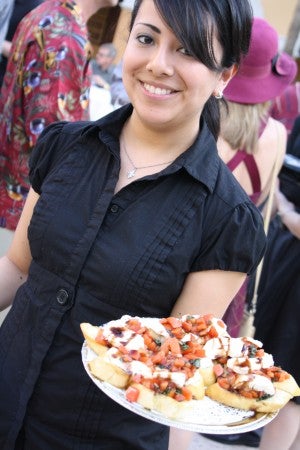 Class manager for the event, Kelsey Jobes stated "It's really exciting that local employers know us because of this project and Rosen's reputation. The fact that I get to oversee the whole operation is great because it allows me to work on my leadership and problem-solving skills that I'll one-day be able to use and reference back to in my career."
The food and wine portion of the event took place in and around the Rosen College courtyard, and the performances were housed in the Darden Auditorium, Disney Dining Room, Three Pillars Café and the Anheuser-Busch Beer and Wine Lab.
What did attendees have to say?
"We enjoyed every minute we were there and are looking forward to the next one."~ Laura P. Bennett, President, Bennett & Company, Inc.
"The entertainment, food and wine were excellent, and the students involved should be commended on a very professional event."~ Anthony D. Atkinson, PMP, Director of Operations, University of Phoenix
"I tend to go to these types of events with a critical eye (it's a hazard of the job) but this one I was thoroughly able to enjoy from the moment we walked in – I can't think of anything that was missing." ~ Debi Jones, Entertainment Special Events Manager
"To be that successful for a first time event is unusual and it can only get better from there. It was an unusual and memorable mix of mingling, dining and entertainment."~Dave Lehman, President, CONVENTIONPLUS®
"This was the very first UCF event I ever went to and I have to say it was very well done — very professional. It was a fun evening." ~Mike Thomas, UCF Student
Event sponsors included Silversea Cruises, the Orange County Convention Center, the Orlando/Orange County Convention & Visitors Bureau, Sysco and Freeman. In-kind sponsors included Cabot Creamery, Centerplate, Walt Disney World Resort, Gaylord Palms, Hello Florida!, Hilton, Hyatt Regency Airport, Hyatt Regency Grand Cypress, MLB Creative, Peabody Orlando, Premiere Shows, Seasons 52, SeaWorld Parks & Entertainment, Shepard Exposition, Silversea Cruises, Smart City, Total Wine & More, Universal Orlando Resort, and Vines Grille & Wine Bar.
Save the date for the second annual Cabaret & Cabernet on Saturday, April 23, 2011. Be sure to visit www.cabcabucf.com for updates.