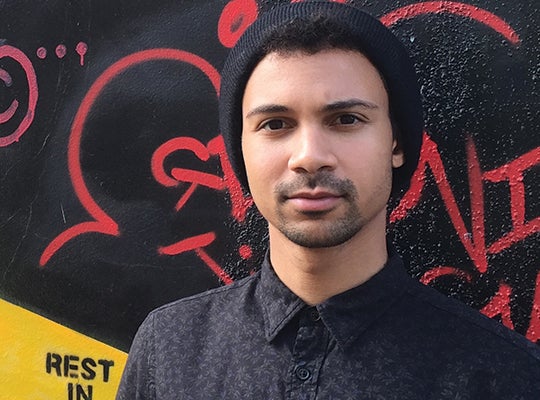 It is safe to say that an average 25-year old's calendar does not include meetings with Bernie Sanders one week and Hillary Clinton the next, but for Samuel Sinyangwe it's just a normal month. His next stop? UCF to talk about his involvement with the Black Lives Matter movement and specifically the Campaign Zero policy platform that has landed him in rooms with top democratic candidates, on the channels of numerous media networks, and in the print of many articles detailing the movement to make a change in the systemic racism in our country. Sinyangwe is coming to UCF to discuss his innovative and interdisciplinary work in his talk Campaign Zero: A Blueprint to End Police Violence on November 5, 2015.
Sinyangwe is a young, vibrant policy analyst and data scientist that is dedicated to developing data-driven policies to address the racial disparity in America. Through his Mapping Police Violence platform Sinyangwe and his team are making real-time data available on the instances and locations of situations involving use of force by police officers. In addition to data acquisition and visualization, Campaign Zero is a policy initiative aimed at addressing the key issues around police violence including, "limiting police interventions, improving community interactions, and ensuring accountability" (www.joincampaignzero.org). The policy includes ten specific recommendations and examples for implementation at the local, state, and federal level. The collaborative is also focused on demystifying the policy agendas of the current presidential candidates on both sides as they relate to the key factors in curbing police violence. By compiling research and media reports on the issues, the platform offers practical advice to make others knowledgeable about this hot-button topic.
Sinyangwe represents what it is to be interdisciplinary—combining his political and sociological interests with an emphasis on data-derived policy solutions and engagement with various media outlets to raise awareness about the campaign. It was this multi-faceted approach to such a relevant societal issue that led the UCF College of Graduate Studies to invite him to be the first speaker for the Interdisciplinary Studies Speaker Series.
This series aims to highlight individuals crossing disciplinary boundaries to address key issues in our society. The collection of four speakers throughout 2015-2016 celebrates the 15-year anniversary of graduate interdisciplinary programs at UCF. Sinyangwe represents the Social Justice and Advocacy concentration in the Interdisciplinary Studies Master's Program and will be speaking to the UCF Community on November 5, 2015 from 3:30pm- 4:30pm in BA 1, Room 119. The College of Graduate Studies hopes that bringing in speakers like Sinyangwe will highlight the benefit of interdisciplinarity within and outside of the university. The Speaker Series events are free and open to the public. For more information visit the Speaker Series website or engage with other attendees on social media through the Facebook event.