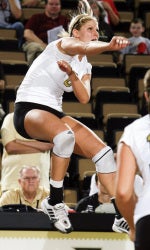 Coming off the most impressive season of her career, UCF senior volleyball player Erin Campbell (Kansas City, Mo.) ushered in the 2009 season by being named to the Preseason All-Conference USA Volleyball Team.
"I am glad that the coaches in Conference USA recognize what Erin has done for the resurgence of the UCF program," second-year head coach Todd Dagenais said. "What people don't yet know is how hard Erin worked in the off season, and how committed she is to being the best team player she can be."
The outside hitter became the first Knight to be named to C-USA volleyball preseason squad since the Black and Gold joined the league in 2005.
During her junior campaign, Campbell led UCF in kills (402), kills per set (3.17), block solos (19), points (453.0) and points per set (3.57), and also paced UCF with 14 double-doubles, including eight-straight from Sept. 20-Oct. 15. She was one of only two Knights to play in all 127 sets for the Black and Gold.