Alina Burroughs '00 '02MS wants to make it clear that she is not an actress. She's just Alina, a living juxtaposition.
"I have pink hair," she says, "and I'm a professional."
Her TV series Crime Scene Confidential is raw yet polished. It combines the science of forensics with the real human emotion of loss. For the ultimate irony, Burroughs says she's naturally shy, which makes you wonder how she can be so natural on camera.
"What you see is me being myself," she says.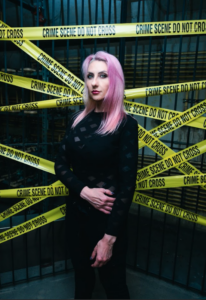 Crime Scene Confidential has run for two seasons on Investigation Discovery (ID), with episodes also streaming on Max. The first season of CSC earned a nomination for the prestigious American Reality Television Award as the Best New Show of the Year. The series is unlike any other crime scene show on television. It's unscripted. It's revealing. It's controversial only because of evidence Burroughs uncovers, not because of sensationalized plots. It's all a perfect fit for Burroughs, a former crime scene investigator for the Orange County Sheriff's Office.
"I truly believe this show is my purpose for being on Earth," says the self-described introvert.
How did she get to this place in life? Burroughs traces her story back to a childhood of exploration at a certain university that she's always called home.
I grew up on the UCF campus. My dad taught industrial/organizational psychology when the university was still known as FTU (Florida Technological University). During his career, he started a course about the psychology of racial prejudice. Long before I knew what that meant, I'd go to work with him and feed squirrels outside while he taught. UCF was like my daycare. There was never any question where I'd go to college.
A speech class helped me break through my fear of being in front of people. I was the kind of student who knew the answers but didn't want to say them out loud. At some point I realized that being able to present and interpret nonverbal cues would help me in any career — and I discovered I'm OK at speaking to audiences. I wound up majoring in interpersonal communication but had no idea where it would lead me.
I also had no idea at the time that a crime scene investigator was a real job. In addition to teaching at UCF, my dad had a business to help law enforcement professionals prepare for exams. I'd read general orders for crime scene units across the country and eventually said, "Dad, this is what I want to do." That's why I studied for a master's in criminal justice.
Every crime scene is a puzzle. Some people are drawn to law enforcement so they can go directly into the alarm call. I'm the other type, the one who wants to go in and find the invisible clues after everything has quieted down. It's just the suspect and me. I know you were in this space and you left something behind — a fingerprint, DNA, something. We've never met, but the pieces of the puzzle will bring me closer to you.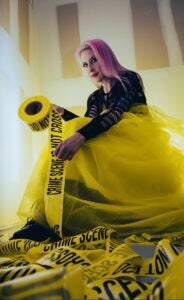 It's overwhelming to walk into a crime scene. I think about the victim who was here and is no longer with us. I'm working for that person and for the family members. They're all victims. Early in my career with Orange County, I had to come to grips with the fact that I couldn't undo what had already been done. But I can find truth, secure justice and maybe provide some closure for the family.
Crime Scene Confidential is my way of doing that, even though it wasn't my intention. I left the sheriff's department in 2015 to travel and train law enforcement on forensic technology. A talent scout saw me speaking at an event and asked if I'd be interested in developing a show concept. About a week later I was shooting a sizzle reel from a barstool in my home.
The show almost never happened. I'd get my hopes up, only to hear we were starting over. One day I finally typed an email that said, "Thank you for trying to make this work, but …" As I was typing, my phone rang. A producer said, "Congratulations. We have a TV show." I went over to my laptop and deleted the email.
I only agreed to do the show because it's unprecedented. We have no agenda or angle. Viewers can see for the first time what a real crime scene investigator does with real cases. You watch me go to the crime scene after I read as many as 4,000 pages of evidence, reports and testimony. If the case is old, I apply new forensic technology to original clues. Then I talk with prosecutors, defense attorneys, witnesses, investigators, and family members through the lens of a CSI who's fully prepared to find the puzzle pieces.
The first episode is an example of how raw this is. We went back to the case of toddler Caylee Anthony here in Orlando. I worked the case in 2008. Every morning I'd see that little girl's face on the news and then go to work as a CSI to look for clues — for justice. It was still emotional for me when our crew parked outside the house and started filming nearly 15 years later.
"With the show, I can sit down with (families) and let them know someone is paying attention to them … and someone will be their voice …" — Alina Burroughs '00 '02MS, UCF alum and host of Crime Scene Confidential
I'm not an actor. And I don't see myself as just a TV host. I'm a navigator and translator of evidence for the audience. Evidence has no bias. Viewers can decide for themselves if the justice system got each case right or not.
Every episode is meaningful. But there's an episode in season two that stands out. We bring a man who was 14 years old when his mother was murdered to meet the person thought to be responsible for her death. They have a real conversation while I sit off camera. It's a powerful moment.
When I worked as a CSI, I didn't meet with families. My job was to find evidence, finish a report, and go to the next case. With the show, I can sit down with family members and let them know someone is paying attention to them, someone cares about their loss, and someone will be their voice to everyone who's watching.
I feel like the ultimate big sister. Girls or anyone who feels underrepresented in STEM can watch the show and realize, "Wow, I can have a meaningful career in science like Alina." You can change lives and be yourself. You can even do it with pink hair.
Crime Scene Confidential airs Thursdays at 10 p.m. eastern on ID, or streaming on Max. The two-part finale will air Thursday, Oct. 25, at 10 p.m. and 11 p.m.