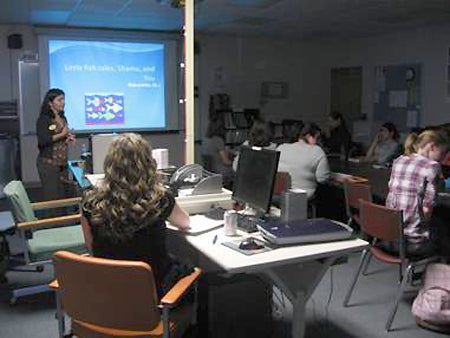 Dispute Resolution Services (DRS) Coordinator Patty Farris is collaborating with students in Instructor Mary Gomrad's technical communication class to advance the technical documents used in the DRS office. Students have the opportunity to gain real world experience.
On January 19, Farris visited the class to discuss "Team Conflict & Beyond." Using an interactive presentation, she informed students of team-building skills and etiquette that they can employ while working together on publicity for the campaign. Using the theme "Fish Tales" along with animations such as big fish, flying fish, or a school of fish, Farris demonstrated to the students how to identify and express their thoughts about working in teams. The presentation helped the class to confront their team working issues before endeavoring to work together for DRS this spring.
Farris met with Gomrad's Documentation & the Client Based Collaborative Process class on January 26 to discuss the tasks she needed assistance with. Students were assigned into groups to work on the office manual, office procedures, the DRS Web site, and marketing and training for the SDES Civility Campaign.The campaign is sponsored by the SDES Civility Campaign Horizontal Team that was initiated by Dispute Resolution Services to recognize and promote civility at UCF. Students will be working with Farris on technical document projects this Spring to gain professional experience working with a client.
DRS is an office in the Division of Student Development and Enrollment Services.For more information about Dispute Resolution Services or the SDES Civility campaign, visit: https://www.sdes.ucf.edu/departments/ or contact Patty Farris at: spfarris@mail.ucf.edu.