An award-winning film, created as a project by a UCF Honors Advanced Documentary Workshop class, will have its broadcast premiere Tuesday on WUCF TV and also will be released to 116 PBS stations across the country for showing through February.
"Marching Forward" tells the story of how band directors at two Orlando segregated high schools—one black and one white—crossed the color line and worked together to take their students on the trip of a lifetime to the 1964 New York World's Fair.
The 60-minute film being released by the American Public Television Exchange, shows how teachers were the quiet heroes of civil rights movements in the Deep South.
"Marching Forward" is scheduled to air three times on WUCF: 9 p.m. Feb. 2; 5 p.m. Feb. 4, and 3 p.m. Feb. 7.
James W. "Chief" Wilson founded the Marching Tiger Band at Jones High School, Orlando's only public high school for Blacks in 1964. Del Kieffner led the Marching Eagle Band at Edgewater High School, a new school built for Orlando's expanding white suburbs in the 1960s. The story of their friendship and determination was chronicled in a 2019 Pegasus magazine story.
"Their friendship and common love of music and band directing led them to do something extraordinary for their time: Bring the Black and white communities of a Deep South city together to raise funds that would allow both of their bands to perform at the 1964 World's Fair," says film Associate Professor Lisa Mills, who co-directed the film.
Mills and history Associate Professor Robert Cassanello taught the workshop class and this was their fourth co-directing collaboration. Student Oswmer Louis, who at the time was a history major and cinema studies minor, was the student co-director.
"It wasn't about race, it was about what was best for the kids at that time," says Louis. "I think it was unique that everyone got behind the idea of sending both bands at a time when we typically think of Blacks and whites not getting along."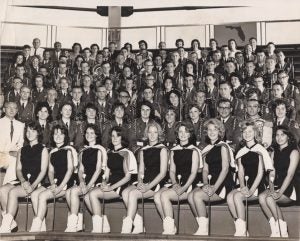 The film contains film footage of both bands performing during the 1960s. Despite violent civil rights activities around the country, many Orlando leaders, clergy and business owners worked together to keep relations civil.
The film, a project in the Burnett Honors College, took three years to make and was released in 2019. It is scheduled to air three times on WUCF: 9 p.m. Feb. 2; 5 p.m. Feb. 4, and 3 p.m. Feb. 7.
"Marching Forward" won several awards while screening in film festivals across the United States, and a Best of Show award at the Broadcast Educators Association's Festival of Media Arts.
Videos related to segregation and the civil rights movement will be edited from the film and made available to K-12 teachers through the PBS LearningMedia website.
Initial support for the film was provided by Dean Sheila Amin Gutierrez de Pineres of the UCF Burnett Honors College and Dean Jeff Moore of the UCF College of Arts and Humanities. Funding was also provided by UCF's Nicholson School of Communication and Media and the College of Sciences.
Mills and Cassanello's film "The Committee," about Florida's 1960s purge of LGBT students and teachers at public universities, won a 2015 Suncoast Emmy Award for best historical documentary and is currently distributed nationwide by the American Public Television Exchange. Their film about women who fought for academic freedom at Florida's State College for Women in the 1920s, Filthy Dreamers, has been nominated for a 2020 Suncoast Emmy Award for best historical documentary and is currently distributed on Florida Public Television Stations.