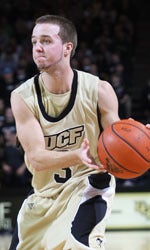 Now I know why Donnie Jones left Marshall. When the West Virginia native opted to make the move within Conference USA and leave home to go to Central Florida – a school that was in the Atlantic Sun just a few years ago – it raised more than a few eyebrows.
But once you get an up-close look at the Central Florida campus, the 55,000 enrollment (third-largest in the country) and the facilities, there's truly no explanation needed.
It truly is what Jones – who spent the last three seasons as the head coach at Marshall – said is a sleeping giant when he took the job a few months ago.
Jones loved his time at Marshall, an opportunity that came his way after helping put together the team that won two straight national titles while with Billy Donovan just a couple hours down the road from his current residence.
But Central Florida is different.
The 10,000-seat arena has 16 suites, there's a big-time football program and Jones and his staff have an attractive recruiting base in Orlando.
Not to mention the 7-to-1 female-to-male ratio that Jones and his staff make certain to find a way to weave into recruiting pitches.
No disrespect to former Central Florida head man Kirk Speraw, who was let go after last season and has landed as an assistant with Fran McCaffery at Iowa. However, Jones and his staff are recruiting at a different level.
Fifth-year senior A.J. Tyler is the first to admit it.
"There's no doubt," Tyler said about the talent upgrade. "Coach Jones has done a great job bringing in lot of new recuits and big-time transfers. There's just a new excitement – not to talk poorly about anything in the past."
The transfers are Tom Herzog from Michigan State, Tristan Spurlock from Virginia, Josh Crittle from Oregon and Jeffrey Jordan from Illinois. Jones and his staff also beat out multiple BCS schools for junior college big man Dwight McCombs and freshman Isaiah Sykes.
Herzog, who is eligible this season and was once considered a big-time recruit for Tom Izzo and the Spartans, will team with McCombs to give the Knights a couple legitimate post players so that Tyler – who is a skilled power forward – can move back to the four-spot.
Spurlock, Crittle and Jordan will sit out this season and be eligible next year.
Jones also landed one of the top players in Florida for next season in Rod Days and has Central Florida in the mix for some of the state's top talent – something that was sorely lacking in the Speraw regime.
He also pulled one of the most impressive hires, bringing aboard former NBA assistant Brendan Suhr – who was on the bench with Chuck Daly when the Pistons won a pair of NBA titles – earlier this month as the Knights as the director of program development.
Speraw did lead Central Florida to four NCAA tournament appearances in his 17 years as the head coach, but all four came in the A-Sun.
Since the move to C-USA, the Knights have been largely mediocre.
Don't be surprised if that changes. Soon.
Source: FOX Sports, Donnie Jones Move to Central Florida: True No-Brainer, Thursday, August 26, 2010, 01:02 PM EST, by Jeff Goodman. Jeff is a senior college basketball writer for FOXSports.com.