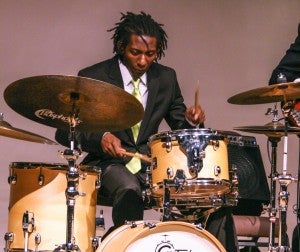 The University of Central Florida will reach a milestone during commencement ceremonies this week when the 200,000th alumnus receives a degree.
Wendell Raulerson II will receive the distinction when he receives his Bachelor of Music during the 9 a.m. Thursday ceremony for students from the College of Arts & Humanities.
Raulerson, who began playing drums when he was 13 at his father's Panama City church, is among the first to graduate in UCF's Jazz Studies track. After his family moved to DeLand, he received his associate's degree from Daytona State College and started classes at UCF in 2009.
He said he chose to attend UCF because he wanted to stay close to home, knew about the music department and wanted to study under jazz drum instructor Marty Morrell, who also plays in the UCF Jazz Professors band.
"I've learned so much, and I've had great opportunities to play with some well-known jazz musicians," said Raulerson, who also plays piano, guitar and bass. "Plus, this is a great faculty. They don't just sit in the classroom. They travel and are working professionals."
While attending UCF, he has performed with the UCF Gospel and Cultural Choir, UCF Black Steel steel drum band and RBZ rap group. He has accompanied musicals at numerous theatres in Central Florida, and he's also had the opportunity to perform with jazz vocalist Kevin Mahogany, trombonist Dave Steinmeyer, the Duke Ellington Orchestra and others.
Raulerson said he would like to model his drumming style after Chris Dave of the Robert Glasper Experiment, which Raulerson said plays a "wonderful fusion of hip-hop and jazz."
After graduation, Raulerson said he plans to help out at a Salvation Army summer camp, spend some time performing on a cruise ship with a band made up of UCF friends, and then return to Central Florida to pursue a music ministry career.
He said there often is a resemblance between jazz and the music he plays in church because of "the many similarities of harmonies and progressions."
Raulerson will be the 200,000th alumnus, but with this week's commencement ceremonies UCF is expected to reach its 231,278th degree because some graduates have earned multiple degrees. Student Andrea Long received the 200,000th degree in 2010.
***
For more information on commencement activities click here.
For more graduation profiles visit: