On an October day in 2022, Mindy Mozena, director for Enrollment Services at UCF Downtown, came to work dressed as Pete the Cat. It's an unusual outfit choice for the professional who is usually wearing a blazer and high heels. But today is the campus's second Book Character Parade and Mozena is laser focused on her customers — kindergartener and first graders from the Orange County Public Schools (OCPS) Academic Center for Excellence (ACE).
"It's so fun to see the kids all dressed up in their costumes and so many smiling faces on campus, but there is a deeper goal than handing out candy," Mozena says. "Today is just one of many touch points we hope to have with these students to show them that college is something that's within their reach — and expose them to the opportunities right in their backyard."
In late 2014, UCF announced its plans to build a campus in downtown Orlando. At the center of its plan was a commitment to serve not only students, but the immediate surrounding community of Parramore. Mozena, along with a team of others from UCF, Valencia College and OCPS ACE, are in the first year of an engagement plan with the elementary school, designed to educate, engage, and excite OCPS ACE students about UCF, Valencia College, and post-secondary education in general. Mozena serves as co-chair of the committee along with DeShawn Chapman '11MEd '16EdD, education programs manager for the Parramore Education and Innovation District.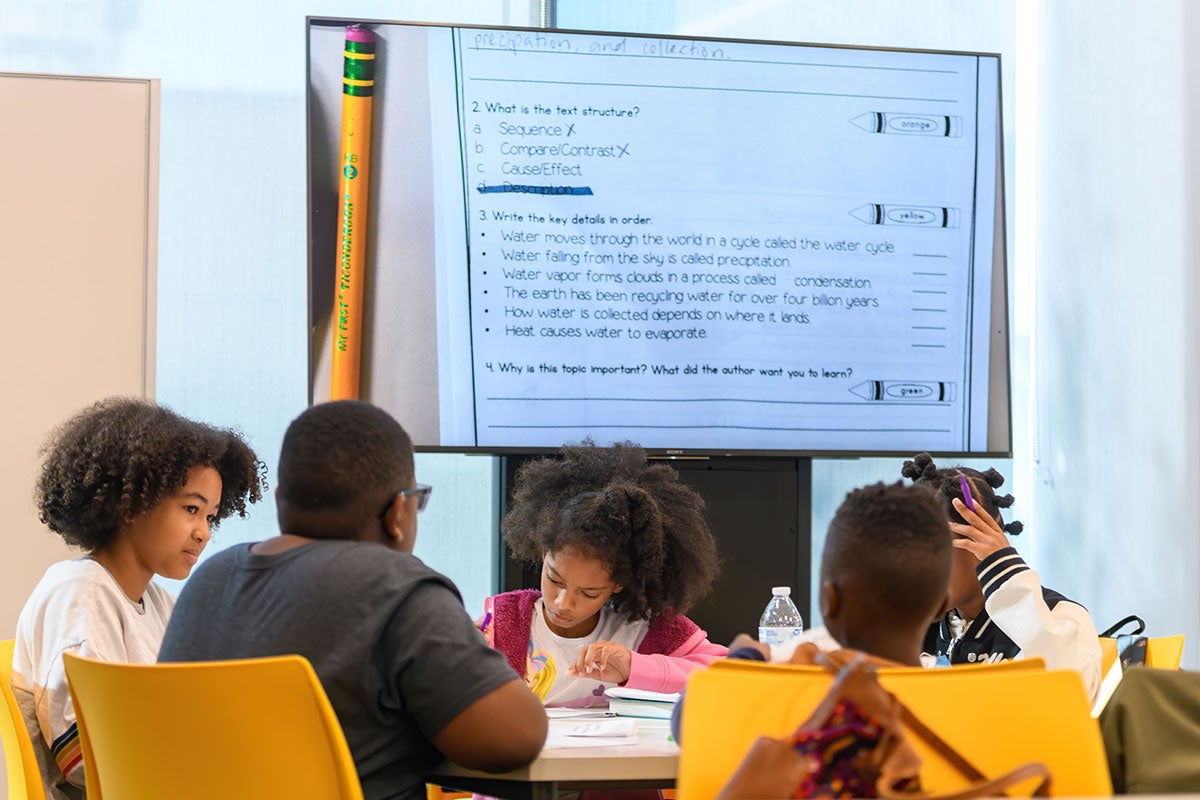 "Some students in historically underserved communities may not have the frequency and quality of college exposure experiences that are necessary to make informed decisions and develop actions plans for applying to and enrolling in college," Chapman says. "This plan is important because it prioritizes early, frequent and quality postsecondary exposure experiences. It also positions the new campus and a partner in education within this established community."
Studies show that graduation from college not only improves job opportunities for individuals, but it also helps people secure better-paying jobs and increases positive health outcomes. A college degree is also likely to result in more economic security. "The average graduate with a bachelor's degree will earn double what the average individual without a degree will make in their lifetime," according to a Hamilton Project study.
"Some students have challenges in completing the application and submitting all the required information to UCF and often times give up during the application process," Mozena says. "We want to change that thought process completely to show these students that they can succeed and we're here to help them unleash their potential. None of us got to where we are without others help."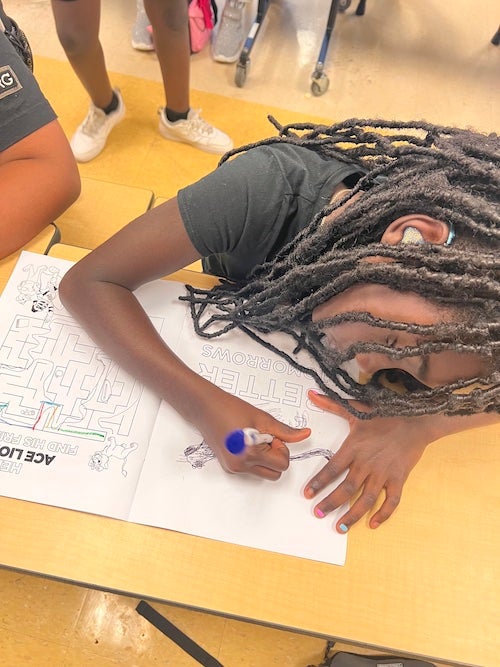 In addition to fun activities like book character parade, the engagement plan includes the creation of a custom "Going to College" activity book, containing games, word searches and coloring pages featuring the three school's mascots, Knightro, Purcy and the ACE Lion cub. ACE students in grades voluntary pre-kindergarten through second grade were gifted the activity books earlier in the Fall 2022 semester.
There was also a "Day on Campus" visit for fifth grade students in October 2022 where they received instruction from their own teachers, along with lessons from Valencia's general education faculty members and enjoyed lunch. The day allowed students to experience the downtown campus, interact with college professors, administrators and staff. Future plans will host eighth graders in January and the rest of fifth grade in March.
"It was so beautiful to see the students light up as they got to walk the halls of college and get candy," says Shannan Outler, ACE school social worker. "What an amazing collaboration the Book Character Parade was, and I look forward to more events in the future."
Data also supports that an individual's enrollment and completion of higher education is influenced by their family. Students whose parents have completed college benefit from their knowledge and prior experiences to help their children navigate the complexities of enrollment and encouragement throughout their college experience. For first-generation college students, that first-hand experience simply isn't available at home. This is exactly why the engagement plan includes participation in select parent night events at the ACE school.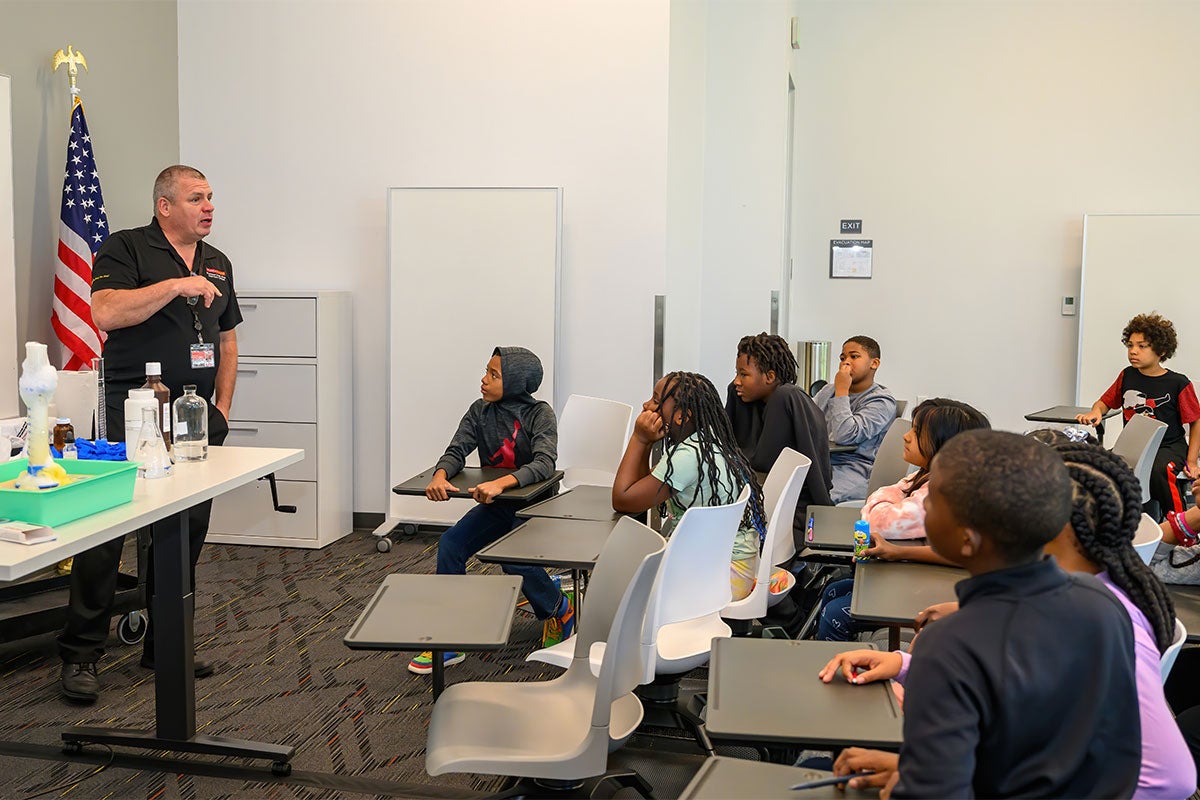 "Parent nights are an opportunity to build authentic relationships with students and families," says Chapman. "With a foundation of familiarity and trust, parents and students are more receptive to connecting with postsecondary resources and opportunities. Additionally, UCF staff can increase their understanding of what it truly means to be a part of the community in which they work."
Although barriers to higher education remain, Mozena, Chapman and their team are hard at work to provide access to higher education for anyone whose dream it is to earn a degree.
"The ultimate goal for this initiative is to strengthen our relationship with the community and contribute to the educational ecosystem from pre-K to Ph.D.," says Mozena. "We will know we have succeeded when students feel confident and comfortable interacting with the downtown campus and when students see going to college as part of their academic journey."