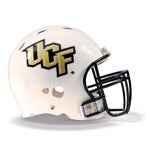 (UCFAthletics.com) – Trailing 19-7 with just over 60 seconds remaining, UCF cut it to 19-14 and recovered the ensuing on-side kick, but East Carolina intercepted a Brett Hodges pass at midfield to seal the Pirates' Conference USA victory Saturday at Dowdy-Ficklen Stadium. The loss dropped the Knights' record to 2-2 for the season and 0-2 in league play.
A.J. Guyton finished the day vs. ECU (2-2, 1-0) by setting career-highs with nine receptions and 119 yards. Hodges also posted personal-bests with 21 completions on 34 attempts and 266 passing yards. On the ground, Brynn Harvey amassed 71 yards and a touchdown on 16 carries.
With 266 yards in the air, UCF racked up its most passing yards since Nov. 24, 2007, vs. UTEP (267 yards), and its 336 yards of total offense were a season-high.
Led by Derrick Hallman's 13 tackles, the Knights' defense forced three fumbles, and Lawrence Young hauled in his first interception of the season.
ECU appeared as though it would secure the early lead on its first drive of the game, only to witness UCF linebacker Jordan Richards strip running back Jon Williams inside the Knights' 10-yard line and Young pounce on the loose ball.
When Hodges and the offense returned to the field, the senior quarterback completed an 11-yard pass to Harvey on a short third-down play to get to the UCF-28. After a 13-yard reception by Guyton, Hodges found Kamar Aiken on a 40-yard deep ball down the left side of the field. One play later and Harvey scampered for a 19-yard touchdown, giving the Black and Gold a 7-0 advantage.
The Pirates got back into the red zone on their next possession, but the UCF defense held them to just a 20-yard field goal by Ben Hartman. However, ECU eventually got into the endzone in the opening minutes of the second quarter, putting together a nine-play, 59-yard drive capped by a 25-yard run from Dwayne Harris.
UCF came close to at least tying it up before halftime. Nick Cattoi saw a 26-yard field goal attempt blocked with 7:28 remaining, while a Knights' drive stalled at the ECU-4 when Jay Ross intercepted Hodges a couple of minutes later.
Neither team could gain momentum in the third quarter, but Hartman would add a 19-yard field goal just before the fourth to bring ECU's lead to 13-7. After Cattoi missed on a 45-yard boot with 13:35 showing on the clock, the Pirates went 72 yards on 15 plays, including a pair of long third-down conversions, setting up a three-yard strike from Pat Pinkney to Harris. Although East Carolina's two-point conversion failed, it still led 19-7.
The Knights would later take over with under 2:30 to play, and Hodges worked quickly, going 5-for-5 and taking UCF down the field in just 1:17. Rocky Ross, Corey Rabazinski and Guyton all had receptions during that stretch, but it was Aiken who hauled in the 10-yard touchdown pass. While the Knights successfully recovered the onside kick, Van Eskridge picked off Hodges on the next play to end the UCF threat.
The Knights return home as they resume their C-USA schedule with an Oct. 3 clash with Memphis at 3:30 p.m. Visit UCFAthletics.com or call 407-823-1000 for ticket information.