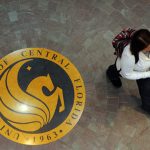 Four University of Central Florida journalism students will intern for one of the nation's most prestigious media groups this summer.
Michelle Dendy, Chelsy Tracz, Jessica Gillespie and Justin Sanak, who are also members of UCF's Society of Professional Journalists chapter, were selected for the Dow Jones News Fund Summer Internship programs.
Dendy will work on the multimedia desk at The Palm Beach Post. This is Dendy's second Dow Jones internship – a rarity in both the Dow Jones and UCF journalism programs.
Tracz will work on the news copy desk, also at The Palm Beach Post.
Gillespie will work on the sports copy desk of The White Plains Journal in White Plains, N.Y.
Sanak will intern on the news copy desk at The Cape Cod Times in Hyannis, Mass.
UCF's Nicholson School of Communication was designated as one of five regional Centers for Editing Excellence by the Dow Jones Newspaper Fund in 2005.
In winning the grant for the first time in 2005, UCF joined other Dow Jones Newspaper Fund regional training programs at the universities of Missouri and Texas and Temple and San Jose State universities. The universities of North Carolina and Nebraska and Penn State University have also offered specialized internship training programs through the Newspaper Fund.
The Dow Jones internship programs are nationally recognized for selecting the best and brightest journalism students in the country, preparing them for careers in reporting and editing when they graduate.