An up-and-coming journalist and graduate from the Nicholson School of Communication and Media (NSCM) was killed Wednesday while reporting on the scene of a fatal shooting. Dylan Lyons '19 was 24.
Lyons' journalism professors remember him as a "confident and talented go-getter who was always up for a challenge and never turned down a story," says NSCM Director Robert Littlefield.
"Dylan's passing is a major loss for our entire community, and the media industry and our School are mourning," Littlefield says.
Lyons joined the crew of Spectrum News 13 as a multimedia journalist in July 2022. He was reporting Wednesday in Pine Hills on an earlier fatal shooting in the neighborhood when shots were fired at him and another photojournalist identified by Spectrum as Jesse Walden. Walden remains in critical condition, Spectrum said.
The Orange County Sheriff's Office named Keith Kelvin Moses, 19, as a suspect in the shooting of Lyons and Walden. Following their shooting, police said, Moses walked into a nearby home and shot a woman and her 9-year-old daughter; the girl died. Moses was arrested Wednesday in connection with the initial shooting and will be charged later for the other shootings, Orange County Sheriff John Mina said.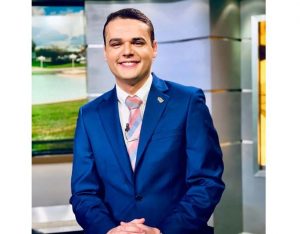 Lyons gained experience as a journalist first at UCF, where he majored in journalism and political science. Journalism Senior Instructor Rick Brunson worked closely with him for years, equipping him with skills and tools to match his passion.
"His brain was on fire with curiosity," Brunson says. "He was always working on the next story."
Lyons' zeal for news reporting led him to three local news internships before graduation. He arrived for election night at WFTV in 2018 dressed in a suit, even though he would spend the evening crunching numbers at a desk not on camera.
"He showed up ready to play, looking sharp and acting sharp," Brunson says.
Those internships steered Lyons toward community news as his preferred beat. What he discovered was that he loved lifting up a mirror to the community and saying, "This is you, the good, the bad and the ugly," Brunson says. Covering a story like Wednesday's shooting from the perspective of the neighborhood was exactly where he exceled, Brunson says.
He reported and anchored at student-led UCF Knightly News. His first job after graduation was Gainesville's ABC affiliate WCJB, where he was awarded best Politics/Elections Series by the Florida Association of Broadcast Journalists. He was a finalist for best Investigative Reporting in 2021.
In a Spectrum News 13 story, reporter and friend Josh Miller said: "He took his job very seriously. … He loved the community (and) telling the stories of people."
Littlefield, the NSCM director, says faculty work hard to share their expertise and knowledge with students so they have the tools they need for their careers. Lyons "excelled and used those tools to do what he loved," Littlefield says.
"Dylan will be remembered for his professionalism that shined through from the start and led him to accomplish great things," Littlefield says.