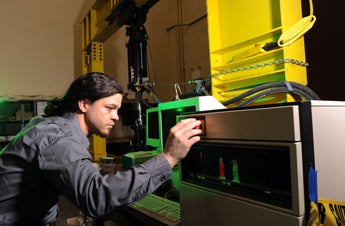 Electrical Engineering is one of several UCF graduate programs named among the best in the nation in the 2009-2010 U.S. News and World Reports Best Graduate Schools guide.
Electrical Engineering earned a ranking of 57, the highest of any University of Central Florida graduate program and eight spots ahead of the program's 2008 ranking of 65. This is the fifth straight year that the School of Electrical Engineering and Computer Science has seen an increase in its program ranking.
U.S. News and World Report collected data from more than 12,000 graduate programs for the 2009-2010 guide. It contains rankings of more than 1,500 graduate school programs in categories such as business, education, engineering, law and medicine.