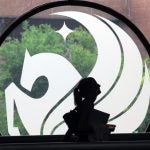 Herb Gingold is not only going to help his career, he is going to help hundreds of children who belong to the Boys and Girls Clubs of Central Florida.
Gingold was the highest bidder when he offered $27,000 for a seat in the UCF Executive MBA (EMBA) Program at the Celebrate The Children 2011 dinner and auction. All proceeds from the event go to the Boys and Girls Clubs of Central Florida.
His bid is based upon acceptance into the program. Once admitted, Gingold will spend 20 months taking classes and networking with other professionals in the cohort. The program prepares executives and managers for the challenges they face as they advance in their careers. Courses are taught by distinguished business faculty members and the curriculum includes a global focus and an international residency.
He bid on the auction item because the money went to a good cause and he wanted to go to graduate school. He received his undergraduate degree in engineering at UCF, and is very impressed with the reputation of the EMBA program.
"The program itself is well known, so when I decided to further my education by earning an MBA, UCF was the only program I considered," he said.
While he has a degree in engineering, Gingold is quite familiar with the College of Business Administration. He has worked closely with the Center for Entrepreneurship and Innovation and has served as a judge at student competitions.
Administrators from the UCF Executive Development Center were delighted with the outcome of the auction and look forward to Gingold enrolling as a student.
"We are pleased that the auction was so successful for both the Boys & Girls Club and Herb. He was very enthusiastic and we know he'll share his passion with his fellow students and faculty members. We look forward to working with him," said Tiffany Hughes, senior associate director, UCF Executive Development Center.
Perhaps the biggest motivator for Gingold to bid on the auction item was that the proceeds went to such a great cause.
"My wife and I attended the benefit and really learned what a wonderful and positive program the Boys and Girls Clubs is, and how it is making a real and measurable impact on lives right here in central Florida," he said.
"From the tireless volunteers to the hard working staff, the kids are receiving guidance, assistance and support that they would not have from other sources."