UCF junior wide receiver J.J. Worton could not help but stare in disbelief Saturday night. Standing on stage accepting the ESPN Sport Science Newton Award for Best Catch, his hands were securing a nice prize to take back home to Orlando.
Worton never believed his mesmerizing catch at Temple would result in such a whirlwind journey to Southern California.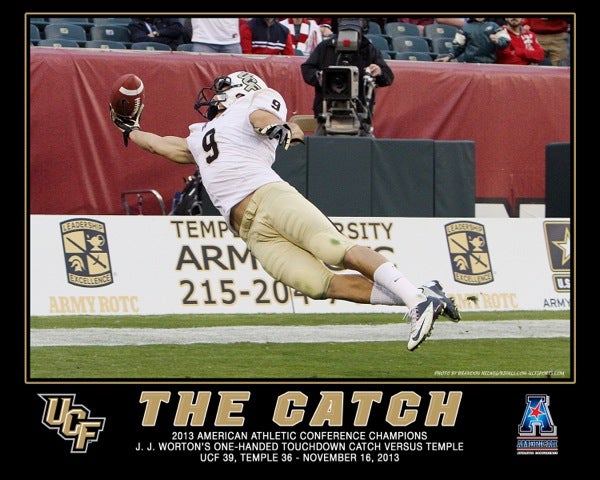 "I've got to thank ESPN Sport Science for giving me this opportunity to come out to L.A. and represent UCF," said Worton after the show concluded. "I've got to say thank you to my teammates and everyone at UCF because I wouldn't be here without them. And thank you to all of my family and friends, and all of the fans who showed support because they are really a big part of this. It's not just about me, it's more about the team and everyone that supports UCF. This is such a huge honor.
"I never thought something like this would happen because of the catch. It is something you dream about when you're a kid messing around in the backyard and diving into the pool making a catch. I actually have a picture of a catch like that diving into the pool. But it's been an unbelievable time with all of the recognition that's coming to UCF. All I can do is say thank you and be appreciative of everything that's happening."
The first edition of the ESPN Sport Science Newton Awards will premiere on EPSN Feb. 16 at 5 p.m. and also air on ABC Feb. 22. In an amazing setting at the ESPN Sport Science set in Burbank, Calif., Worton's competition for Best Catch was pretty eye-popping:
Philadelphia Phillies OF Ben Revere
Detroit Lions WR Calvin Johnson
Stanford WR Kodi Whitfield
Seattle Seahawks WR Golden Tate
Worton's reception against the Owls not only tied the game late and led to a remarkable come-from-behind win, it also was his 10th catch of the day. He finished the 39-36 victory with 179 yards and three touchdowns, as No. 10 UCF (12-1) would go on to win the American Athletic Conference title and the Tostitos Fiesta Bowl.
Worton was not the only Knight in attendance. Former UCF placekicker Matt Prater was up for Best Projectile Launch for his NFL record 64-yard field goal with the Denver Broncos. And sure enough, he made it a 2-for-2 night for the Black and Gold.