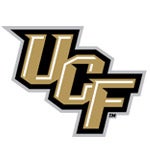 The recruiting pitch came from a man who said he coached at UCF. Bruce Miller, a Georgia native, wondered to himself, "What is UCF?"
Marcus Jordan wondered the same when his close buddy, A.J. Rompza, told him all about the school where he wanted to play basketball. "I had never heard of UCF. I don't think anybody from Chicago ever had, either," Jordan says.
These are not older generation players, mind you, but young men who have arrived at the sprawling school in Orlando within the past five years with a goal and a vision to make UCF into a national powerhouse.
Though the Knights may still not be a household name, they are getting there thanks to the efforts of players such as Miller and Jordan, the student-athletes, coaches and administrators at the school. Miller and the football team earned the first ever ranking in program history this past season, and won their first-ever bowl game to boot.
Jordan and the basketball team also were ranked for the first time in school history earlier this season after a 14-0 start, making UCF one of a handful of schools to have its football and men's basketball programs ranked in the top 25. Their successes came on the heels of a first-ever ranking for the men's soccer program, and a top-25 ranking for women's soccer as well.
For an athletics program that has lived in the shadow of Florida, Florida State and Miami, the success is instantly gratifying. UCF may be perceived in this state as a notch below those schools, but administrators see a day when that may no longer be the case.
After all, UCF is making a serious play to join an automatic qualifying conference. Its success on the field, facility upgrades and large market make it a more attractive candidate every day. So throw out any misconceptions about UCF.
This is a program just beginning to stretch.
"I hope that we have proved to the nation and proved to our fans and anyone who is looking at our program that now we've gone from the sleeping giant to an up-and-coming program and a program that has a bright future and one that's going to make noise and one we hope that is going to be around for a long time to come in the top 25," UCF athletic director Keith Tribble says.
In the beginning …
To truly understand how far UCF has come, you have to understand where it began. The school opened in 1968 as Florida Tech, a commuter school catering mainly to those in the Orlando area. It changed its name to UCF in 1978. One year later, the football program began, working its way to the Division I-AA level.
When university president John Hitt arrived in 1992, UCF was still a commuter school. There was no student union. The campus offered little in the way of dormitories. The athletic facilities were scarce. Hitt envisioned a transformation of UCF from a commuter school to an actual college campus with better academic facilities, and that would then begin to pave the way for a top-notch athletic program.
Since Hitt became president, UCF has spent some $1.23 billion on resources in academics, research, student life and athletics, totaling 234 separate projects. But the focus on athletic facilities started to take shape in 2004, when UCF received an invitation to join Conference USA the following year.
Since then, UCF has spent more than $200 million on athletics facility upgrades. That includes a total of $64.5 million on a new on-campus football stadium and $142.5 million on a new basketball arena, surrounding quad and shopping area.
UCF resembles more of a campus than a series of buildings standing alone in the middle of a clearing on the east side of town. The school has grown to the second-largest in the nation with an enrollment of 56,235 — some 12,000 more students than the 2004-05 school year.
Smartly conceived, the athletics facilities are mostly located on one quadrant of campus, including the football stadium, practice fields, offices, basketball arena, baseball stadium, soccer stadium, track and dorm rooms.
Another $70 million have been pledged to either build or upgrade more facilities, including an academics center for athletes. All of the money being spent is a far cry from what used to greet student-athletes. The football team formerly played in the run-down Citrus Bowl, which would sit half-empty during games. Their locker room on campus was a mess.
The women's soccer team didn't even have a locker room of its own. Its home field had bleachers so tattered, coach Amanda Cromwell said they had to be condemned. Her team finally got a locker room when the new basketball arena was completed in 2007.
"The campus was a huge component of what we showed recruits, but we didn't have a locker room to show them," she says. "We hoped they wouldn't ask. It was one of those things — maybe they won't notice we don't have a locker room. Maybe they won't notice the stadium is just some bleacher seating."
Despite some of those setbacks, the women's soccer team has traditionally been one of the most successful sports on campus. Cromwell has been at UCF longer than any coach, save two. But the window to national attention must open through football.
Waiting on success
UCF made a name for itself when Daunte Culpepper played here in the late 1990s — if only briefly. In 1996, UCF became a member of FBS. Two years later, Culpepper led the Knights to the best season in school history at 9-2 and became the highest drafted player in school history when the Vikings drafted him in the first round.
But UCF could not establish any consistency and its facilities continued to languish. The desire to upgrade and improve the athletic facilities was not Hitt's alone. Much of the credit there goes to former athletics director Steve Orsini, who knew his program needed better facilities if it ever wanted to make a name for itself nationally.
When he and Hitt interviewed George O'Leary to become head football coach in late 2003, upgrades to the facilities were a huge point of discussion. O'Leary credits Orsini for having the vision to begin the process.
"They made a commitment to move in the right direction," O'Leary said. "It was limitless potential. You could see it from the school itself, the size, the location. They just didn't have the facilities. Nothing matched. You played football games in Orlando, so you could never get the right people on campus to see the school. All the pieces of the puzzle for football, basketball, baseball — they all had to be improved if you're going to move in the right direction."
When the football stadium opened in 2007, UCF was still struggling to forge an identity. It had one of the best turnarounds in college football in 2005, going from 0-11 to 8-5 to make the first bowl appearance in school history.
But UCF followed that up with a 4-8 season. In 2007, UCF put together a 10-4 campaign and won its first C-USA championship. But 2008 followed with tragedy — freshman receiver Ereck Plancher collapsed and died after voluntary drills in the spring. Plancher had suffered from sickle-cell trait. His parents have filed a wrongful death lawsuit, which is still pending.
UCF went 4-8 that season, and it is hard to gauge how much of an impact the death had on the student-athletes who watched Plancher collapse. O'Leary had the full support of the administration, and continued to work to bring consistency to the program.
The Knights have gotten that the past two years. UCF finally posted back-to-back winning seasons for the first time under O'Leary. This past season turned out to be the banner year everyone had been waiting on. UCF won a school-record 11 games, finished ranked in the top 25 and won its first-ever bowl game.
"It's been amazing to see the strides we've taken as a program and as a football team," said Miller, who arrived at UCF in 2006. "This was the year we finally realized we could to play at a high level, and could take those steps in the right direction."
Now the trick is to keep building on that.
"It's a short drop from the penthouse to the outhouse," O'Leary says. "It's hard to get to the top 25. It's hard to stay there. And that's where your consistency has to take place and that's where the growth of the program, the fan base, everybody needs to climb with that top 25."
What's next?
UCF has to walk a fine line these days, between maintaining its happiness with Conference USA while striving to become the next non-automatic qualifying school to join an AQ conference. UCF was passed over in favor of in-state rival USF when the Big East expanded in 2005, something that still irks the administration.
There may be another opportunity ahead. The Big East just added TCU and has maintained it would add another team perhaps as early as April. UCF continues to plug its enrollment, TV market, facilities upgrades and current string of success as a reason why it deserves to join the league.
"I tell our fans who want to be in an automatic qualifying conference so badly that this is like when you went to college and wanted to join a fraternity or sorority," Hitt said. "Wanting to join is great, but somebody has to want you. It's fine for us to see ourselves as we think we are, but the real question is: How does somebody else see you?"
To be sure, UCF is lacking in tradition and could use better fan support. More than 100,000 alums live in the Central Florida area, yet UCF could not sell out its home stadium for the Conference USA championship game against SMU in December.
UCF faces unique problems, because it is in a big city and not a small-college town, offering people other things to do on a Saturday. Also, most of those alums attended UCF when it was just a commuter school and had little in the way of athletics camaraderie.
Season-ticket sales for football had dropped in recent years, which UCF claims is in part because of the bad economy. "I'd love to walk in and not ask how are tickets going, is it a sell out?" O'Leary says. "That has a direct bearing on your team."
Basketball is averaging nearly 1,000 more fans this season than last. A big part of the reason is Jordan, who has helped draw more eyes to UCF. His reason for choosing the Knights is one that players cite over and over. It gives UCF hope for the future of its athletics program.
"When I got here I loved it," Jordan says. "I loved that there were new facilities, there wasn't a basketball history yet and I thought, A.J. and I talked about it, we thought we could come here and create something and be the start of something new. … UCF was my first and my last visit. As soon as I got here, I knew I wanted to come here."
As for where this athletics department can be in five years, Cromwell has all the optimism UCF needs: "I think we're going to be on the national scene with a handful of sports in the top 25 even more so than this year. We're not going to be this ugly stepchild to Florida, Florida State, Miami.
"We're going to be one of the top schools. There's no reason for us not to."
Andrea Adelson is a national college football blogger for ESPN.com. She can be reached at andrea.adelson@gmail.com.
Source: ESPN.com, Knights have potential to become elite program, Jan. 26, 2011