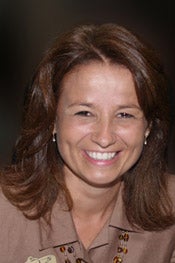 Dr. Lisa Dieker understands the power of giving, as scholarships helped her finance her education. Remembering the generosity of others, she consistently gives to UCF and is now a member of the Pegasus Society, which recognizes those who give consecutive annual gifts.
In doing so, Dr. Dieker has provided funding for scholarships, advanced technology, and lab equipment.
"I was provided with scholarships from numerous sources (over six in my lifetime) to help me earn the privilege of having a Ph.D." says Dieker. "I have always given back to my alma mater and to UCF because I see college students just like me every day who want to go to college but need that extra $100, $500 or $1,000 to help them make it through to the next semester."
Like many students, Dieker struggled to fund her education, from books to tuition to general fees. Other factors in her life complicated her educational experience: She was a first-generation college student and her brother was ill. "My parents both had high school diplomas, and despite being financially devastated from my brother being institutionalized with a rare disability and being told he could never be 'normal,' they continued daily to tell us we could be anything we wanted to be. We believed them," Dieker explains. "My brother and I both have graduate degrees for one reason and one reason only: gifts like the ones we are giving that will help students earn their degrees and, in turn, give back."
The annual gifts Dieker gives to UCF make a difference in the lives of students and her own life. "For me the difference between staying in school and leaving was impacted by a combination of small contributions, from a $50 scholarship to a $250 scholarship to another for $1,000. I remember not knowing if I could continue another semester due to financial needs. What probably seemed like a small amount of funds to others truly enabled me to do what I love today—teach."
Dr. Lisa Dieker is a proud member of the Pegasus Society. "No matter what area of education you give to at UCF, you give to the future of our children, grandchildren and their children. Now that is an investment where the interest rate is priceless. That is why we give." And we couldn't agree more.