When children return to school next week, students at four Central Florida schools will have new hands-on space science activities to look forward to, thanks to a collaboration with space experts at UCF.
This past summer, teachers from East River High School, Wekiva High School, South Creek Middle School, and Mollie Ray Elementary spent time alongside Associate Professor of Physics Adrienne Dove and her team of undergraduate and graduate students at UCF's Center for Microgravity Research Labs. Dove is working on a NASA-funded experiment (Strata-2P) aimed at understanding the mechanical interactions between particles that make up granular materials, such as rock, sand, and dust, in variable gravitational accelerations, including those on the moon, Mars, and asteroids.
"Our research has applications to planetary surface studies, such as those focused on the moon and asteroids, and is relevant to both human and robotic exploration missions, such as the upcoming NASA Artemis and VIPER missions," says Dove, who has had various experiments fly aboard parabolic aircraft and private rockets in the past few years. "The results of the Strata-2P experiments will offer insights into how the geometry of the grains, like shape and size, and varying gravitational effects contribute to how granular materials pack and settle during planetary exploration activities. We'll be exploring different tools and techniques to interact with those surfaces."
NASA plans to land astronauts on the moon's south pole by 2024. It would signify the first time Americans have gone back to the moon since the Apollo 17 mission of 1972. For the past several years NASA and commercial space companies have been working to get a spacecraft and supporting equipment in place to make the mission a success. Figuring out how to minimize the impact of space dust on the spacecraft, instruments and people is among the many challenges scientists are facing as part of the mission. Dove's area of expertise includes studying these dusty interactions on planetary surfaces.
Dove knows first-hand that involving high school and college students in hands-on research is a great way to prepare them for the workforce. Research that can easily tie into a problem NASA or private industry is trying to solve is a great motivator for students, she says. But having classrooms of students in the lab just isn't feasible. Dove worked with UCF physics instructor and former high school teacher Adam LaMee to develop the Teacher-in-Residence program as part of this project. The program helps classroom teachers get a taste of space research, which they can then use to craft lessons and activities for students across different levels and backgrounds.
Over several weeks this summer, local teachers were able to participate in a range of activities in the lab from programming microprocessors, conducting image analysis using Python, generating data analysis and visualization, and fabricating devices needed for Dove's research. They will continue interacting with the lab throughout the school year as the project progresses and they implement the lessons into their curriculum. They will also participate in the bi-weekly science team meetings (held virtually to accommodate the distributed team) and the planning process for the flight. The participants will receive stipends for their efforts and the teachers may also get a chance to fly aboard a zero-G flight with the UCF research team later this year.
"I was beyond excited to have the opportunity to work with graduate students on an important project that is testing real world scientific data," says Shelley Bullard, who teaches at South Creek Middle School. "The fact that the projects actually go up into space makes it even more exciting. I've also interviewed undergraduate and graduate students in the lab so that I can show my middle school students how interesting the physics projects are and to give them an idea of what they can become in this field. I believe they will love the projects and may be encouraged to choose science careers as a result."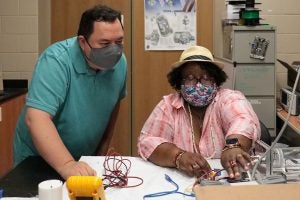 Dove and LaMee will be in touch with the participants throughout the school year to offer expertise as the teachers develop activities. They'll also want to hear how the activities translated in the classroom. The teachers are chronicling the project on a blog to bring the content to a wider audience.
"It was fun meeting them and getting started," Dove says. "They've brainstormed some really creative ideas, so it'll be awesome to see what they develop for their students. For me it was really a great learning experience so far because I've never directly worked with K-12 on a project like this before. But having the opportunity to help teachers ignite the imagination and passion for science, I'm all for that."