Setting the Standard for Space Exploration
UCF researchers and educators are recognized leaders in space science. They're NASA veterans, scientists and engineers that hail from some of the biggest and most important programs in U.S. space history. These global thought leaders conduct advanced research to help get us back to the moon and then onto Mars. They're diving into microgravity environments and discovering how planets form.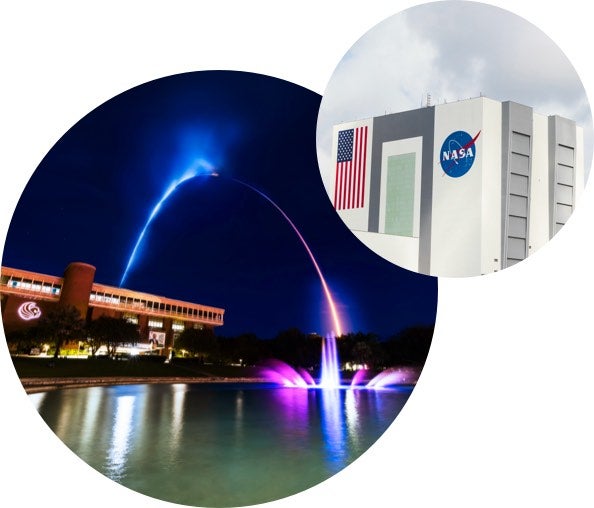 At UCF, we ask the big questions and delve into the unknowns of our infinite universe — exploring the possibilities of mining the moon, simulating Martian soil, and understanding space dust, which is a bigger problem than you may think.
Our most recent space research entails more than a dozen projects aimed at getting back to the Moon safely — many of which directly support NASA's Artemis mission and other lunar operations. These projects help the future of flying and landing spacecraft, mining fuel, and protecting astronauts and their equipment from lunar dust.
And now, as we look to return to the moon and set foot on Mars and other worlds, one thing is for certain UCF researchers are turning possibilities into reality.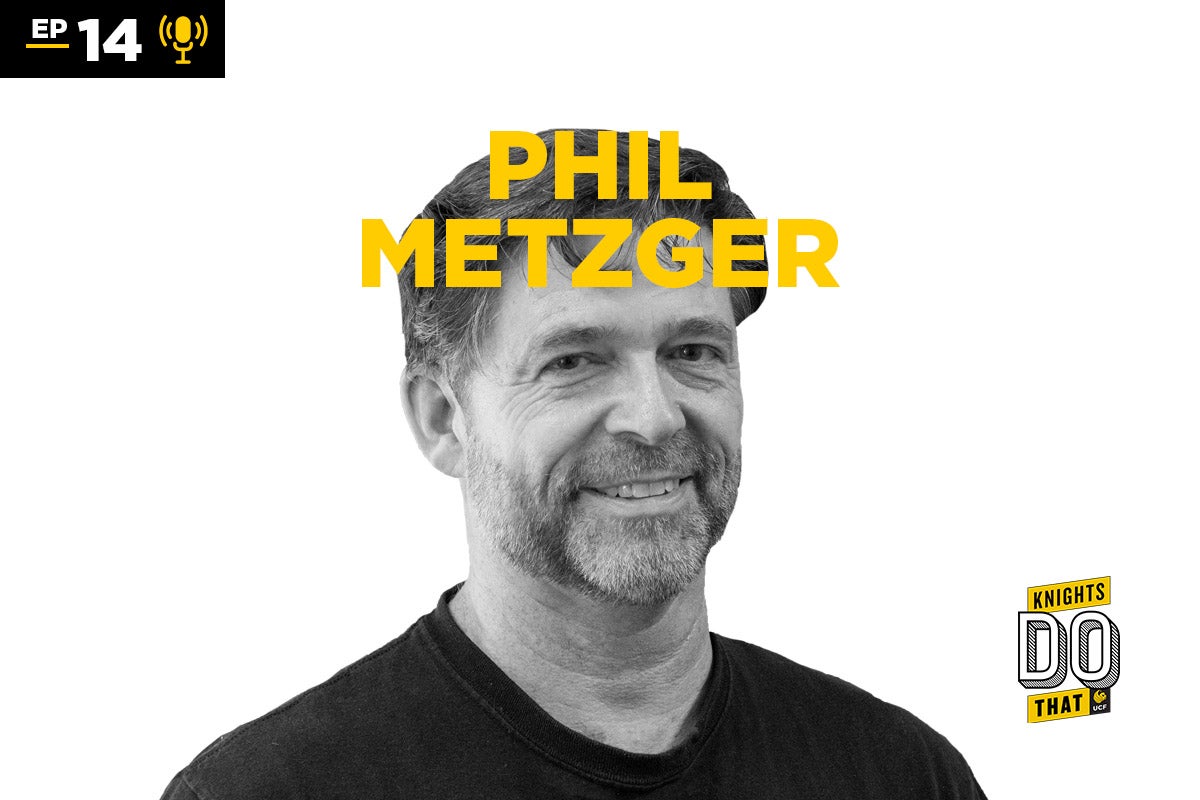 Meet Philip
"We need to get beyond the limits of our planet in order to benefit the environment of our planet and to have a more robust, more vigorous, more exciting civilization."
---
Listen to Philip's Podcast Episode
Philip Metzger '00MS '05PhD
A planetary scientist with nearly 30 years of experience at NASA, Philip Metzger now conducts research at UCF's Florida Space Institute. His research covers a significant amount of solar system exploration — predicting how rocket exhaust interacts with extraterrestrial soil, investigating the mechanics of soil, characterizing lunar and martian soil simulants, and modeling the migration of volatiles on airless bodies.
Most recently, Philip and a team of scientists have published research that talks about why Pluto should be classified as a planet again — along with dozens of similar bodies in the solar systems and any found around distant stars. Their work to ensure there's an accurate definition of what makes a planet is imperative as we discover even more planets beyond our solar system using better techniques and telescopes like the James Webb space telescope.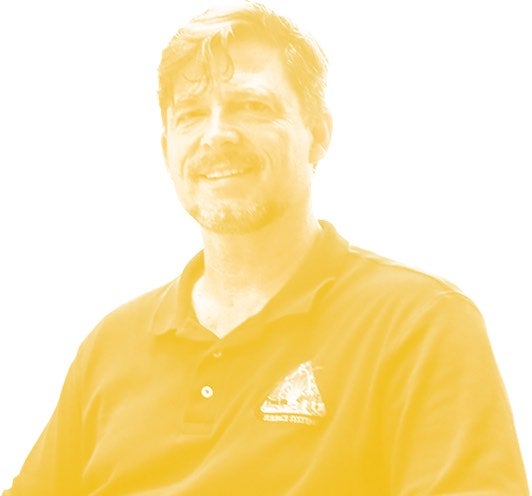 Meet Adrienne
"UCF's proximity to the Space Coast and NASA's Kennedy Space Center has allowed us to cultivate and provide talent for Central Florida and the growing U.S. space program for decades."
---
Adrienne Dove
Associate Professor of Physics Adrienne Dove has made significant strides in space research, from examining asteroids to learning more about space dust. In April 2021, her research blasted off on Blue Origin's New Shepard Rocket to study charged dust behavior in microgravity. This will inform strategies to keep lunar dust from damaging electronics, solar cells and mechanical equipment during moon missions.
In her research, Adrienne also works closely with students to give them hands-on experience. In 2020, she and a team of students teamed up with NASA's Johnson Space Center to examine data on an asteroid experiment. A deeper understanding of asteroid surfaces will contribute to missions in which she hopes that humans and robots can safely land on or interact with their surfaces.
Most recently, Adrienne was selected to serve as a co-investigator for NASA's Minority University Research and Education Project (MUREP) Space Technology Artemis Research, or M-STAR. The project will support opportunities for underrepresented students to work alongside experts in robotics, materials, and flight technologies. The opportunity provides students with real-world experience in innovating technology and protocols needed to advance space exploration.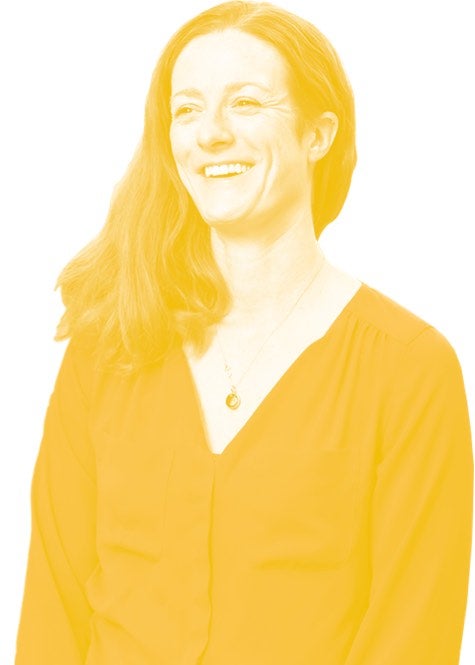 Meet Humberto
"NASA's OSIRIS-REx mission helps us learn more about how asteroids work, because someday we may need to deflect this asteroid or another like it if it poses a threat to Earth. We need to know that the techniques developed will get the job done."
---
Humberto Campins
Professor Humberto Campins, an expert on asteroids, was recently named Jefferson Science Fellow. He is the fourth UCF professor to receive the national honor that builds STEM expertise within the U.S. Department of State and U.S. Agency for International Development. During his year advising the U.S. Department of State, he'll make significant contributions to our nation and bring that STEM expertise back to the classroom.
As a member of NASA's OSIRIS-REx mission team, Humberto has also helped map the sample site on the asteroid Bennu. In October 2020, the spacecraft successfully completed a touch-and-go maneuver that collected pebbles and dust from the asteroid. The precious, primordial cargo is scheduled to return to Earth in 2023.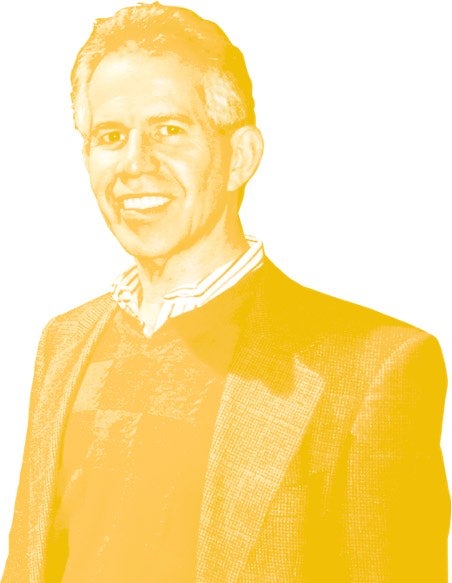 UCF is a Recognized Leader in Space Science
---
Two UCF grads have become astronauts
---
Five space-related programs in the top 100 U.S. News & World Report
---
Eight experiments sent to space since 2019 aboard Blue Origin, SpaceX and Virgin Galactic
Innovative Space Research Centers in Orlando
World-class facilities with the latest technologies are imperative to help us explore the unknowns and answer the big questions. They are where researchers, educators and students make new discoveries and push boundaries. Advanced facilities help make us continue to make an impact on our state, our nation, and outer space.
Stephen W. Hawking Center for Microgravity Research and Education
The university's Stephen W. Hawking Center for Microgravity Research and Education — the first American research center to bear his name — builds on Hawking's groundbreaking discoveries about how the universe formed and fulfills his wishes to advance microgravity research. It also explores ways of making space travel safer and inhabiting Mars or the Moon.

Florida Space Institute
The Florida Space Institute (FSI) supports space research, development, and education activities. In addition, we support the development of Florida's space economy—civil, defense, and commercial. This collaborative partnership comprises of researchers and educators from UCF and other state universities.

---
Space Research and News
Explore more about the impact of UCF's space research and how it's impacting our daily lives — from technology advancement to medical research to scientific discoveries.
Research in 60 Seconds with Aerospace Engineering Student Jillian Gloria
Jillian Gloria's research helps prove how water evaporates on the moon, which may aid NASA in finding the liquid as they work to develop a sustainable presence there.
Day in the Life of a NASA Intern
Mechanical engineering student Jaden Chambers shares what it's like interning at NASA, how he got there and why he's interested in the STEM field.
Space News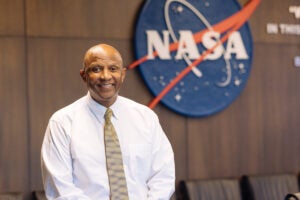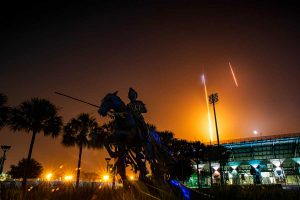 Reaching Further for the Stars
Key moves made in the early 2000s allowed UCF to expand its space research profile and push research ideas to new heights.